Few months back some of our business colleagues asked "do you have a theme that helps us create a site like TechCrunch, Mashable or other tech news site?". At the time we had some magazine themes in our portfolio but none that helped them publish news while also helping them earn revenue strategically. That conversation led to a few additional conversations on what exactly is required to run such a site. Those were the first steps towards making TechNews.
TechNews, a magazine theme we're releasing today helps you build a professional blog or news site quickly in WordPress. The best thing about it is it's strategic structure and world-class design with awesome typography that will give your site a real professional look, like TechCrunch, Mashable and other tech news sites.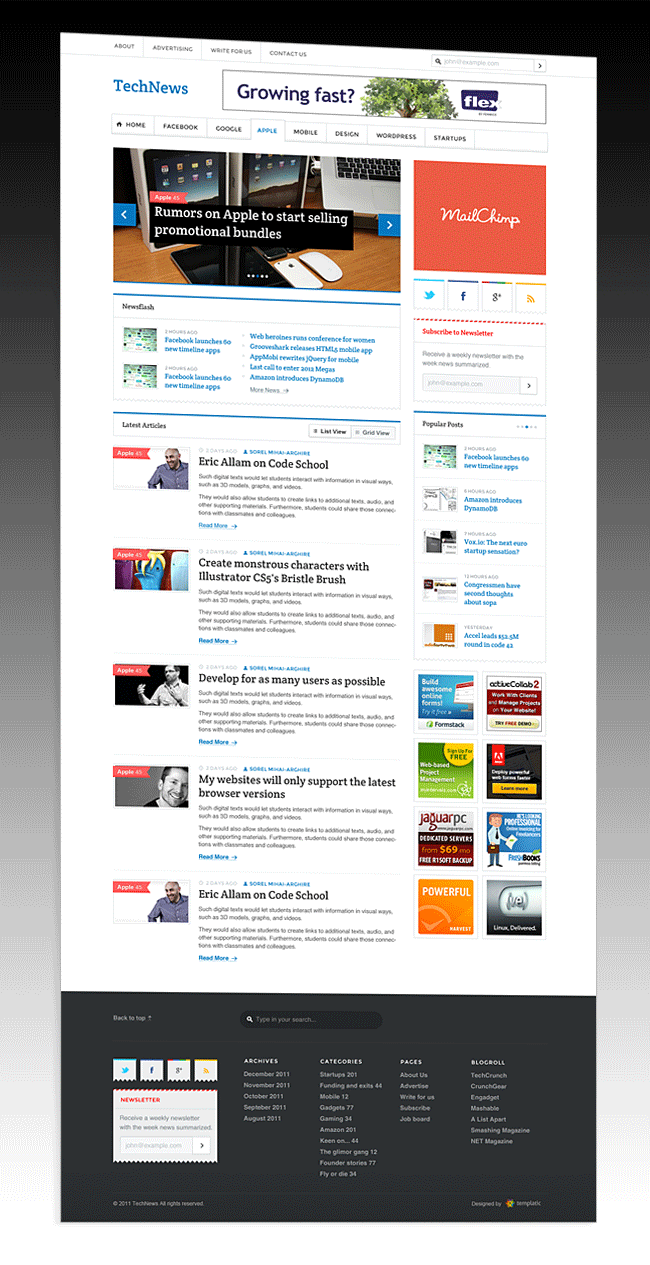 View TechNews : Live Demo | Official Sales Page
Right element at the right place, that's the main benefit of this theme. Nope, it does not include any of those advanced modules but whatever you require in a tech blog, its there.
The homepage features a cool slider to highlight your top stories, right after that you can highlight some other stories followed by a super cool widget that lets you list your news posts in list/grid view that can ajax-fetch more posts continuously. The sidebar includes unique social media, popular widgets and other important custom widgets. Big footer with 100% contrast could be useful to showcase more of your important, universal elements across your website.
Another awesome thing about TechNews is it's responsive design. It won't matter whether your visitors are visiting the site on their desktop or mobile device – your site should look great regardless. To test the theme responsiveness just open the live demo and resize your browser window.
Check out the Live Demo of the theme and explore. Head over to official sales page once you are ready to buy.
This particular theme holds importance in its own way at Templatic office. We hope we got this right and that this theme will help you build a professional tech news site that brings you tons of traffic.
Video Overview