You may have noticed that there has been slight delay in the themes being released recently. That is because we've been adding stability to the business and kind of in-house reformation which will be visible to everyone in coming days. Good news is, we should be releasing 3 brand new themes in next 4 weeks.
Today is the release day of yet another niche theme that you can use to give a facelift to your Web Hosting business website. Yep, there is a fierce competition in WebHosting business but if server management is your expertise, reseller web hosting makes it easy for you. Our WebHosting theme makes it even easier giving you quick online presence in easy, affordable way.
With this theme, you can build a clean professional website for your hosting business. The homepage highlights your hosting plans, features, prices and call to action buttons. Ofcourse these features can be easily managed from the theme backend options and widgets. What's more, the entire homepage is widget ready. Simply drag and drop any sections you wish. Add or remove.
It ships with five detailed, pixel perfect color schemes. Use color scheme that suits your brand, change logo from design settings and you've got a brand new, fresh online presence ready in minutes. With this theme, all you need to take care is add your own data. Rest of the things are taken care of.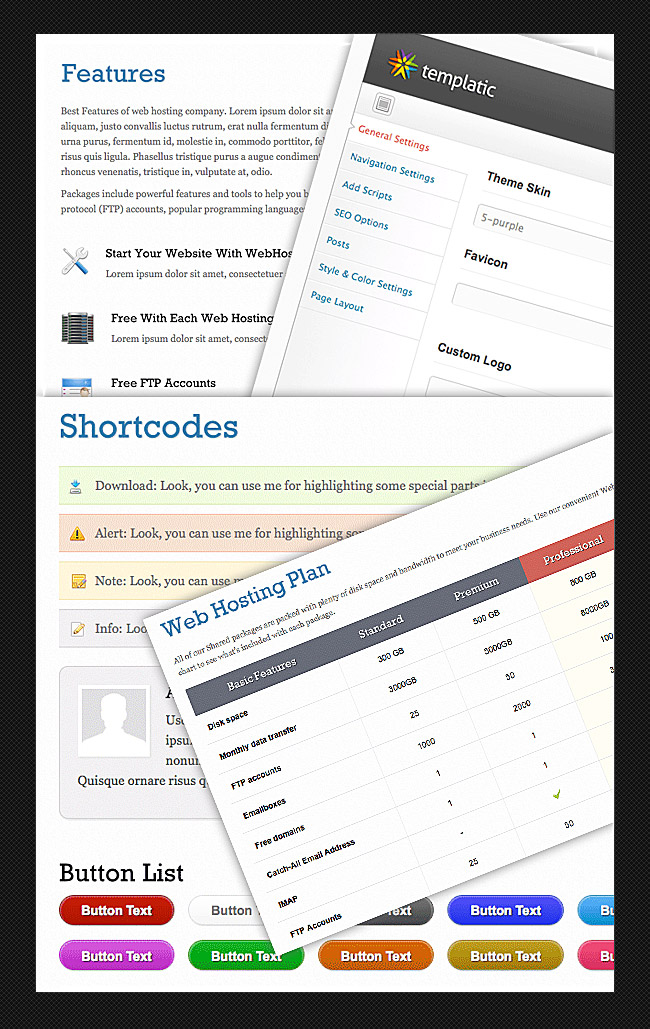 The webhosting theme is built upon our own new framework with 30 shortcodes and 8 page templates, numerous design flexibility and custom widgets. Design settings of the theme will let you can control different options of your site like changing logo, RSs feed settings, enable/disable cufon font, adding Google Analytics code, SEO options, style and color settings, change page layout, etc and these are just few benefits of our powerful framework, there's much more hidden inside.
WebHosting Theme View Live Demo | View Features and Buy
Like I mentioned, there has been delay in release of the theme but once you explore this theme, you will find that its time well spent on this latest goodie from templatic :).