Just before two days, we sent a mail to our customers informing the availability of "Customize" – a templatic job board where they can post their advanced customization requirement in our themes and everyone can see the jobs posted in there. The response is phenomenal, and several jobs has been already posted there.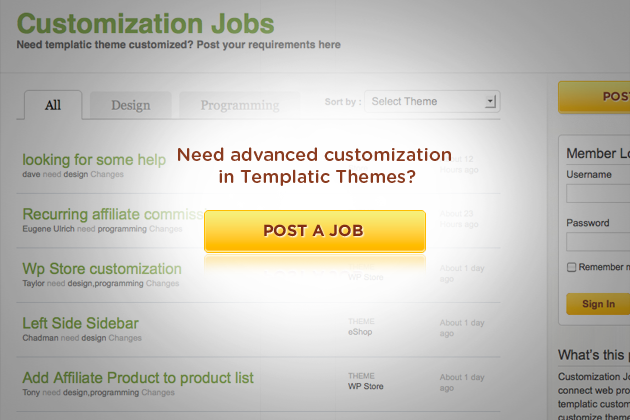 Why a Templatic Job Board?
Because not everyone is able to make advanced customization in the themes themselves. We frequently received paid customization requests but as much as we want, taking up customization jobs for our theme was not possible considering the awesome themes + upgrades we're doing for existing and new wordpress themes. We recommended some designers/developers but they were not always free.
Creating Job Board to connect expert freelancers and our customers made much more sense.
Connecting customers + providers
Customize – the templatic job board is an initiative to connect you with templatic customers. This way, the customers and freelance providers will be able to connect with each other. Ultimately, this will be beneficial to everyone. The freelancers who are familiar with templatic themes will be able to help templatic theme users at reasonable compensation. Theme users on the other hand will get the custom changes done at a fair price.
Customers post + control jobs for free
Templatic customers can post as many jobs that they like – absolutely free. There is no hidden fees/charge involved. Not only that, they can control the job – Add/Edit/Delete jobs whenever they want.
FREE access to Everyone
Viewing jobs and contact details of the job provider is accessible to ALL, however, only templatic customers will be able to post a job there. Not a templatic customer yet? Become one.
Visit Job Board and start making some extra cash
Since we announced customize job board to our members, several jobs have already been posted. Are you a freelance developer / designer? Head over to Templatic Job Board and connect with some job providers now.
Visit: http://templatic.com/customize/
Disclaimer: This is our humble endeavor to connect you with the freelance
Designer/Developers. Templatic takes no share from anyone, nor we are responsible for any communication you do with each other. Emails /Support queries in this matter will not be entertained.
Templatic team works hard on improving existing themes, providing better support , and making things better for existing customers. Stay tuned for yet another announcement soon. Stay tuned.