One of the most important elements of directory sites are user generated reviews. It helps your site visitors decode the facts about a product, service or a business listed on your directory site. Also, the thing that instantly make us realize about exact meaning of any review in just a single look is "Ratings". Saying that, it becomes important to get the feasible, believable and practical rating because they affect our site reputation too.
Recently released Directory theme and similar themes come with reviews and single rating by default. However, single rating can get more interesting and personalized.
To understand the feasibility and practicality of reviews, we analyzed some real people and site along with the actual human perspective of rating "something". The most common thing that we discovered is that you cannot rate the whole experience with just one single rating option! For example, if you have visited any restaurant, you would definitely like to rate it differently for their different offerings like Food, Music, Service, Decor etc.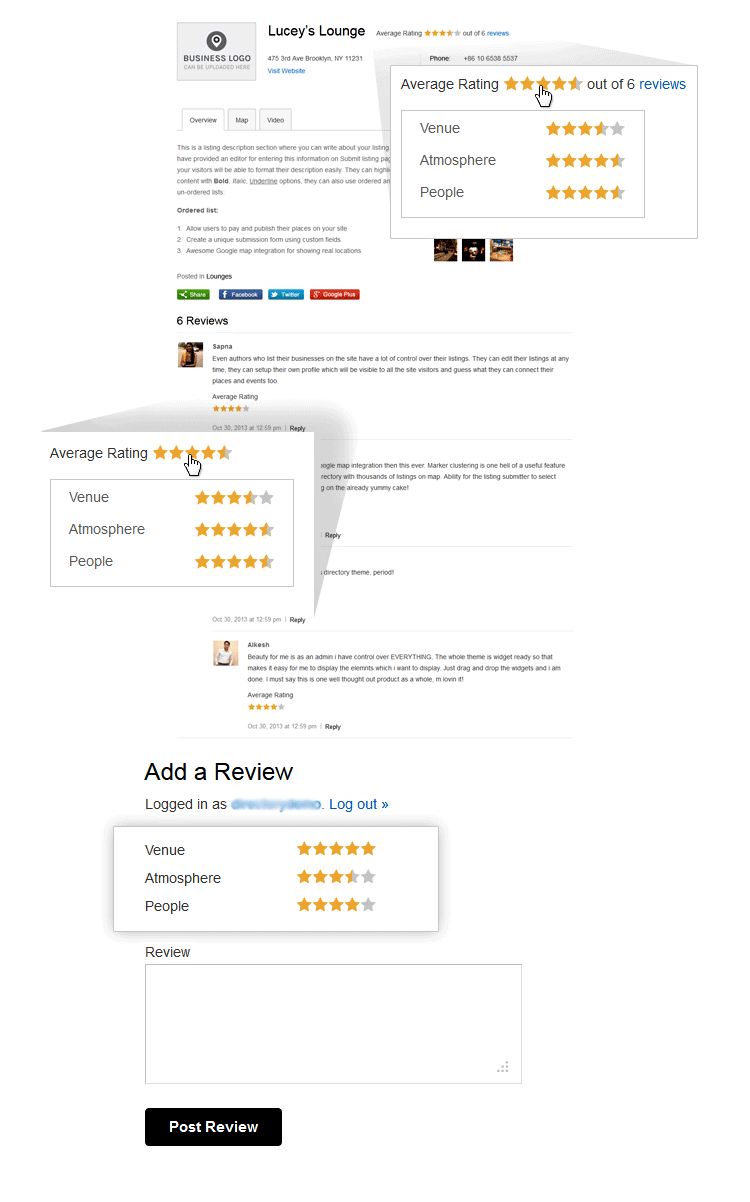 Good news is that making ratings more practical and useful is now possible on your site using Templatic – MultiRating add-on.
Here's what it can do.
Create multiple rating options per category
Having multiple rating options are necessary to get the REAL ratings but thinking practically, not always the same rating options are applicable to all your categories on the site. Let's say that you have two different categories "Movies" and "Songs", now you may want that people rate "story" of the movie which is not applicable to the songs category. So, this is what MultiRating add-on makes it possible. you can simply add as many rating options as you want per category, there is no binding to use the same rating options for all your categories.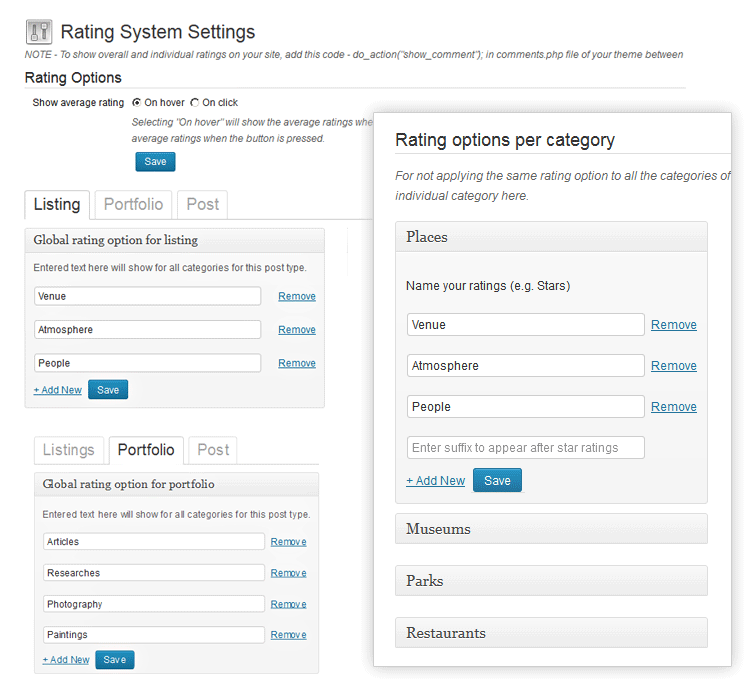 Let users rate differently for different post types
Like not every category has the same rating option requirement, same is true for the post types as well. If you have two different post types on your site say "Events" and "Restaurants", obviously the rating criteria changes. So, with this add-on you can allow your users to rate you relevantly for each of your post types.
Save time with global rating options
It is definitely one of the unique feature of this add-on to have individual rating options for any category but when you have numerous categories on your site and want to apply the same rating options to each of them, doing a manual work is just not worth it. With this add-on you can easily use the another helpful feature "Global rating" to simply create all your rating options and apply them automatically to all your categories of a specific post type in just a single click. The idea is to save your time and resources.
Provide instant overview with average ratings
Averaging ratings comes handy when you have many comments and ratings on your post, your site visitor will simply reach his judgement figuring out the average rating of that particular post. The star rating displayed on listing pages will feature the overall average across all the given ratings while the rating available on post detail page will also display individual average rating for each of the ratings given by individual person on your post/custom post.
Make your ratings interesting too
All of us being visual creatures, making your ratings interesting is equally important. You can show all your ratings and rating options either on mouse hover or on mouse click. 'Mouse hover' will simply show the ratings and rating options when you hold your mouse pointer on the ratings whereas 'on click' will show a button clicking which it display you all the ratings.
Templatic – MultiRating is available now! Purchase add-on
If reviews are an important part of your your listing or directory site, multi rating is is the add-on that will bring life and reality to it.