If you have created a Directory site using Directory Map Customizer plugin in our most powerful Directory WordPress theme platform, you have more reason to smile now.
Earlier today we pushed an update on our popular Directory Map Customiser plugin which now makes it possible to utilise hundreds of attractive map color schemes posted by people on Snazzy Maps website. Meaning you have best of the both worlds.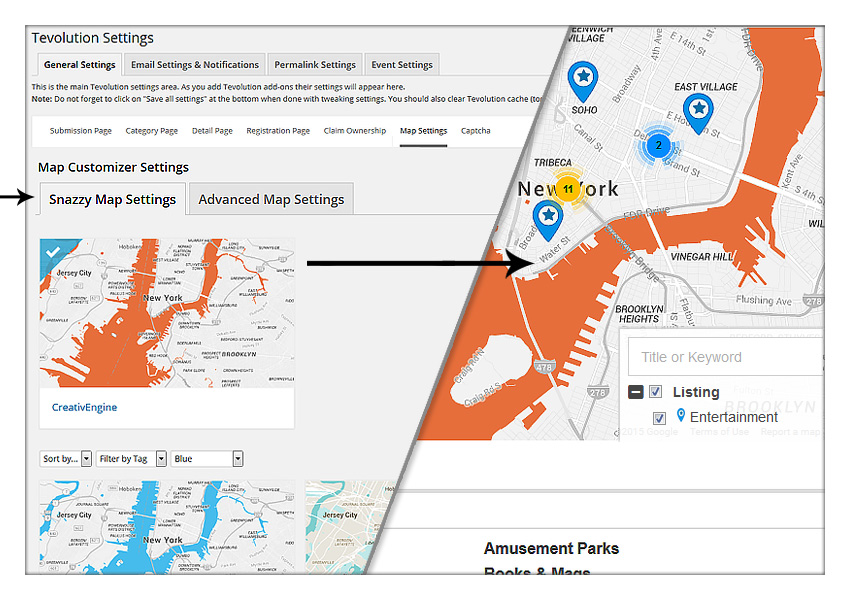 Selecting pre-defined color scheme is now possible and once you select the color scheme, it will automatically tweak your advanced map color settings so you can modify it further if you wish to! It simply couldn't get better than this.
If you are already a Map Customizer plugin customer, this update is available to you free of cost. Simply login you your directory website wp-admin dashboard and update the plugin. The map settings you used to do earlier, is shifted to "Advanced Map Settings" tab as you can see in the screenshot above and by default, the color schemes will be shown. Your map settings will remain unchanged if you don't select any new colors schemes. Awesome right? :)
If you are not using this Map Customizer plugin yet on your directory site, you are missing out the change to give your directory site maps their own personality according to your brand. Grab this plugin from here.
Also did you take a look at over 20+ directory add-ons yet? Explore them and boost your directory site today.