Daily Deal
Create and manage a daily deals portal in WordPress
What is Daily Deal?
With the DailyDeal WordPress theme you can create a fully functional deals site using just the awesome WordPress CMS. Along with selling your own deals, the theme will allow others to submit deals as well. Ensuring great performance both on desktops and mobile phones is Foundation, one of the best front-end frameworks available today.
Key features
Showcase daily deals

Use the familiar WordPress back-end to create deals and publish them on the site. A custom "deal" post type is used to differentiate deals from other types of content.

Visitors can submit deals

Using the "Submit Deal" form any registered visitors can submit a deal on your site. What's more, you (admin) have full control over the submission form fields.

Easily manage the homepage

Customizing the homepage is easy as drag n' drop, literally. Widgets allow you to populate the homepage with various content while still preserving that clean and beautiful look.

Moderate submissions

As admin, you control what happens with each submission. It's in your power to confirm or reject any deal submitted on the site.

Add new submission fields

Fields available inside the deal submission form can be expanded allowing you to collect unique information from your visitors.

Various deal types

These include a custom (affiliate) type deal where the Buy Now button is linked to somewhere else, a digital deal and a coupon deal.

Several payment gateways

Available gateways include: PayPal, Google Checkout, Authorize.net, WorldPay, 2Checkout. Offline payment methods (cash and PreBank) are also present.

Affiliate module

Add affiliates and allow them to showcase your products on their sites. Use the affiliate back-end to stay on top of things with sales reports.

Maintain a regular old' blog

No worries, we didn't forget about the blog. Starting a blog with this advanced theme is as easy as creating a new category and adding some posts to it, no further tweaking necessary.

Notification emails to everyone

The theme will send out emails to all involved parties whenever a purchase is made on the site. These emails can be tweaked in the back-end.
Daily Deal app WordPress theme features an entirely responsive design
How does selling deals work?
In DailyDeal everything revolves around you – the admin. Once visitors, i.e. other sellers post their deals their job is done. The money made by selling those deals first goes to you. This is to avoid people getting scammed on your site.
After receiving the money the admin must forward it to the sellers. Since this part isn't tracked by the theme you can use any method you want – even cash. Of course, before you pay out the sellers you'll calculate and keep your commission. This is also up to you. The commission can be 10% or 70% – totally your call.
Considering deal sites tend to be high in traffic we recommend earning some extra money by selling ad space. To make it happen just use the built-in advertisement widget.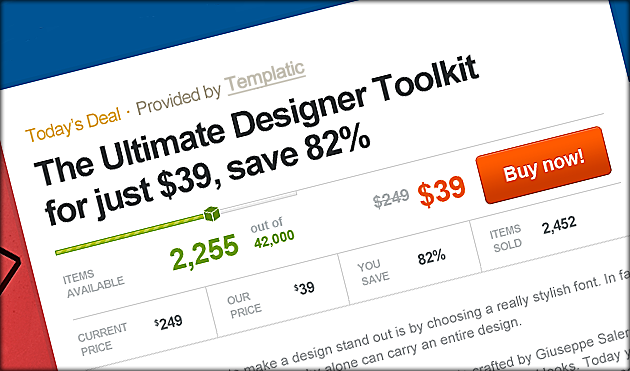 Customizable, widget ready homepage
Visit our Showcase to see what others have done with Daily Deal
The best theme support around
By purchasing this theme you will get access to our community forums; the primary area for receiving support at Templatic. Our team consists of both youngsters looking to expand their knowledge and skillful WordPress veterans.
Forums are actively maintained by our staff but there is also a lot of user activity. We actually encourage members to provide help to others and even give out monthly rewards (free themes) to those that do it regularly.
Private, 1 on 1 communication is done in Helpdesk allowing you to freely share sensitive information such as your site URL and wp-admin credentials.
Manage transactions

All transactions completed on your site will be available for review in the back-end.

Generate reports

To make numbers easier to manage you can export all transaction date into a .csv file.

Add your currency

Realtr isn't limited to a preset selection of currencies. Add your own currency code, symbol and position.

Custom register form

Use the back-end panel to create new fields for the register form; collect unique info from your visitors.

Facebook login

Install a plugin and allow visitors to login via Facebook instead of registering on site.

Share buttons

Facebook and Twitter buttons allow visitors to share deals on your site.

Grid/list view

Choose how deals will be displayed on category pages; as a list or in a grid.

Page layouts

Use the back-end to change the layout for your regular pages as well as the Submit Deal page.

CAPTCHA

Protect the deal submission form by installing WP-reCAPTCHA.
1-click auto install

Pressing just one button inside the theme back-end you can make your newly installed theme look like our demo site.

Automatic updates

The days of struggling with theme files are over. This feature will allow you to update the theme right from the WordPress dashboard, much like you would update a plugin.

Outstanding support

In case you ever run into problems, our skilled staff will be there to help in community forums and in Helpdesk.

Detailed documentation

A multi-page guide containing text, images and video makes getting started with this advanced theme a whole lot easier.

Third-party plugin support

Use popular WordPress plugins such as Gravity Forms or WordPress SEO by Yoast to enhance the directory even further.

Custom widgets

Display unique content with widgets such as: Facebook Fans, Twitter Feed, Testimonials, Browse by Categories, Contact Us, Recent Review, Social Media and more.
How does the admin make money with DailyDeal?

There are two ways for the admin to make money. The first is rather passive; by selling ad space. The second one is by selling the actual deals. DailyDeal is structured so that all the money first goes to you – the admin. Once a deal is finished it is your job to forward it to the other parties. This part is done off-site so you can distribute the money however best suits you.

Are coupon codes generated automatically?

Yes and no. While creating a coupon-type deal you get to choose whether to use one coupon code for all payments or unique codes for each purchase. If you select the second option (unique codes) you need to enter the same number of codes as set in the "Max number of purchases" field. This part is of course manual, however if you leave the field empty the theme will generate the required number of codes for you.

Does DailyDeal work with multiple cities?

No, it doesn't, there is no multi-city functionality included. That said, nothing is stopping you from creating a MultiSite environment and creating a sub-site (running DailyDeal) for each city.

Is DailyDeal responsive?

Yes, it is. The theme is responsive and will look good on both mobile and desktop devices.

Can I change the logo?

Yes, of course. The logo and can be changed from the theme's back-end section.

Is DailyDeal available as a HTML template?

No, it's not. It's only available as a WordPress theme.

Can visitors manage the deal they submitted?

Once visitors register to the site they gain access to the front-end user dashboard. From that dashboard they can manage their website profile and manage all the content they published. You (admin) can manage all listings from the WordPress back-end section.

Am I allowed to customize the theme?

Yes, of course. You're allowed to make unlimited changes to the theme, design and functionality included. We even encourage this by including the best customized sites in our Showcase.

Does DailyDeal work with WordPress MultiSite

Yes, it does. All Templatic themes work great on MultiSite, including DailyDeal.

Is video embedding possible?

Yes. To embed a video into a place or event just paste the iframe embed code from YouTube, Vimeo or some other video sharing website.
Very satisfied with the on going support from Mudassar and Umar who are a credit to Templatic Always go out their way to troubleshoot and fix any issue Highly recommended.

– Andrew Cantwell

I think that templatic gear toward specific plus its hard to tell that your theme is built for WordPress. Support is great. You guys are very mannerly and respectful some thing you don't fine too often.

– Roderick Young

I have been using Templatic since 2012 and I have found them to be very helpful and professional in their support. They seem to keep up pace with the changes in social media, serps and technology, combine that with attractive designs and reliable customer support and it's a company I will do business with again

– Nick Byng
THIS WEEK ONLY
: Get 25% discount on any of our products. Use
"JS2500DG"
coupon code when you checkout.
Read More
.