Events
Create & manage your out of the box Events website with this great WordPress events directory theme
Easy to get started.
The Events theme comes with "Easy Install" built-in. Once you activate the theme, click this button and it will magically turn your site to look exactly like the theme demo on our site. It will do all necessary settings and add some sample content on your site. Means you can start with your site right away.
1

Install WordPress

Install WordPress, the free, open source and most popular CMS software in the world on your site

2

Easy Install this theme

Purchase & activate this theme. Then Click "Easy Install" button and magic! Your site looks exactly like our demo.

3

Your Directory Site is Ready!

Explore different options added by this theme and just start adding content on your site & monetise it.
Customizable, widget ready homepage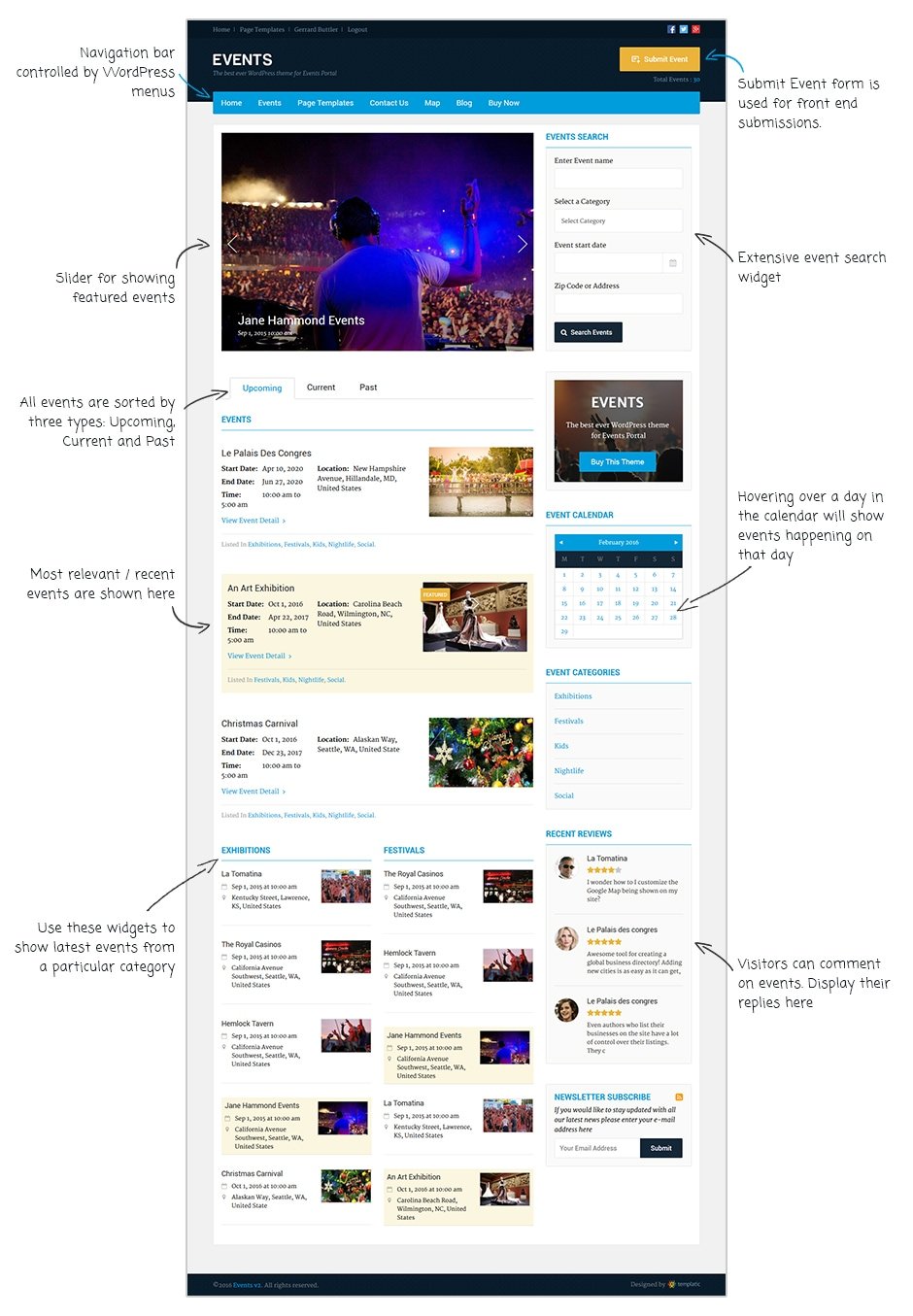 Key features
Recurring events

Along with creating a regular old event, Events theme allows you to create recurring ones as well. Set a global start/end date and then define the occurrence.

Allow visitors to submit events

In case your directory needs to be user-driven, Events theme has got you covered. Not only can you enable user submissions, you can also monetize them by creating price packages.

Widgetized homepage

Customizing the homepage is easy as drag n' drop, literally. Widgets allow you to populate the homepage with various content while still preserving that clean and beautiful look.

Google Maps

To make events easier to find you can use maps. Maps are shown on category and detail pages by default. You can also create your own by using the included map page template.

Customize the submission form

Each field you see inside the event submission form can be modified from the theme's extensive back-end section. Creating new ones is possible as well.

Facebook integration

Using third-party plugins such as OA Social Login you'll be able to provide an alternative login method to your visitors. Pulling events from Facebook is also possible.

Translate Events

Events comes with a language file (.po) you can use to translate the theme. In case you haven't done this before we've prepared a tutorial that will help you get started.

RSVP to submitted events

Both you and your visitors will have an option to confirm attendance of a particular event. Each event selected as attending will be visible inside the user front-end dashboard.

Maintain a regular old blog

No worries, we didn't forget about the blog. Starting a blog with this advanced theme is as easy as creating a new category and adding some posts to it, no further tweaking necessary.

Setup promotions using coupons

The included coupon module will allow you to offer discounts for created price packages. This will for sure come in handy early in the sites's life-cycle.
What is a Event Directory Theme?
This WordPress theme helps you create, manage and monetize a events directory site for literally any purpose so you can build an online business of showing events listing
Here's few screenshots showing how it looks…
Looks great on any device
This theme is responsive. It means whether your site visitor is looking at your site from a mobile device, touch pad, laptop or any computer. It is coded to look great everywhere. Simply means low bounce rates, better position in google search results. theme demo a try.
Seeing is believing. Pull out your mobile and give this theme demo a try.
Google will love your site
This theme is coded as per best of the SEO practices. Not only that, this theme also supports the best, free SEO plugins available today such as WordPress SEO, All in One SEO, Google XML Sitemaps and All In One Schema.org Rich Snippets , so you can have best of both the worlds.
By utilizing free plugin like All In One Schema.org Rich Snippets, you can really take your site SEO to a new level.
Your site in ANY language!
Tested with popular WPML plugin and .PO and .MO files are provided with this theme. Using WPML plugin on your site lets you showcase your website in multiple languages
Compatible with popular WordPress plugins
This theme is compatible with some of the most popular WordPress plugins. Get best of both the worlds.
Easily Customizable
You can customize this with your ways, easily customizable color settings are in backend customization, Just change color from customizer and visit your front end. You will get your site ready with the choice of your colors.
1-click auto install

Pressing just one button inside the theme back-end you can make your newly installed theme look like our demo site.

Custom widgets

Display unique content with widgets such as: Browse by Categories, Top Agents, Finance Calculator, Featured Video, Contact Us, Twitter, Facebook, About Us.

Outstanding support

In case you ever run into problems, our skilled staff will be there to help in community forums and in Helpdesk.

Detailed documentation

A multi-page guide containing text, images and video makes getting started with this advanced theme a whole lot easier.

Third-party plugin support

Use popular WordPress plugins such as Gravity Forms or WordPress SEO by Yoast to enhance the directory even further.

Browser compatibility

All Templatic themes are compatible with latest versions of Chrome, Firefox and Safari and two latest versions of Internet Explorer.
Can I change the logo?

Yes, of course. The logo and favicon can be changed from the theme's back-end section.

Is Events available as a HTML template?

No, it's not. It's only available as a WordPress theme.

Is bulk uploading available?

Yes, it is. From the "Advanced Settings" section in the theme back-end you can upload .csv files containing events and places data.

Does Events work with WordPress MultiSite

Yes, it does. All Templatic themes work great on MultiSite, including Events.

Can visitors manage the listings they submitted?

Once visitors register to the site they gain access to the front-end user dashboard. From that dashboard they can manage their website profile and manage all the content they published. You (admin) can manage all listings from the WordPress back-end section.

Which payment gateways are currently supported?

Right now the theme allows visitors to check out using the following gateways: PayPal, Google Checkout, 2CO (2Checkout), Authorize.net, Worldpay.
Along with the above gateways Events comes with two offline payment methods: PreBank Transfer and Cash.

Am I allowed to customize the theme?

Yes, of course. You're allowed to make unlimited changes to the theme, design and functionality included. We even encourage this by including the best customized sites in our Showcase.

Can Events work with Open Street Map instead of Google Maps?

No, it cannot. Google Maps are an integral part of the theme, changing them to something else cannot be done easily.

Is video embedding possible?

Yes. To embed a video into a place or event just paste the iframe embed code from YouTube, Vimeo or some other video sharing website.

Is it possible to create multiple cities in Events

At the moment this isn't possible. Events was designed as a one-city theme. That said, MultiSite is always an alternative….
The best theme support around
By purchasing JobBoard you will get access to our community forums; the primary area for receiving support at Templatic. Our team consists of both youngsters looking to expand their knowledge and skillful WordPress veterans.
Forums are actively maintained by our staff but there is also a lot of user activity. We actually encourage members to provide help to others and even give out monthly rewards (free themes) to those that do it regularly. Threads containing customizations are tracked and cataloged so future members can find them more easily.
Private, 1 on 1 communication is done in Helpdesk allowing you to freely share sensitive information such as your site URL and wp-admin credentials.
Being new to WordPress and having specific ideas of how I want things to look and work, it has been essential for to fall back on the professional customer service of Templatic. Rarely did I have to wait more than a day to get advice on how to proceed with many different issues.

– Edgar Hütte

With all the features provided by this theme, our website to be on par with other national large corporate websites. Traffic is also increasing. Templatic support staff are also very professional and fast. They help me to solve all the difficulties and problems as fast as they can. I would definitely use their product again if I needed website theme. Templatic is very reliable. Big Thanks To Templatic.

– Centrury 21 Graha

Big thanks to Templatic team for your excellent customer service and assistance. Your support is truly outstanding and I highly recommend your business.

– Krystyna Stedman
THIS WEEK ONLY
: Get 25% discount on any of our products. Use
"JS2500DG"
coupon code when you checkout.
Read More
.