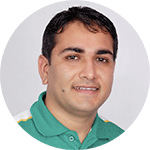 "Tell me about the directory website you wish to create and I'll bring it to life
It doesn't matter if you need to create a Directory website to generate a passive income, manage an association or club members, sell classifieds, create a city portal or directory for a specific niche. You've come to the right place.
At templatic, we have been developing directory websites and software for many years. Having interacted with and listened to thousands of customers, we understand your requirements. Over the years, we have perfected the directory software to match the practical and real life needs of our customers.
Please fill-in the form on the right to tell me about your plan. I will send you a demo so you can take our software for a test drive."

- R.Bhavesh,
CEO, Templatic.com