Creating Facebook App
Access to your site backend Tevolution >> Settings >> Registration Page (tab) and enable the option of Facebook.
You will see to insert App Id and Secret Key. Click on the link below the field and you will be redirected to Facebook Login page.
Login to your Facebook account or create a new one.
Open the Facebook Developers page. Allow developer access if you get prompted for that.
Inside the top left corner click on + Add New App.
Add your Display Name and Email that you want to show when users Login through Facebook.
You will see multiple options and in that you need to select Facebook Login and click on the Set Up button.
Choose the WEB option and add your site URL for the relevant field and save it.
Go to Settings option and you need to Choose Basic Settings for your app.
Choose Category as "Community & Government" and add your site URL in the App Domain field.
You need to add the Privacy URL for your app to use the Facebook Login to work on your site.
You will get the Privacy URL from this link Privacy Policy and follow the steps shown in the Video.
After Creating the Privacy URL you need to copy the URL and paste it in your app and save the settings.
Now to to the App Review Section and you need to enable the app PUBLIC.
Next go to Facebook Login Settings and enable the option and your site URL and save the settings.
Final Setup would be Go to Basic Settings and copy the AppID and Secret Key and paste it on your site backend.
Please refer this mentioned screenshot: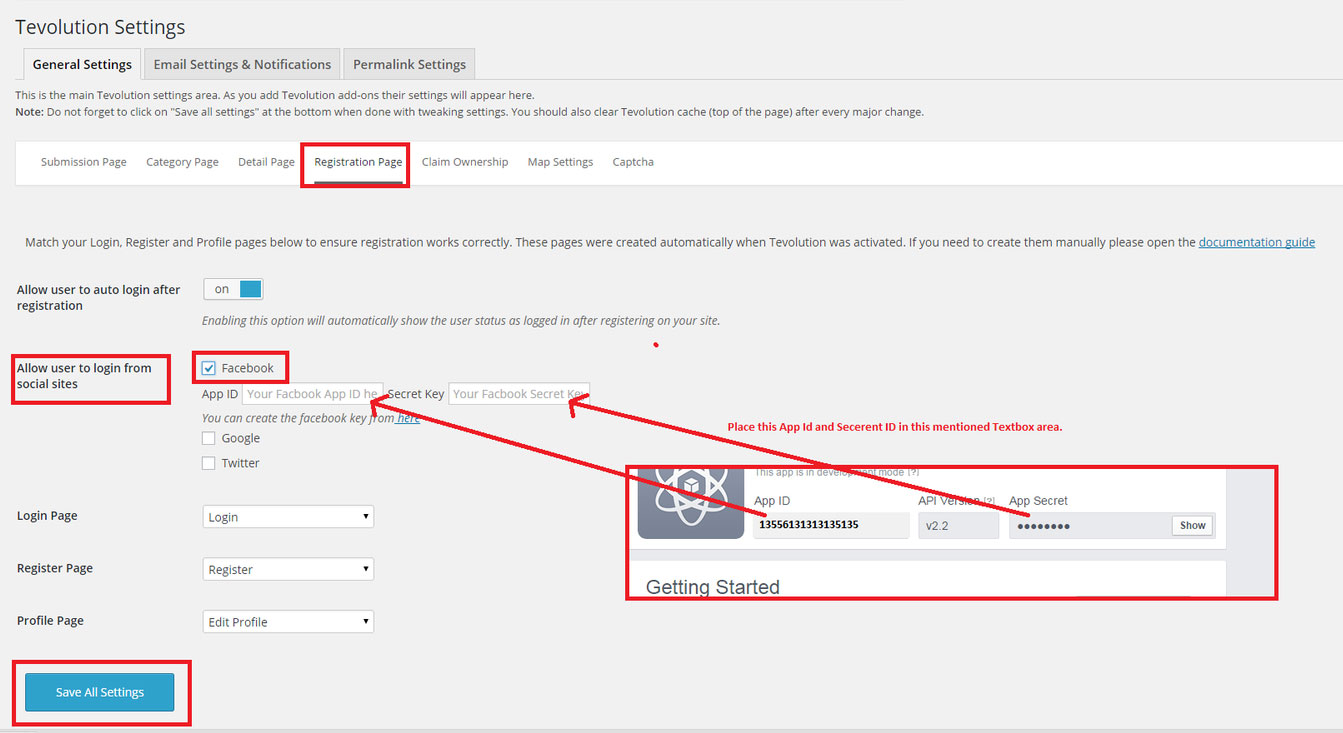 So, you can enable Facebook login feature on your Directory website by creating a Facebook app this way.
This is the video demonstration to enable FB login in Tevolution Plugin.
Creating Google App
Login to your Google account or create a new one.
Open the Google Developers Console.
Inside the top right corner of the screen you should see a "Select a project" dropdown. Expand the dropdown menu and click on "Create a project…".
Enter your name for the project and leave the rest as-is.
Once the Dashboard of your new app opens click on "Enable and manage APIs".
Search for the Google+ API. Enable that API.
Once you enable the API you should see a message saying you can use the API until you create credentials. Click on the blue "Go to Credentials" button".
Under Where will you be calling the API from? select "Web browser". Under What data will you be accessing? select "User data". Go to next step.
Now leave the Authorized JavaScript origins field empty. Under Authorized redirect URIs enter this URL
http://YOUR_SITE.com/wp-content/plugins/Tevolution/tmplconnector/monetize/templatic-registration/hybridauth/?hauth.done=Google
Don't forget to swap the YOUR_SITE part with your own domain.
Click on the "Create client ID" button below to proceed to the next step. Click the button again if you stay on the same step.
Enter the email address and product name that should be displayed to visitors when logging in to your app.
In the Download credentials step click on "I'll do this later".
You should now see this. Click on your Web client

Now copy the "Client ID" and "Client secret" values available in the "Client ID for web application" section.
Connect to your site and go to Tevolution ⇨ Settings ⇨ Registration settings. Paste the Client ID inside the App ID field and the Client secret key inside the Secret key field.
Creating Twitter App
Login to your Twitter account or create a new one.
Open the Twitter dev page.
Click on "Create new app"
Inside the "Application Details" fill in the Name and Description you want for the app. Also enter the location (URL) of your site. Enter this as the Callback URL:
http://YOUR_SITE.com/wp-content/plugins/Tevolution/tmplconnector/monetize/templatic-registration/hybridauth?hauth.done=Twitter
Don't forget to swap the YOUR_SITE part with your own domain.
Your app should now be showing. Click on the "Settings" tab and check the "Allow this application to be used to Sign in with Twitter" option.
Open the "Keys and Access Tokens" tab.
Copy your "Consumer" and "Consumer Secret" keys
Paste the values inside Settings ⇨ Registration settings on your site.