Online presence for your enterprise with enterprise
Posted on
We are excited on releasing our new theme "Enterprise", another clean, simple and strategically structured business theme this month – just perfect to build a professional looking site for your business.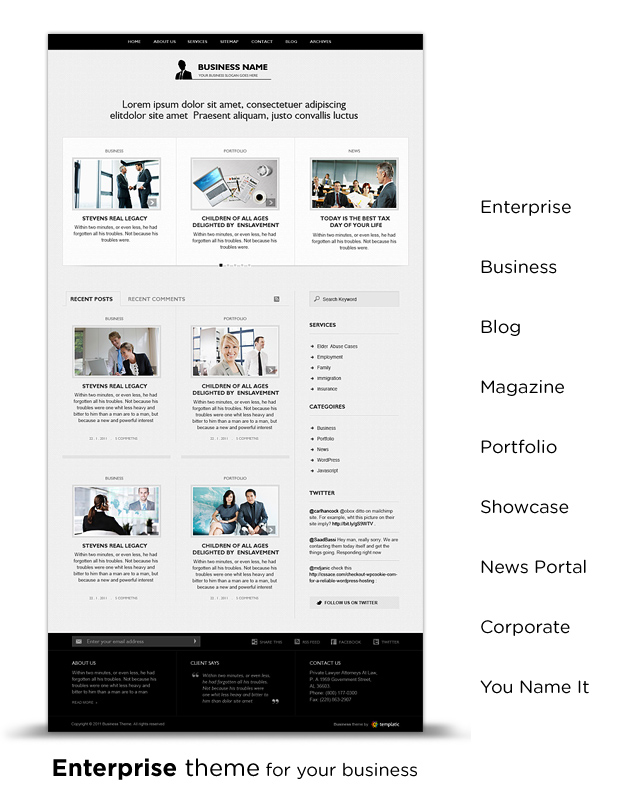 The first thing you notice about this theme is "How simple and clean it looks" and exactly that's what we targeted. Typography, simplicity, cleanliness, grid perfection and ample space is what this theme is all about.
The slider on the homepage helps you to highlight some special points and below lies the tabbed structure, where recent posts are shown or you can also highlight some special categories in that area.
Just below that lies our regular widgets – Subscribe, social media, etc. Under the hood lies our powerful Design settings, which helps you to change many aspects and customize the theme, as per your creativity/liking. With the help of Design settings, you can change background color, link color, control various settings like hide comments, Google Analytics code, etc Isn't it exciting that you can do all this, without even touching the code.
We tried to create something different in Business theme category, and here is the result. Enterprise theme stands here. We suggest you take a look at live demo of this theme to know how this what do we mean by different .
Enterprise Theme View Live Demo | View Features and Buy
How do you like the themes being released recently over at templatic? Like em, hate em? We're all ears to know what you have in mind.
Until then, go, build an enterprise :)