Private blog theme for teams to collaborate.
Earlier this week, we explained how How we used and modded P2 theme to enhance productivity at Templatic and many users really liked the concept of this private collaborating and requested us to release this theme. Well, here's the free, improved version of the theme with theme admin options for you.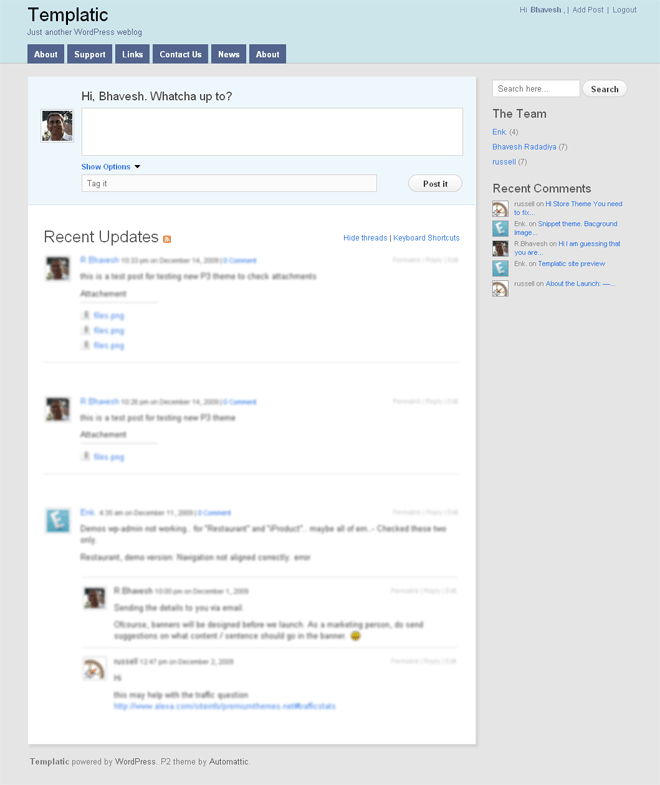 If you are looking for shiny looks, this may not be the theme for you, please download our other freebies. But if you are looking to collaborate with a small team or, you need a private blog where only your team members can view, share files and write the content without going to backend, this is the theme you've been looking for.
Here's some of the features of the theme.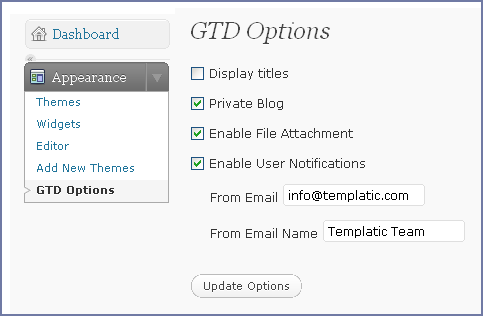 we added file attachment and user notification functions into the P2 theme. Also we added theme admin options so you can avoid features that you do not want.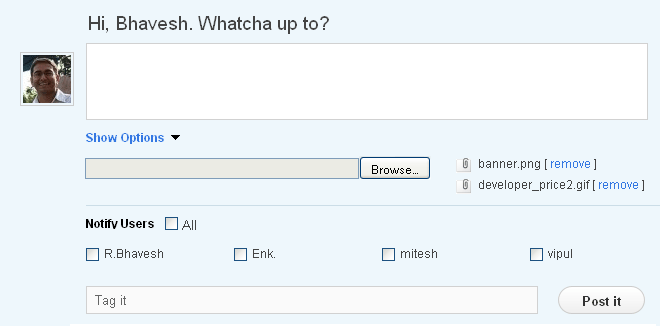 A twitter like theme where the admin and authors can post and reply quick status updates without going to wordpress admin.
If private blogging is enabled via theme admin options, You will need to log-in before accessing the blog content. With the members only function in the theme, it serves as private blog as well wherein, you may post the ongoing updates and concerns without any kind of formalities, can make fun or even rant.
Attach file(s) when you post an update. Perfect for bug reporting and other tiny file transfers so you refer to the update whenever you need.
Notify users When you are adding an important update and want to make sure all / some members needs to be notified about an update. Simply select all/some of the users and post your update. The selected users will be sent an email with the alert on the update you made.
Very simple and usable look that resembles 37signal's product basecamp.
If you wish to keep the header small, simply remove pages and slogan from your wp-admin and the header height will automatically be reduced.
Download : GTD theme
Support
Support for this theme is exclusively available to our customers only. You may purchase one of our theme from our Premium Themes Store and attain support.Emails requesting support for this theme will not be responded, comments will be deleted.
Credits
The base theme is P2 – a theme developed by Noel Jackson from Automattic team.
Looks of this theme resembles 37signal's product basecamp.
License
The theme is released under GPL license. You may use the them for personal or business use. You are free to modify theme in anyway you want, you may remove credits from the footer.
Though not compulsory, we'd appreciate a link back to this page in case you wish to share the theme.