Nightlife and Tevolution are now available!
Posted on
IMPORTANT UPDATE: Nightlife has been retired and is no longer available for purchase. Instead, check out the Eventum theme.
Two weeks ago we released something really important to all of us at Templatic – Tevolution. After two (more) weeks of rigorous testing we believe the plugin and Nightlife are ready for the spotlight!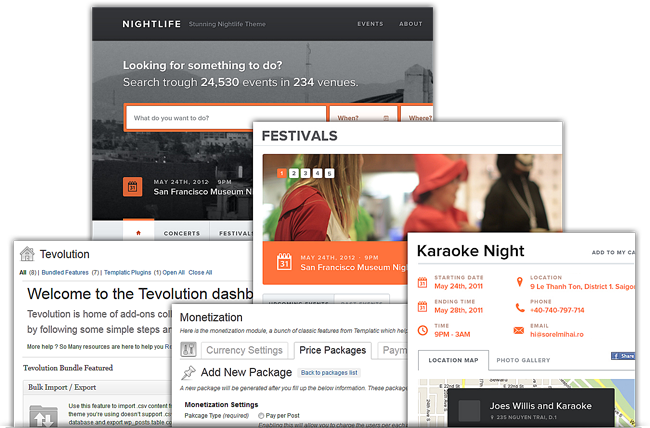 If this is your first time hearing about Nightlife and Tevolution we recommend you check out the following:
A number of improvements have been made since the initial release, here's some of them:
Event detail page now displays how many members are coming to the event
Author pages display information about the active subscription package

Improved transaction details section – it shows more information now
Set default listing status for both free and paid events (submitted using the Submit Event form)
Changed Tevolution Dashboard to look more like the upcoming WordPress 3.5
Improved slider widget + slider search. You can now search locations without the need to input a keyword (event name)
Extensions / Add-ons
Although feature packed, not everything will be included inside the main plugin. Payment gateways such as 2CO, Authorize.net or Google Checkout are available as paid extensions (PayPal is integrated with the system). These add-ons are $39 each. Club members have access to all add-ons!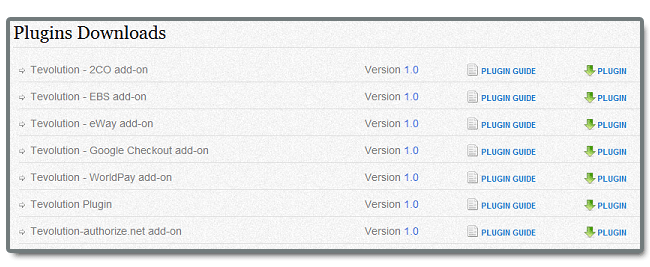 Support and updates
Like most other plugins, Tevolution supports automatic updates. When an update becomes available WordPress will display a notification. You can then update the plugin from the WordPress dashboard. Nightlife on the other hand still has to be updated the old fashioned way – by uploading the latest version to your server. The only difference is, this time a notification will be displayed in WordPress alerting you that a new version of the theme is available.
Since this is a new (extremely complex) product some hiccups are possible. If you notice any issues please report it in ticket. All problems will be taken care of within 48 hours. Most of the team is committed solely to this so expect fast replies and fast fixes.
Purchasing Nightlife
Since Nightlife depends on Tevolution they come bundled together. Purchasing the theme gets you both the theme and the plugin. The plugin will not be sold separately, at least not at this point. Even though Nightlife cannot be used without Tevolution, the plugin itself is not limited to Nightlife, you're free to use it with other themes (but don't expect everything to look as nice). You are also free to use Tevolution with non-Templatic themes, just keep in mind that support will not be provided for those themes
Limited Time Offer
Starting now and ending on November 14th, 2012 – Nightlife standard license can be purchased for $89 $59. The developer license will set you back $189 $119. The discount is applied automatically at checkout; there are no coupon codes, just checkout like you normally would.
View Live Demo, take a Test Drive orPurchase Nightlife
Hopefully we managed to explain what Tevolution is all about. If something is still unclear don't hesitate to contact us. As always, we hope you'll leave a comment below and tell us what you think about this release.