The recent update frenzy continues with the TechNews magazine theme! Much like eBook and iPhone App released earlier this month, TechNews 2 is also powered by our supreme parent theme.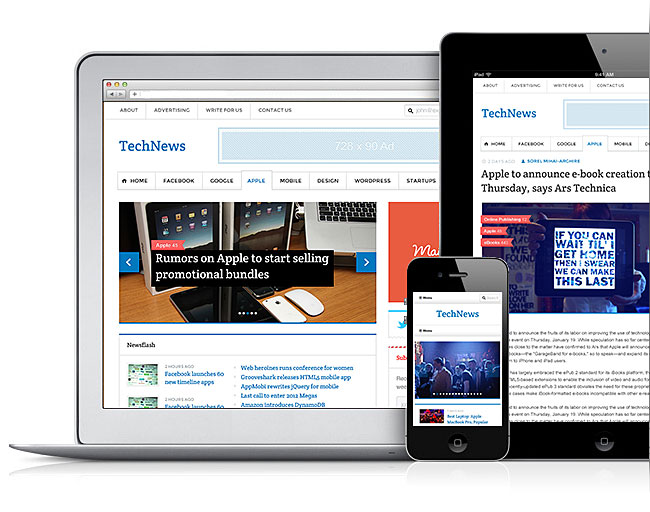 What can you expect from TechNews 2?
The same mobile friendly design that looks great on any device
Widgetized homepage for easy content manipulation
Great selection of new Templatic shortcodes
Theme Options moved to WordPress customizer – see changes as you make them
Mega menu support
Full support for three awesome plugins
Want to sell something with your TechNews theme? You can totally do that now! With full WooCommerce support you'll have access to the exact same features as our e-commerce themes. Base WooCommerce plugin is completely free with tons of optional upgrades. To download the plugin just click on the WooCommerce logo below
bbPress is a perfect solution for all those looking to extend their community. It makes forums super-easy to manage and the best thing is – you never need to leave the comfort of your WordPress install. While not feature rich as some other forum solutions, growing extension database more than makes up for that
TechNews 2 doesn't come with SEO settings built-in. Instead, we've decided to provide full support for the best SEO plugin available today – WordPress SEO. Don't trust us, click on the SEO logo below and see what others are saying about it
Automatic Updates
With TechNews 2 you won't have to worry about updating the theme. Notifications about new updates will come directly to your WordPress dashboard. What's more, you'll be able to perform the update right there inside the dashboard. Be careful though…updating will undo all your customization so be sure to back everything up first.
View Live Demo or Test Drive and Purchase this theme
Do you own any of the themes that were updated this month? Let us know what you think about these updates.