Templatic Christmas Sale: Buy 1, get 2 free!
Posted on
UPDATE: Due to site downtime, the offer is extended for more 2 days. This means the offer will end on 2nd January.
Those of you who've been with us for a few years know that they can expect some sweet deals come Christmas. Well, this year is no different! Similarly to last year, we will be offering cool deals for both single-theme and club purchases!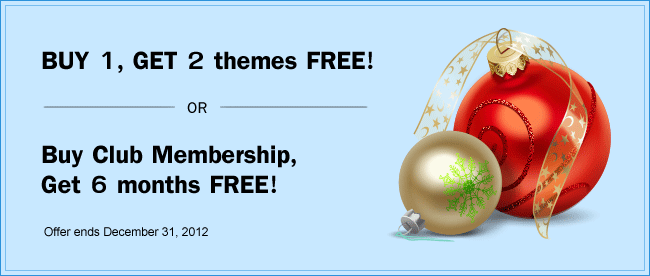 Single-theme purchase
Purchasing a single theme between today, Dec 24rd, 2012 and Dec 31st 2012 will net you not just the purchased theme, but also two extra themes of equal or smaller value. All our themes are displayed inside the Themes Gallery. As always, feel free to use the test site in order to determine which theme best suits your needs.
Premium Themes Club
Purchasing the Club membership between today, Dec 24rd, 2012 and Dec 31st 2012 will reward you with 6 months of free membership (instead of just one month). These extra months will be automatically applied to your account – no further action is necessary. Templatic Club is an awesome choice for all of you that plan on creating multiple sites with our themes. Click here to read more / purchase the Club membership
Past Christmas sales often didn't reward those that missed the sale for a few days. This time is a little different… Every member that purchased a theme in the past week gets the two extra themes! Just as those that purchased a single-theme, all members that opted for the Club membership in the last week get the extra 6 months! Please note that this only applies to those that made the purchase between December 17h, 2012 and today. Read the instructions below to see how you can claim your themes.
How this works?
Grab any theme from our Themes Gallery or Club membership and complete the checkout process
If you purchased the Club membership after this post was published – you're done, the extra months are already added. If you purchased it in the past week or you purchased a single theme please click on the claim button below.
[templatic_button link="//templatic.com/helpdesk/index.php?act=tickets&code=open&step=2&department=10″ size="large" type="basic"] Claim extra themes [/templatic_button]
We wish you all an awesome Christmas and a legenwait-for-itdary New Year!