Appointment
For businesses that want to create a professional looking website and manage Appointments online.
The Business Theme With Appointment Bookings
This is a popular WordPress appointment booking theme which is ideal for any services business. Showcase your services and allow your customers to book appointments online. Scheduling an appointment for a service your business provides is made super-easy with the theme's booking form which is highlighted on the homepage. In case you don't require any booking features, removing the form is just two clicks away.
Appointment Theme Key Features
Customizable Homepage

Changing the homepage is easy as drag n' drop, literally. Widgets allow you to shape the homepage with different content so you can use this theme for any type of business.

Appointments Online Booking

Built for small businesses, the Appointment theme comes with an extensive booking module which will allows your customers to book services your business provides.

Customizable Appointment Form

Use the back-end to add new services and even edit the form fields. Add an unlimited number of your own custom fields to match your business requirements.

Multiple Built-in Payment Gateways

Appointment comes with support for the following payment gateways: PayPal, Google Wallet, Authorize.net, WorldPay and 2Checkout. Two offline methods are also available.

Design Settings

Control the color of your links, the font and even the background color – all from the theme back-end settings area. Customize the theme's appearance to match your business color scheme.

Advanced Slider

The slider in Appointment is controlled by a separate taxonomy. This will allow you to showcase videos, images and text within the homepage slider. This is great feature to promote your services or products.

Translate Appointment

This powerful appointment scheduling theme comes with a language file (.po) you can use to translate the theme to your language. In case you haven't done this before we've prepared a tutorial that will help you get started.

Built-in Blog

As well as being a theme for online appointment booking, it also includes a blog. This is optional to use but it's great if you need to have a blog on your business website.

Appointment Availability Settings

Use the back-end to set the time frame in which service bookings are available. You can also set a time interval between available time slots.

Editable Email Templates

Edit the email text that is sent to your customers after booking an appointment. It's HTML based so feel free to get creative.
Appointment WordPress business themes is available in 5 color schemes
The Customizable WordPress Appointment Booking Theme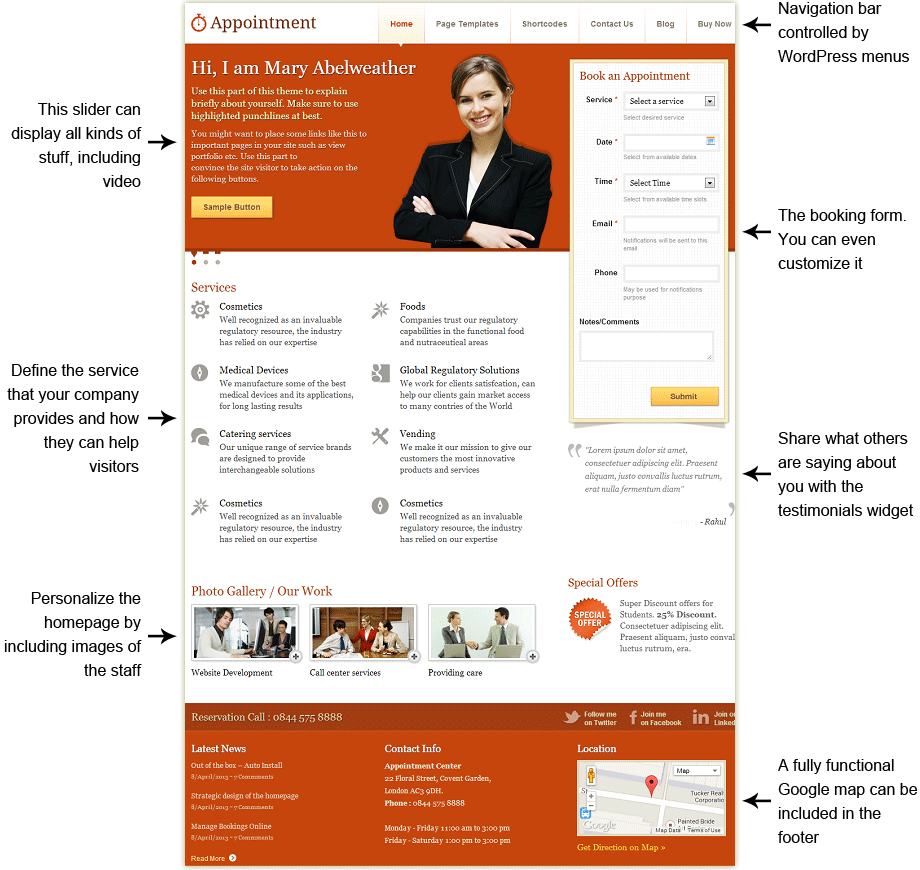 1-click auto install

Pressing just one button inside the theme back-end you can make your newly installed theme look like our demo site.

Detailed documentation

A multi-page guide containing text, images and video makes getting started with this advanced theme a whole lot easier.

Outstanding support

In case you ever run into problems, our skilled staff will be there to help you Contact Form.

Third-party plugin support

Use popular WordPress plugins such as Gravity Forms or WordPress SEO by Yoast to enhance this business theme even further.

Included .PSD file

The developer version comes with a layered Photoshop (.PSD) file so you can change the look and feel of the theme as much as you like.

Browser compatibility

All Templatic themes are compatible with latest versions of Chrome, Firefox and Safari and two latest versions of Internet Explorer.
Can I change the logo?

Yes, of course. The logo and favicon can be changed from the theme's back-end section.

Is this theme available as a HTML template?

No, it's not. It's only available as a WordPress theme.

Can I display videos in my posts and pages?

Yes, you can. To display a video just embed the video code from YouTube, Vimeo and other video sharing sites.

Does it work with WordPress MultiSite

Yes, it does. All Templatic themes work great on MultiSite.

Am I allowed to customize the theme?

Yes, of course. You're allowed to make unlimited changes to the theme, design and functionality included. We even encourage this by including the best customized sites in our Showcase.

What other languages are supported?

None unfortunately, the theme is only available in English. However, it does come with a language file you can use to translate the theme inside your language. Instructions for that have been provided here.

Does it work with the latest WordPress?

Yes, it does. The latest version of the theme will always be compatible with the latest version of WordPress (whatever that is).

Is the theme responsive?

No, it isn't. That said, the theme will render just fine on most modern mobile browsers.

Can I use the booking system with another theme?

No, unfortunately this isn't possible. The booking module is integrated within Appointment and cannot be extracted. If you need a booking plugin check out this one.

Can I remove booking form fields?

Some fields within the form are fixed and cannot be removed. When it comes to the default fields, everything except "Notes" field cannot be removed. There are no limitations when it comes to adding new fields – you can add as many as you want.
The best theme support around
The theme comes with a user and installation guide but help is always at hand. By purchasing this theme you will get access to the Templatic support team. Our team is always happy to be of assistance.
Creating a support ticket is easy and you can do so by choosing the 'Existing member' option on our Contact Form. You'll find the link to the contact form in the top right area of our website. You can also create a ticket from the 'Support' tab in your member's area dashboard.
Click on these websites to see how they have used the Templatic Appointment Theme to take their platforms to the next level!
Most flexible "Off the Shelf" themes
"Off the Shelf" themes most flexible according to my need. The theme took a while to get used to, but the support team was on hand to help, delivered an excellent level of customer service helps you personally to implement the advice.
1 Site License Install on 1 domain

49

Show Features

Lifetime usage license
1 year of theme updates
1 year of theme support
Easily add your own logo
1-click dummy data install
No customization restrictions
Upgrade at any time

5 Site License Install on up to 5 domains

79

Show Features

Lifetime usage license
1 year of theme updates
1 year of theme support
Easily add your own logo
1-click dummy data install
No customization restrictions
Upgrade at any time

Club Get access to 90+ templatic themes

299

Show Features

Access to this theme 90+ Templatic themes
Install on unlimited domains
Access to dozens of plugins
Lifetime usage license
Easily add your own logo
1-click dummy data install
No customization restrictions