Service Biz
An appointment booking WordPress theme with great looks and a responsive design for your service based websites
The Service Biz theme…
Service Biz is a beautifully designed appointment booking WordPress theme perfect for establishments such as wellness centers, spa salons, lawyers, hair salons, doctors, etc. The theme is powered by our advanced Tevolution plugin and the Appointment add-on. Both plugins are provided for free with each Service Biz purchase.
Key features
Showcase your service or business

With modern design and beautiful typography this appointment theme is designed to turn heads. Full width slider is just one of the elements that will for sure grab your visitors attention.

Manage appointments online

The appointment module included with Service Biz allows your visitors to book dates for a service that you're offering. Services and their fees are controlled from the back-end.

Sell products

With help from the powerful WooCommerce plugin our Service Biz theme can double as a fully-functionality web store. Full tax and shipping support, product variations, coupon module etc.

Easily manage the homepage

Customizing the homepage is easy as drag n' drop, literally. Widgets allow you to populate the homepage with various content while still preserving that clean and beautiful look.

Showcase banners and ads

The widgetized design means you can easily add banners or Google ads virtually anywhere on the site without touching a line of code

Create a multilingual site

Use WPML to setup a multilingual booking site where visitors can change the default language per their requirements.

Unlimited colors options

By using the WordPress customizer you can alter theme colors and layout styles in real time. A wide selection of textured backgrounds is also provided.

Included appointments calendar

With the back-end availability calendar you'll be able to see easily see which times and dates are taken (reserved). By clicking on a specific appointment you can open its properties.

Maintain a regular blog

No worries, we didn't forget about the blog. Starting a blog with this advanced theme is as easy as creating a new category and adding some posts to it, no further tweaking necessary.

Setup promotions using coupons

The included coupon module will allow you to offer discounts for the standard service fees. Coupon codes created in the back-end can be modified and removed at any time.
This appointment booking WordPress theme features a stunning responsive design
The best theme support around
The theme comes with a user and installation guide but help is always at hand. By purchasing this theme you will get access to the Templatic support team. Our team is always happy to be of assistance.
Creating a support ticket is easy and you can do so by choosing the 'Existing member' option on our Contact Form. You'll find the link to the contact form in the top right area of our website. You can also create a ticket from the 'Support' tab in your member's area dashboard.
1-click auto install

Pressing just one button inside the theme back-end you can make your newly installed theme look like our demo site.

Automatic updates

The days of struggling with theme files are over. This feature will allow you to update the theme right from the WordPress dashboard, much like you would update a plugin.

Outstanding support

In case you ever run into problems, our skilled staff will be there to help you Contact Form.

Detailed documentation

A multi-page guide containing text, images and video makes getting started with this advanced theme a whole lot easier.

Third-party plugin support

Use popular WordPress plugins such as Gravity Forms or WordPress SEO by Yoast to enhance the directory even further.

Child theme friendly

Looking to customize Service Biz? Using a child theme will make the process much easier and what's even more important; future proof.
Can I change the logo?

Yes, of course. The logo and favicon can be changed from the theme's back-end section.

Is Service Biz available as a HTML template?

No, it's not. It's only available as a WordPress theme.

Is bulk uploading available?

Yes, it is. Tevolution (main plugin powering Service Biz) comes with bulk upload functionality.

Does Service Biz work with WordPress MultiSite

Yes, it does. All Templatic themes work great on MultiSite, including Service Biz.

Can I set the theme to 12 hour time?

Yes, you can. The theme comes with a back-end option that allows you to switch the module between 12 hour and 24 hour time.

Which payment gateways are supported?

Service Biz comes with 2 payment options enabled: PayPal and Bank transfer. If you'd like to offer more payment options to your visitors install one of our optional payment gateway extensions.

Am I allowed to customize the theme?

Yes, of course. You're allowed to make unlimited changes to the theme, design and functionality included. We even encourage this by including the best customized sites in our Showcase.

Does the appointment calendar integrate with Google Calendar?

No, it doesn't. The calendar inside Service Biz is proprietary and doesn't integrate with other calendars. You are however free to customize the calendar in any way you'd like.

Is it possible to change the fields inside the appointment widget/form?

Yes, it is. All fields can be modified or removed inside the theme back-end section. Even though all can be removed, we recommend you don't remove fields such as "Service", "Date" or "Time" since they are required for the module to work properly.

Are there any email notifications after appointment submission?

Yes, there are. The visitor gets an appointment confirmation via email while the admin gets a notification that an appointment has been made.
The appointment page explained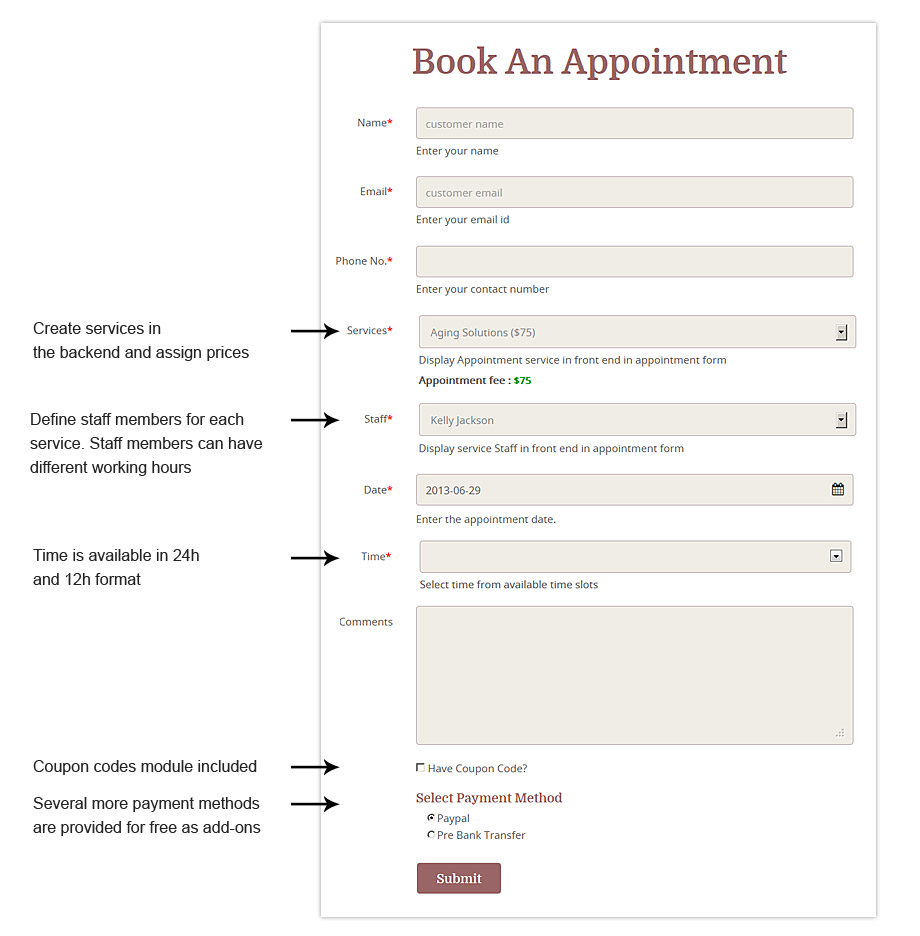 It also does WooCommerce
WooCommerce is a free e-commerce plugin that will allow you to sell products with the ServiceBiz theme.
What's included in WooCommerce?
Super-easy store management
Extensive tax and shipping options
One page checkout for improving conversions
Advanced reporting and order management
Included coupon module for running marketing campaigns
Extensive documentation for both beginners and developers
Various sharing options
A massive selection of extensions
Completely secure with frequent checks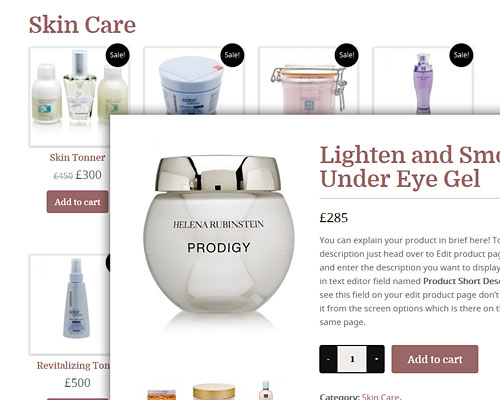 The best of the best. Without a doubt.
Templatic has beautiful themes in wordpress that can be easily developed by anyone. The support provided by Templatic is of the highest quality, without a doubt. All its templates are easy to manage, very powerful, and highly customizable.
Get started today
Hundreds of hours of team effort went into design and development of this WordPress theme. Get hold of this theme at a fraction of the price which it actually cost to develop and start your business website today.
1 Site License Install on 1 domain

49

Show Features

Lifetime usage license
1 year of theme updates
1 year of theme support
Easily add your own logo
1-click dummy data install
No customization restrictions
Upgrade at any time

5 Site License Install on up to 5 domains

89

Show Features

Lifetime usage license
1 year of theme updates
1 year of theme support
Easily add your own logo
1-click dummy data install
No customization restrictions
Upgrade at any time

Club Get access to 90+ templatic themes

299

Show Features

Access to this theme 90+ Templatic themes
Install on unlimited domains
Access to dozens of plugins
Lifetime usage license
Easily add your own logo
1-click dummy data install
No customization restrictions