Article Directory
For a complete article submission website, that earns for you.
Establish your online article directory website in just a few minutes.
Have you been waiting for the perfect time to start your online venture that makes money for you? Well, now is the best time to start.
Whether it is content marketing or a knowledge base, an article submission portal for SEO or an article submission site for college students, this theme lets you do it all. Being able to create an article directory website, without spending days/weeks or months on designing and coding is great, Isn't it?
Installing the theme and the sample data practically takes a few minutes. So you get your online article directory website running in minutes.
A ready to use article directory script
Create grand article publishing websites like article base or goarticle, effortlessly with this easy to use theme. Here are a few screenshots how it looks like…
Fully Responsive Design
Create an Article Directory website that looks gorgeous on any device it is viewed on. This article directory scripts makes it simple and easy.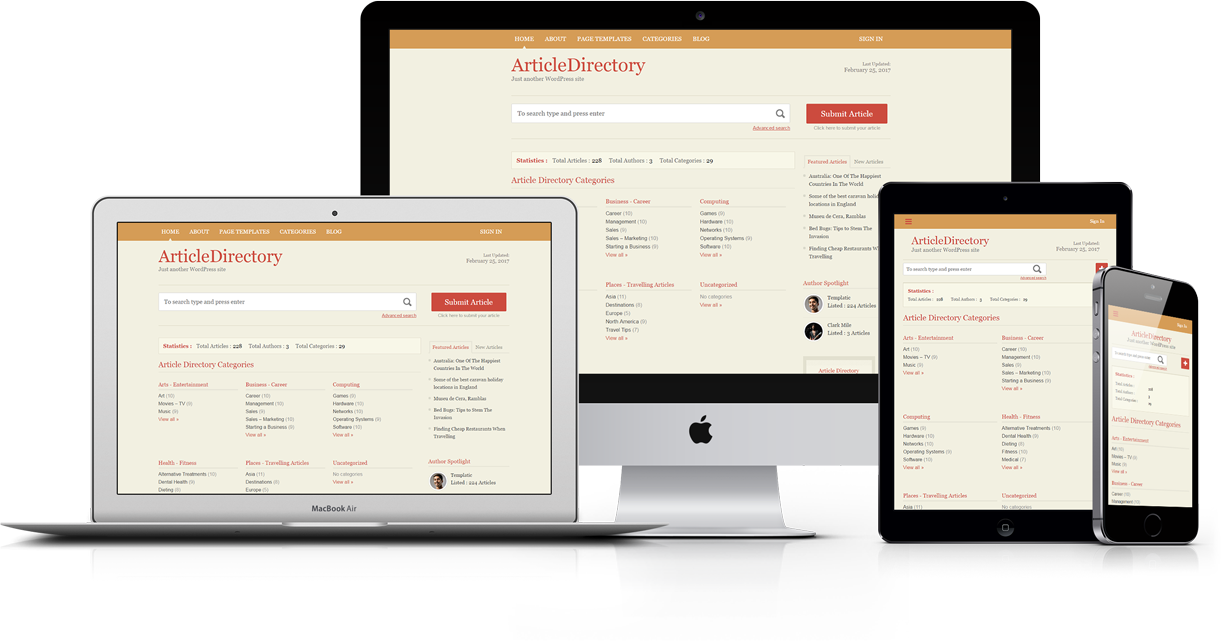 Article Directory WordPress Theme Features
Out of the box – Auto Install

Install this article directory theme and voila, you can start adding listings, description, images, widgets, testimonials, blog posts, pages and every element is set out of the box. This makes it real easy for even beginners to create and manage Article Directory website in WordPress.

Strategic design of the homepage

Strategic design of the homepage Customize the homepage via dynamic widgets built specially for this theme. Designed strategically, the structure of the page is done in such a way that gives maximum exposure to essential elements.

Add/Submit Articles

Your users/visitors can easily add/submit an article by filling out a simple form. Adding articles to this directory is a breeze, thanks to the simple add article form.

Article List or Grid View

Your user can change the view then he/she can do it easily by clicking on a grid or list view button. One can easily switch between both views. Plus the featured articles are shown at the top of the page.

Article Detail Page

The Article detail page is the perfect page to showcase your articles. In the sidebar it will automatically show related articles. Plus users can even "Print" or click on ""Like this article".

Sign In or Signup

Users can register on your site and can manage the articles they have posted on your site through their Dashboard. Not only that, they can also renew the article listing further once their listing has expired.

Design Settings

Control everything from WordPress admin options like theme skins, logo, navigation settings, RSS URL, Google Analytics code, page layout options, etc.

Payment Options

PayPal comes integrated. While this article directory script lets you choose from various types of Payment Options, Google Checkout, Authorize.net, Worldpay, 2CO (2Checkout), Pre Bank Transfer and Pay Cash On Delivery.

Manage Coupons

You can create, manage and give them promotional coupons once in a while to increase popularity of your site.

Manage Price

You can create unlimited options on your site in the way you wish to charge the users. Manage Prices from this page and choose whether to keep it free or paid, make different packages, select featured or normal, etc. All the options can be controlled.
Standard Features of our WordPress Themes

Five detailed color schemes
Fully customizable front page
Excellent Support
Theme Guide & Tutorials
PSD File Included with multiple use license
Drop Down menu
Gravatar Support & Threaded Comments
Built-in Ad Monetization
Built-in payment gateways
Widget Ready with custom widgets
Valid, Cross browser compatible
Create all the categories you want
Create all the categories you want. You can create a general purpose article directory website where writers can submit their articles for the categories they want. Or you can create a niche specific article submission website, for the articles pertaining to a certain subject.
By categories, you can ascertain the scope of your website. As an admin, you have the full control over the scope and limitations of your article management system.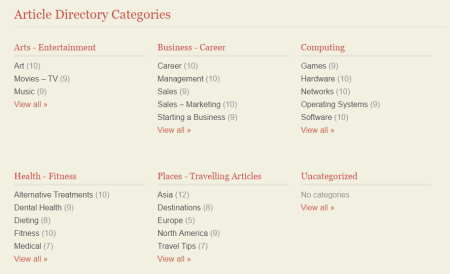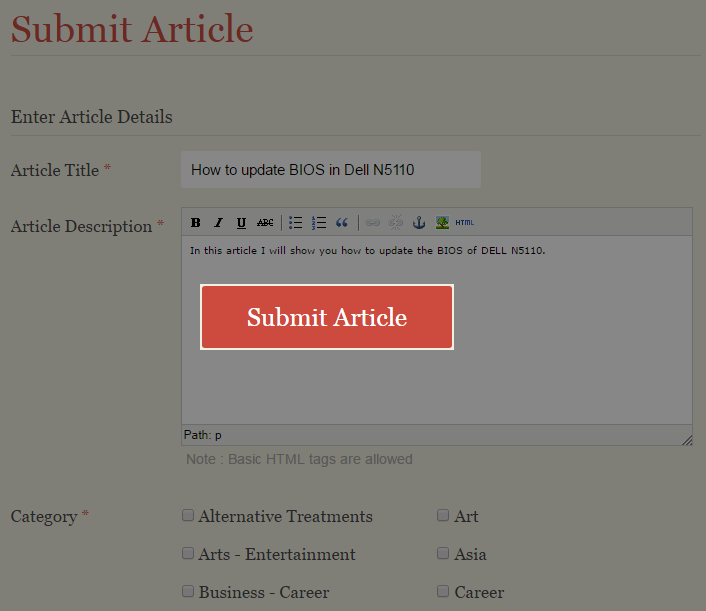 Let them submit – Ready to use submission form
Your article directory gets richer with every article submitted by your users. Therefore, this online article hosting theme comes with an intuitive and ready to use submission form.
Allow your visitors will to submit their articles with the easiest procedure ever. Because the form has simple fields, so that the writers who want to submit, don't get confused.
Choose your method to accept payments
PayPal comes integrated with this article directory software. So you can start accepting payments right away.
Besides you can choose from the various types of Payment Options like Paypal, Google Checkout, Authorize.net, Worldpay, 2CO (2Checkout), Pre Bank Transfer and Pay Cash On Delivery.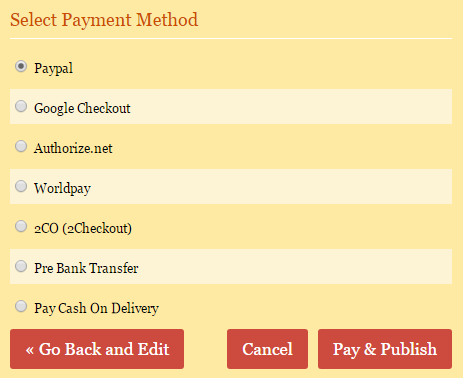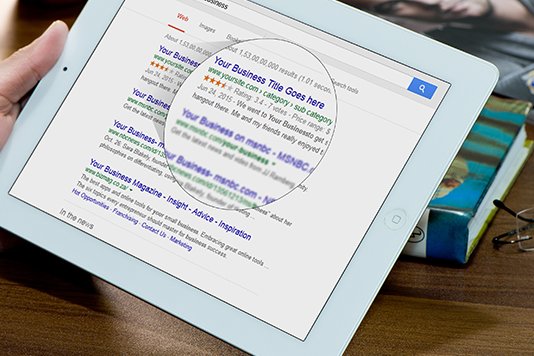 Google will love your articles
This SEO friendly article directory WP theme is coded with search engine optimization in mind. Install the popular SEO plugins such as Yoast SEO, All In One SEO, Google XML Sitemaps and All In One Schema.org Rich Snippets to help you to optimize your directory website.

So with this SEO friendly article directory template, you can ensure that your individual articles perform well.
We are here to help
Along with this full functional article directory script, you get access to the theme guide. It covers all the aspects of the theme including the theme installation, customization and using all the features of this article directory theme.
However, for further help, you can get in touch with our support team. Our support for setting up your website or article directory software is just a click away.
Creating a support ticket is easy and you can do so by choosing the 'Existing member' option on our Contact Form.You can also create a ticket from the 'Support' tab in your member's area dashboard.
Creating website with this article directory = Passive income.
We all are fascinated by the idea of generating passive income through the internet, aren't we? The idea flashes into your mind many times but you just let it fade. Probably because you're too confused on where to start.
But now, with the article directory theme, there is nothing to worry about. The theme is based on a simple principle. It lets you create a complete article management system, where the enthusiastic writers submit their articles by paying the submission price.
You can create any number of submission packages, with different price and validity. The users can choose a package, submit their article within the specified period, and it will be live for a prefixed time. After that, the users can even renew their article and make it go live again. We have included the features very thoughtfully, neglecting the not so important stuff and including only the necessary features with the best usability and easy of use.Save time, money and hassles. Create a Article Directory site easily using this theme. Buy Now and Start an online article website that earns for you!
Get started today
Hundreds of hours of team effort went into design and development of this WordPress theme. Get hold of this theme at a fraction of the price which it actually cost to develop and start your business website today.
1 Site License Install on 1 domain

49

Show Features

Lifetime usage license
1 year of theme updates
1 year of theme support
Easily add your own logo
1-click dummy data install
No customization restrictions
Upgrade at any time

5 Site License Install on up to 5 domains

89

Show Features

Lifetime usage license
1 year of theme updates
1 year of theme support
Easily add your own logo
1-click dummy data install
No customization restrictions
Upgrade at any time

Club Get access to 100+ templatic themes

299

Show Features

Access to this theme 100+ Templatic themes
Install on unlimited domains
Access to dozens of plugins
Lifetime usage license
Easily add your own logo
1-click dummy data install
No customization restrictions