Use Coupon SPRING2021 for 45% off your order!
City Guide
Create a city directory website in WordPress with the Beautiful & Responsive City Guide WordPress Theme
Now it takes minutes to setup your city directory Want to create a city directory website that earns for you? Here's the amazing city directory WordPress theme based on our most popular Directory portal. This city portal theme enables you to create full functional, flexible and user-freindly commercial city directories, in just minutes.
However, the best thing about this theme is that it lets you create a money making website, all by yourself. Therefore, no more spending on hiring programmers as well as designers, and waiting for days till they to create your website for you.
City Guide is a child theme designed for one of the best CMS themes out there, Directory. The Standard or Developer license includes the parent Directory theme. By installing this child theme you will completely change the design of your Directory-powered site.
Take a tour of the City Guide WordPress theme and see the pages in action…
Location aware business listings
City guide theme lets you create a location based city directory with maps. Every listing added to your website, is represented graphically using on the map.
You can set different map markers for different categories. The markers will show the accurate location of a listing on the map, according to the provided address. These markers are directly linked to the listing detail page.
So your visitors can directly click on the map markers and get the details of that listing.
City Guide Mobile App View
This theme is responsive and it's designed to look good on any device. As well as this, you also have the option to activate the theme's mobile app view.
This cool view provides a minimal and even quicker-loading times on mobiles.
The theme's mobile app view can easily be switched on or off from your admin dashboard's theme settings.
You can click here to try the mobile app view from your mobile if you like.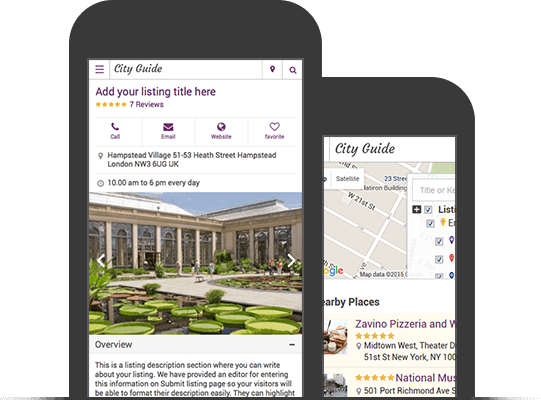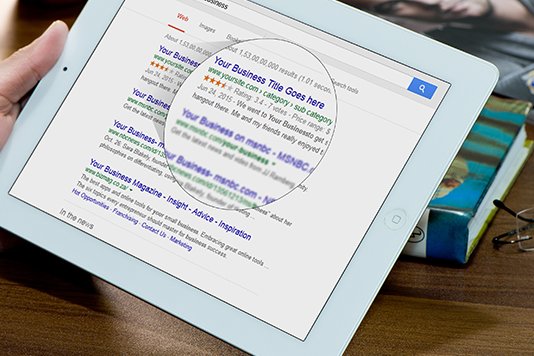 Build an SEO friendly City Guide directory site with WordPress
Launching a website with nobody being able to find it is the last thing you want. The City Guide directory theme is coded with some of the best SEO practices to ensure your site can easily be found on Google and other search engines.
This theme also supports some of the best free SEO plugins such as Yoast SEO, All in One SEO, Google XML Sitemaps and All In One Schema.org Rich Snippets. With good content, your city directory website should be easily found online.
Use the compatible Visual Composer plugin with your CityGuide
Use this powerful plugin to easily manage the content of your Directory site with its intuitive front-end WordPress editor.
You can create stunning looking city directory without changing a single line of theme code. Use the built-in skin builder to change the design and the styling of your website.
This great page-builder lets you create complex layouts of your pages and posts with a very simple and easy to use drag-n-drop interface.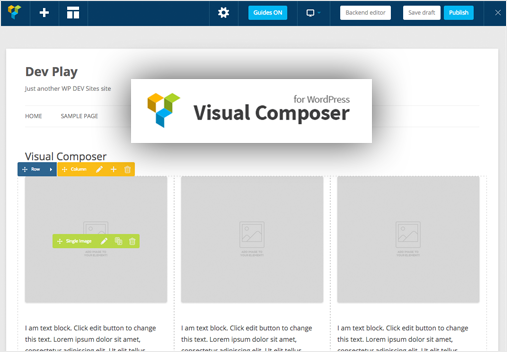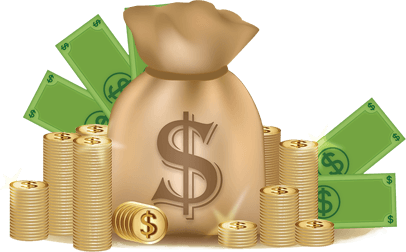 Making Money with the City Guide Theme
This is a theme built for ensuring you can make money from your directory website. Please take a look at just some of the monetization features which come with this theme.
Unlimited submission price packages.
Sell submission membership packages.
Recurring payments option packages.
Display banner ads and AdsSense too.

Claim Listing Ownership option.
Charge for featuring business listings.
Charge for individual listing categories.
Create unlimited custom fields with search options.
Run the City Guide theme in multiple languages!
City Guide has been tested with popular WPML plugin if it's a multilingual site you're looking to build. Using the WPML plugin on your site lets you run your website in multiple languages.

Compatibility with popular WordPress plugins
This theme is compatible with some of the most popular WordPress plugins around.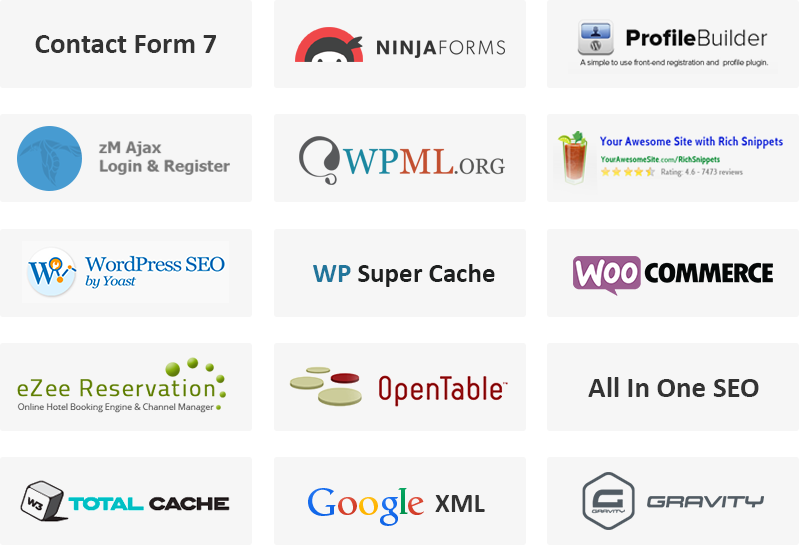 More reasons to choose the CityGuide theme
Here are just Some of the features which make
Directory Theme platform
the most powerful among all.
Tons of Resources
We have put together a huge selection of resources for our Directory platform. This includes free add-ons, a list of compatible third party plugins, theme and plugin guides, 75+ tutorials and much more.
Free – All in One Directory Resources Page
Reservation and Booking System
Need to offer a powerful reservation and booking system on your directory?
We have you covered with integrations to the industry's best booking services. By Installing WooCommerce Booking plugin it turns your portal to a fully fledged booking system.
Allow users to book hotel accommodation, rental properties, hire cars, book tours, appointments or even restaurant tables and a lot more. Check this Demo link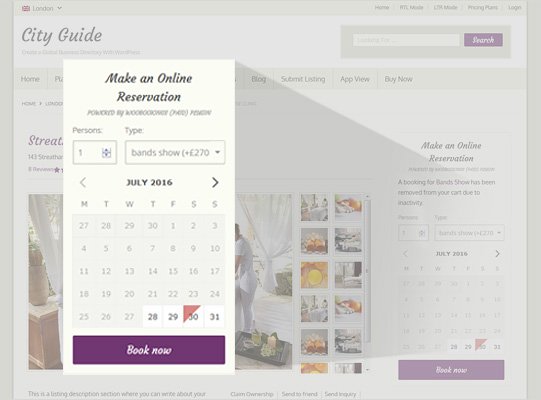 Payment Gateways
The PayPal payment gateway is included with the City Guide theme. That's not all, you also have the choice of 15+ compatible paid payment gateway add-ons.
These optional add-ons help you accept payments with more of some of the other popular payment gateways.
Browse All Payment Gateways
Templatic's theme is most Aesthetic and Pleasing to the eye.
After two weeks of searching & Examining dozens of themes I settled on Templatic's this Theme, It is most aesthetic and pleasing to the eye. On the front end, it provides the user with a simple straightforward and easy to use interface. On the backend, it is widget driven and well designed right out of the box. Workes perfectly as per my requirements. I can happily recommend Templatic's themes.
City Guide Theme
Get one of the best city guide WordPress themes available today for online directories. This powerful system is ideal for city or travel guides. Multi-city and geolocation features ensure users can locate what they're looking for with ease.
1 Site License

(Including Directory)

99

Show Features

Use on 1 domain
Includes parent Directory theme
Lifetime usage license
Updates and support for a year. Optional renewal at discounted price
Upload your own logo
Free footer credit removal
No customization restrictions

Source code provided
All functions seen on demo
PayPal payment gateway included
Insert Sample data button
Add your own categories and cities
Add your own custom fields
Add your own menu items
No monthly fees or commissions
Use on your own domain and hosting

5 Site License

(Including Directory)

199

Show Features

Use on 5 domains
Includes parent Directory theme
Lifetime usage license
Updates and support for a year. Optional renewal at discounted price
Upload your own logo
Free footer credit removal
No customization restrictions
Source code provided
All functions seen on demo
PayPal payment gateway included
Insert Sample data button
Add your own categories and cities
Add your own custom fields
Add your own menu items
No monthly fees or commissions
Use on your own domain and hosting

Club Get access to 90+ templatic themes

299

Show Features

Use this theme and 90+ Templatic themes on Unlimited domains
Includes many of our premium plugins
Choose a Directory premium plugin every month
Lifetime usage license
Updates and support while subscribed
Upload your own logo
Free footer credit removal
No customization restrictions
Source code provided
All functions seen on demo
PayPal payment gateway included
Insert Sample data button
Add your own categories and cities
Add your own custom fields
Add your own menu items