WP Store
A professional ecommerce theme with clean looks and great features
Sleek and powerful..
WP Store is one of our best ecommerce WordPress themes designed to make online selling fast, easy and affordable. The theme comes with awesome features built-in and is even compatible with WooCommerce – a free ecom plugin you can use to enable a whole new set of possibilities.
Key features
Sell digital and physical products

You can use this e-commerce theme to sell pretty much anything; from airplanes to zippers. Product types include physical, digital and affiliate (link to Amazon).

Completely widgetized

The beautiful WP Store homepage is created with a number of custom widgets. Swapping elements or including new ones is as easy as drag n' drop, literally.

Product attributes

Make the same product available in different sizes, colors, prices, etc. On top of that, new attributes can be added in seconds.

Multiple payment gateways

WP Store comes bundled with several online and offline payment methods. Online include PayPal, 2Checkout and Google Wallet while offline include cash and PreBank transfer.

Manage Shipping

Set shipping rates for each country and state in the world! Four shipping methods are available: Flat rate, weight based, price based and free.

Catalog mode

Use the catalog mode to showcase products without the option to buy them. The theme will insert a contact form instead of Buy Now button.

Manage affiliates

Create affiliates and let them promote your products on their own site. Use the back-end to manage affiliate links, affiliate commission and more.

Manage tax

Add unlimited tax rates and assign them on the product-level. Just as with shipping, you can add tax for every world country and state.

Setup promotions using coupons

The included coupon module will allow you to offer discounts on your regular product prices. When activated, a coupon field will appear on checkout pages.

Maintain a regular ol' blog

No worries, we didn't forget about the blog. Starting a blog with this advanced theme is as easy as creating a new category and adding some posts to it, no further tweaking necessary.
Customizable, widget ready homepage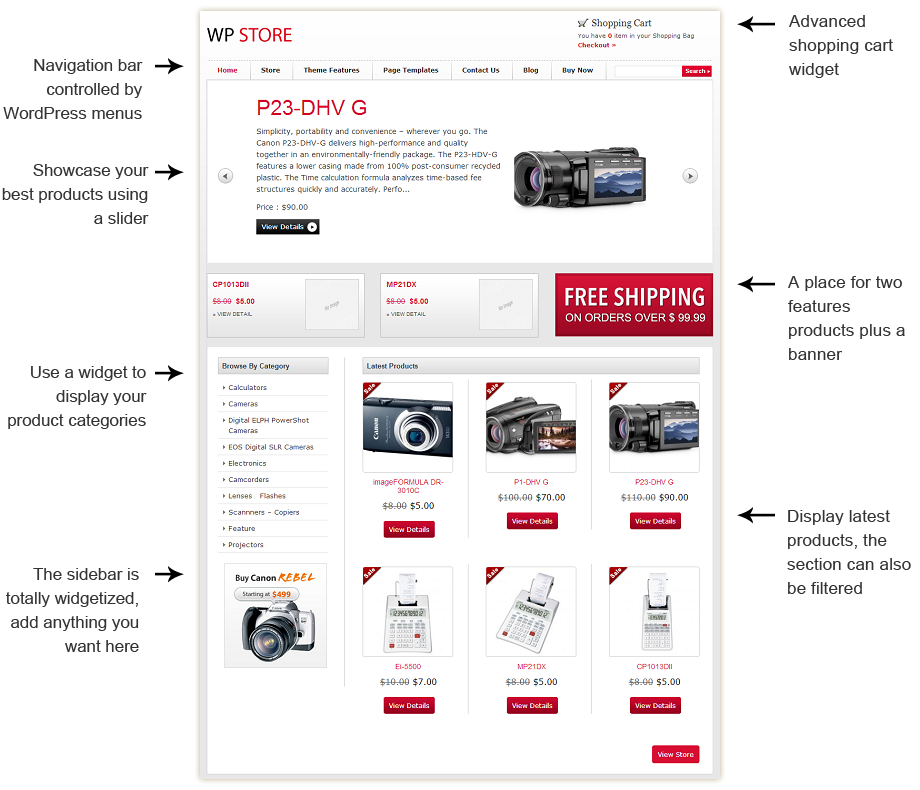 Create different types of stores
WP Store is one of the most versatile WP Store WordPress ecommerce themes available today. You can use the theme to setup different types of stores. For example…Sell physical products such as clothes. Using attributes you can make each item of clothing available in multiple sizes or colors.
Creating a digital webshop is even easier considering shipping doesn't need to be configured. Once they pay for an item your visitors can download it from the user front-end dashboard.
The easiest way to sell is by using affiliate links. If your product is already available on Amazon you can just make the "Buy Now" button go to Amazon.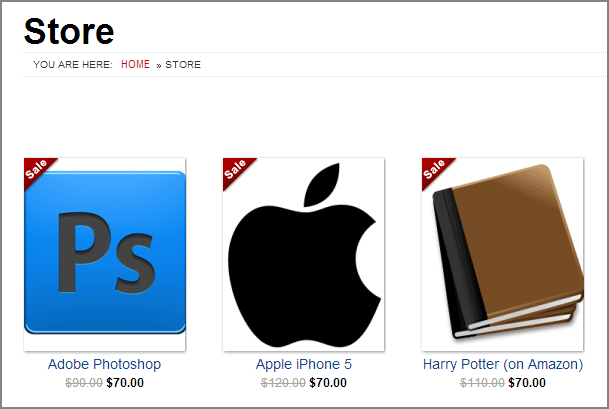 Bulk upload/import

Quickly upload large quantities of data using .csv files. A sample comes provided with the theme.

User registration

The custom register form in WP Store is designed to gather more information about your buyers.

Design settings

Control how products are displayed on your homepage or category pages.

Full email control

Edit and manage all emails sent by the theme. Use shortcodes to display dynamic data.

SEO options

The fundamental SEO options come built-in with the theme. Install plugins to expand the functionality.

Guest checkout

You can speed up checkouts by turning on guest checkout. This will make creating an account optional.

Add your currency

The theme isn't limited to a preset selection of currencies. Add your own currency code, symbol and position.

Order management

Use the management features to see how your products are doing and how much money you're making.

Grid/list views

While browsing the site visitors will have two layouts to choose from: grid and list view.
1 click Install

Pressing just one button inside the theme back-end you can make your newly installed theme look like our demo site.

Included .PSD file

The developer version comes with a layered Photoshop (.PSD) file so you can change the look and feel of the theme as much as you like.

Outstanding support

In case you ever run into problems, our skilled staff will be there to help in community forums and in Helpdesk.

Detailed documentation

A multi-page guide containing text, images and video makes getting started with this advanced theme a whole lot easier.

Third-party plugin support

Use popular WordPress plugins such as Gravity Forms or WordPress SEO by Yoast to enhance the directory even further.

Browser compatibility

All Templatic themes are compatible with latest versions of Chrome, Firefox and Safari and two latest versions of Internet Explorer.
Can I change the logo?

Yes, of course. The logo and favicon can be changed from the theme's back-end section.

Is this theme available as a HTML template?

No, it's not. It's only available as a WordPress theme.

Is bulk uploading available?

Yes, it is. From the "Advanced Settings" section in the theme back-end, you can upload .csv files containing events and places data.

Does WP Store work with WordPress MultiSite

Yes, it does. All Templatic themes work great on MultiSite, including WP Store.

Can visitors add their own products?

No, they cannot. WP Store is a classic e-commerce theme where only the admin (you) can add products.

Which payment gateways are currently supported?

Right now the theme allows visitors to check out using the following gateways: PayPal, Google Checkout, 2CO (2Checkout), Authorize.net, Worldpay.
Along with the above gateways the theme comes with two offline payment methods: PreBank Transfer and Cash.

Am I allowed to customize the theme?

Yes, of course. You're allowed to make unlimited changes to the theme, design and functionality included. We even encourage this by including the best customized sites in our Showcase.

Is the theme available in other languages apart from English?

No, we're afraid it isn't. However, it does come with a language file you can use to translate the theme inside your language. Instructions for that have been provided here.

With which versions of WordPress is WP Store compatible?

The latest version of the theme will always be compatible with the latest version of WordPress (whatever that is).

Is the theme responsive?

No, it's not, WP Store will look the same on all devices. That said, browsers in latest operating systems won't have problems with rendering your WP store-powered website.

How can I integrate a new payment gateway into WP Store?

Adding new payment gateways into the theme is theoretically possible but not easy to do since you'd have to edit a lot of code to make it happen. Instead, you might want to consider using WooCommerce and purchasing a payment gateway extension. There are already hundreds of available payment gateways for the platform.

Do you provide support for WooCommerce?

Yes, we will provide basic support for the plugin. That said, we won't be fixing bugs or improving the plugin in any way. Any and all bug reports will be forwarded to plugin developers so they can be included in future updates.
The best theme support around
The theme comes with a user and installation guide but help is always at hand. By purchasing this theme you will get access to the Templatic support team. Our team is always happy to be of assistance.
Creating a support ticket is easy and you can do so by choosing the 'Existing member' option on our Contact Form. You'll find the link to the contact form in the top right area of our website. You can also create a ticket from the 'Support' tab in your member's area dashboard.
Full WooCommerce compatibility
WooCommerce is a free e-commerce plugin you can use instead of the built-in shopping features mentioned earlier. WP Store has been designed to work great with both systems… use the one that works best for your needs.
.
What's included in WooCommerce?
Super-easy store management
Extensive tax and shipping options
One page checkout for improving conversions
Advanced reporting and order management
Included coupon module for running marketing campaigns
Extensive documentation for both beginners and developers
Various sharing options
A massive selection of extensions
Completely secure with frequent checks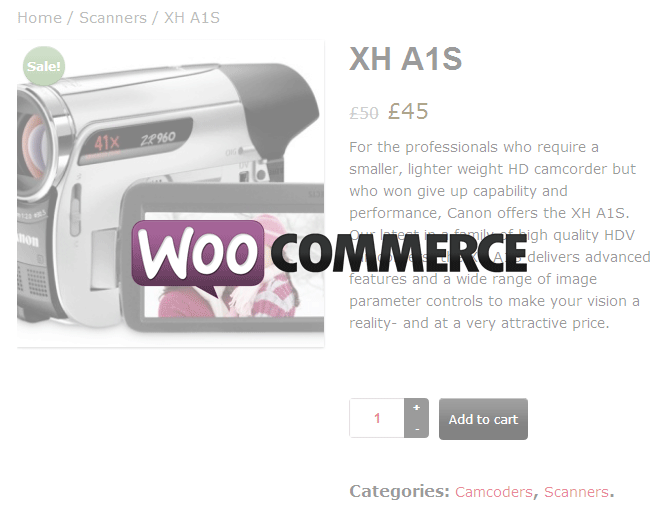 Templatic's theme is most Aesthetic and Pleasing to the eye.
After two weeks of searching & Examining dozens of themes I settled on Templatic's this Theme, It is most aesthetic and pleasing to the eye. On the front end, it provides the user with a simple straightforward and easy to use interface. On the backend, it is widget driven and well designed right out of the box. Workes perfectly as per my requirements. I can happily recommend Templatic's themes.
Get started today
Hundreds of hours of team effort went into design and development of this WordPress theme. Get hold of this theme at a fraction of the price which it actually cost to develop and start your business website today.
1 Site License Install on 1 domain

49

Show Features

Lifetime usage license
1 year of theme updates
1 year of theme support
Easily add your own logo
1-click dummy data install
No customization restrictions
Upgrade at any time

5 Site License Install on up to 5 domains

79

Show Features

Lifetime usage license
1 year of theme updates
1 year of theme support
Easily add your own logo
1-click dummy data install
No customization restrictions
Upgrade at any time

Club Get access to 90+ templatic themes

299

Show Features

Access to this theme 90+ Templatic themes
Install on unlimited domains
Access to dozens of plugins
Lifetime usage license
Easily add your own logo
1-click dummy data install
No customization restrictions