We recommend using an alternative, third-party plugin from Xylus Themes now.
Import Facebook Events
into your WordPress site.
[Note: This Plugin is retired and we recommend using an alternative, third-party plugin mentioned above. Due to Facebook API changes. Due to recent privacy issue Facebook has restricted access to Event API for all. They have new policy & rules to get Event data. Meaning our plugin will no longer be able to fetch any data from Facebook.
Import Facebook Events is a tevolution add-on and you must have Directory Events plugin installed on your directory site. ]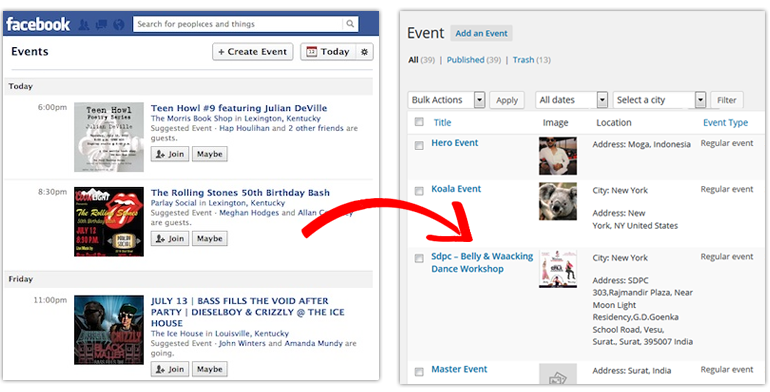 Import Facebook events into Directory site.
You have an events directory all-set. From installing a theme to setting up all the modules, monetization options and everything is done.
You wait for customers to flood your events directory site with lots and lots of events so you can make it popular and monetize it.
But nothing happens.
Some users visit your site, they see almost no events on your site and they leave. And since they don't add any events, people who come after them, experiences the same and leave as well. This is a standard chicken and egg problem that everyone experiences while building a platform.
So what do you do?
The only solution to this is to add lots of events on your events directory first. People will see events on your site, will find something useful and then they would consider adding their own event too. Wish this was easy.
Facebook already has lots of Events published by people
You don't have these events but your target users have already published hundreds of thousands of events on facebook already.
But how do you bring those facebook events on YOUR events directory site without copy-pasting all of them one by one?
How do you import facebook events on your directory site?
This "Tevolution – Import FaceBook Events add-on" comes to the rescue. Once you activate and integrate this simple plugin with facebook settings, you will be able to pull all those public events from around the world on your events directory site in WordPress.
It pulls all necessary event details from facebook such as event image, name, time, description, booking detail etc. from any Facebook public event page to your directory without manual data entry.
Sounds good? Lets take a tour on how this plugin will work on your site?
As soon as you activate this add-on in your wp-admin, it will take you to facebook integration setup screen.
Easily integrate your events directory site with facebook page
The first step is to integrate your account with facebook. As shown on the image above, get necessary data authentication from facebook. Detailed instruction on how to get this data is already written on the integration screen itself.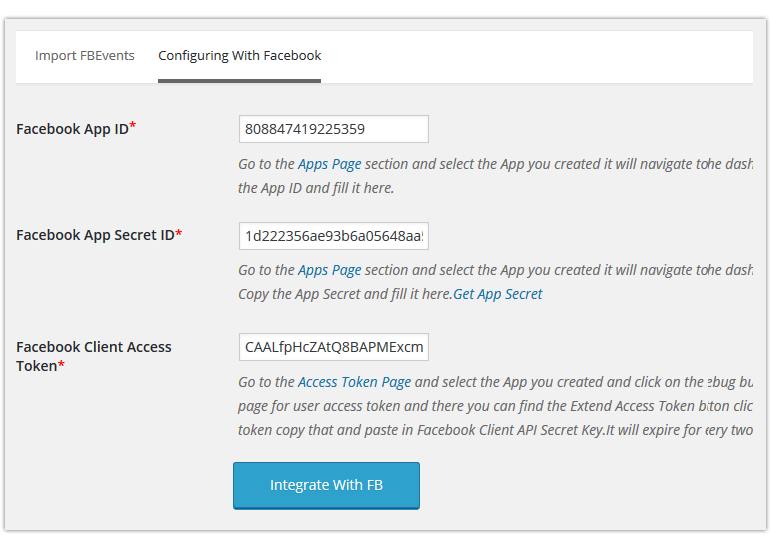 This is only a one-time process. Once you add necessary authentication, the add-on will verify and take you to import events screen where you will be able to import events.
Four different ways to import events from facebook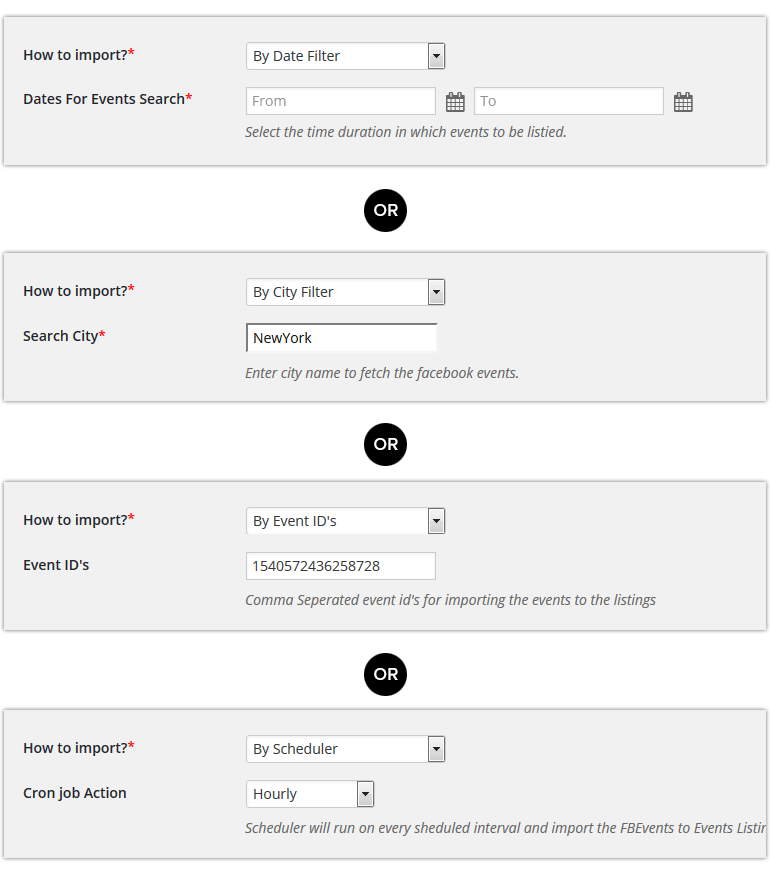 Once activated, you will be asked on how do you want to import events? You are able to import facebook events in four different ways.
Between these dates: if you wish to import events between a specific date range, you should select this option. It will let you import events published between these dates
City Filter: City Filter If you are building a local event directory, you can type in your city name and it will pull all public, published events on facebook to your directory site within few seconds. You will still be able to review the pulled events before importing them to your directory.
Event ID: If you have some specific events in mind and don't want to import all those events, this is the right option for you. Simply enter comma separated event IDs and let this plugin fetch those events directly from facebook to your events directory WordPress site
Scheduler: This is a very powerful option. If you wish to put this import process on auto pilot, this is what you are looking for. Once you set this option, it will automagically check facebook at a specified period and auto insert newly added events on your site!
…and this add-on will fetch events from facebook and let you chose which one to really import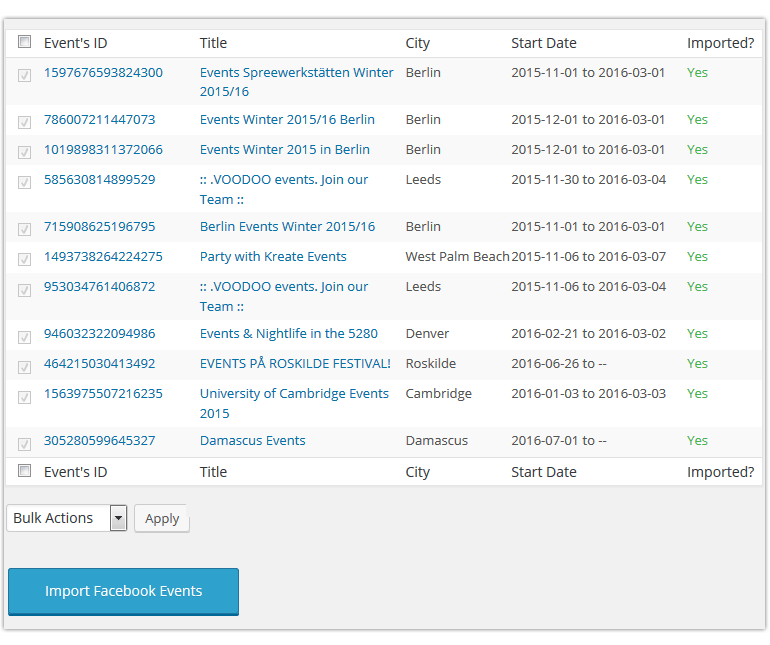 So, when you select one of the options selected in the previous step, it will fetch those events and show you on the same screen. But it hasn't added them on your site yet. Events fetched from Facebook are shown to you first before you import on your events directory site (see image above).
This way, you get to choose which events do you want to import and which one you want to skip?
Facebook events are in your events directory WordPress site now
Once imported, your facebook events looks like this in WordPress admin area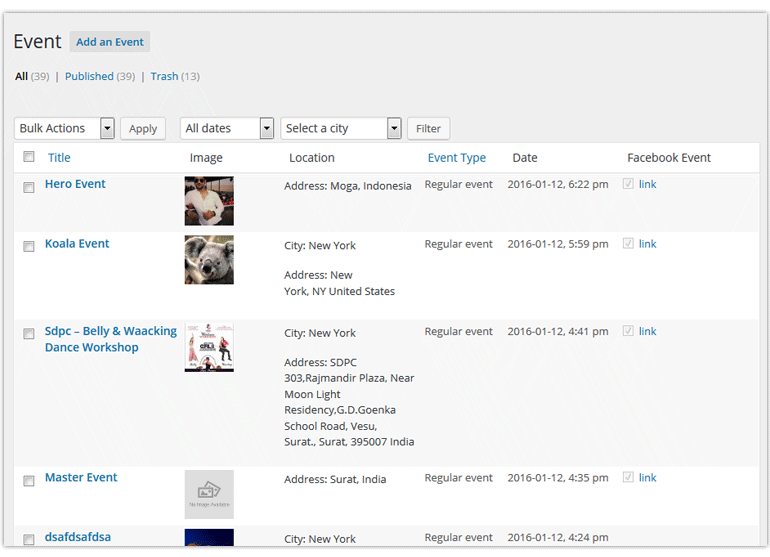 Easy. Wasn't it? Once you click on the imported event, you will see all necessary data is placed into its own, proper field. You will then be able to add/edit/delete anything you want just like you'd edit any other event.
Problem solved. Easily populate your events directory site today with real event data from facebook.
Finding and manually adding events problem is now solved! On facebook, some metro cities have thousands of events listed some time. There are literally every kind of events listed in every category throughout the world.
Fetch them easily using this add-on on your events directory website. Save time, money and hassle. This is an absolutely easy way to populate your events directory site with real events.

[Note: Import Facebook Events is a tevolution add-on and you must have Directory Events plugin installed on your directory site. ]