Appointment Booking
A powerful appointment booking plugin for Wordpress
Appointment plugin is a powerful add-on for Tevolution. Once activated, the plugin will enable advanced appointment booking features inside your theme. This makes it perfect for establishments such as wellness centers, spa salons, lawyer offices, hair salons, medical clinics, sports centers, etc.
If you're interested in a theme powered by this plugin check out Service Biz!
Manage appointments online

This appointment booking plugin for WordPress handles everything from the initial submission to your appointment confirmation and payment. All the money generated by the site goes straight to you, the admin (apart from payment gateway fees). To learn more about the appointment process and core features of this plugin please read the entries below.
Variable booking form

The form – probably the most important aspect of any appointments module is entirely customizable from the plugin's back-end. Edit the existing fields or add new ones.

Add Services

Use the back-end to add several unique services to the form. Assign different prices and different staff members to each created service.

Multiple payment methods

Choose between PayPal and PreBank Transfer (provided after install) or purchase and activate other gateways such as 2Checkout, Authorize.net or Google Checkout.

Add Staff

Use a separate post type and assign staff members to different services. This will allow visitors to choose between specific employees; handy for hair salons and similar businesses.

Included appointments calendar

With the back-end availability calendar you'll be able to see which times and dates are taken (reserved). By clicking on a specific appointment you can open its properties.

Set lunch times and working days

The back-end system allows you to set times for which bookings aren't available. Working days can be set site-wide and per individual staff member.

Translate the plugin

USe WPML to translate the plugin and even create a multilingual site where visitors can change the default language per their requirements.

Setup promotions using coupons

The included coupon module will allow you to offer discounts for the standard service fees. Coupon codes created in the back-end can be modified and removed at any time.

Set time format and intervals

Choose between 12 hour and 24 hour time. Also set the time interval between each appointment (default is 30 minutes).

Complete email control

Use the back-end to edit each email sent to visitors after the submission. Several shortcodes are provided for including dynamic information inside the emails.
What is necessary/required to use the Appointment add-on?The Appointment add-on is an extension to Tevolution, which is required for the add-on to work. Tevolution will be provided (for free) witch each Appointment add-on purchase. Assuming you have WordPress and Tevolution installed, you're good to go.
Can I set the system to 12 hour time?Yes, you can. The plugin comes with a back-end option that allows you to switch the module between 12 hour and 24 hour time.
Which payment gateways are currently supported?The plugin comes with support for PayPal and PreBank Transfer methods. By downloading add-ons from our member area you can also enable 2Checkout, Authorize.net and Google Checkout payment gateways.
Am I allowed to customize the plugin?Yes, of course. You're allowed to make any changes you want to it. 100% of the source code is available.
Does the appointment calendar integrate with Google Calendar?No, it doesn't. The calendar inside Appointment add-on is proprietary and doesn't integrate with other calendars. You are however free to customize the calendar in any way you'd like.
Is it possible to change the fields inside the appointment widget/form?Yes, it is. All fields can be modified or removed inside the theme back-end section. Even though all can be removed, we recommend you don't remove fields such as "Service", "Date" or "Time" since they are required for the module to work properly.
Are there any email notifications after appointment submission?Yes, there are. The visitor gets an appointment confirmation via email while the admin gets a notification that an appointment has been made.
The support is Awesome at Templatic
Easiest theme for Beginners like me to be able to make my own website. They arrange test site to try it out even before purchasing. The support is awesome at Templatic, They made a hard task easy. If your considering getting a WP theme don't hesitate Templatic is the best.
How does the Appointment process works ?
The booking form in this appointment booking plugin for WordPress is pre-loaded with fields as soon as you activate the plugin. It's your call whether to use it as-is or modify the fields. All the settings you need are provided in a logically designed back-end section of this powerful appointment booking plugin for WordPress. From there you can manage the actual appointments, booking form fields, open/closed hours, services, emails and much more.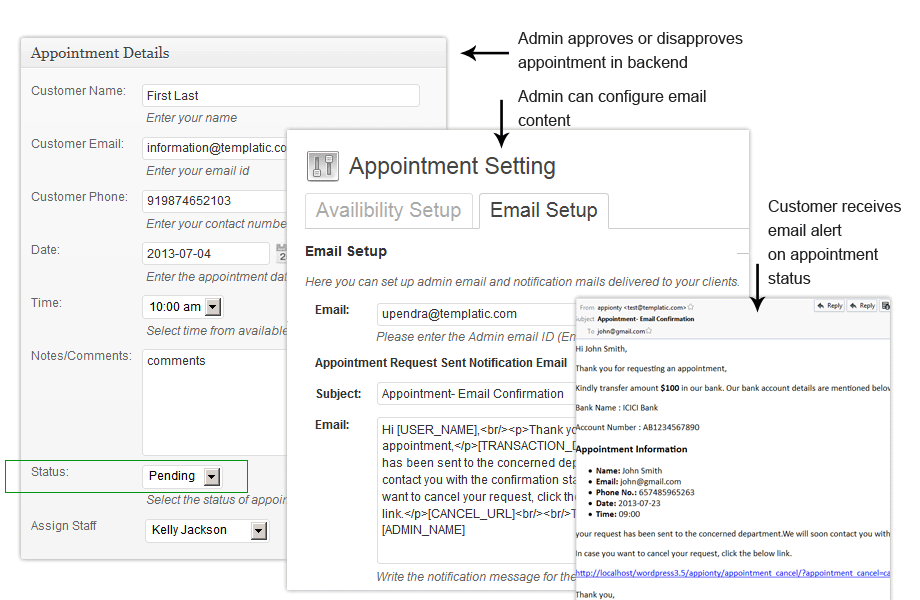 Works best with Service Biz theme
Although designed to work with any WordPress theme, the appointment plugin truly shines with our Service Biz theme.
Key Service Biz features
Great looks coupled with a responsive design
Fully widgetized homepage
Multilingual and WPML compatible
Unlimited color options
Automatic updates provided via the WordPress back-end
1-click install feature
Several included page templates
Dozens of custom widgets
Support for Templatic shortcodes and mega menus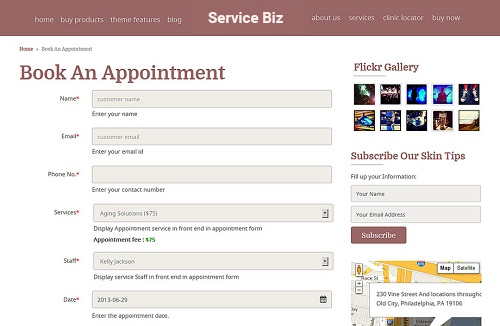 Running a business where you're required to accept online appointments? If yes, our appointment booking plugin for WordPress, Appointment add-on is a great solution for you; especially if the site is already powered by WordPress. Although advanced and feature packed, the plugin does not require any technical knowledge to get started – it works out of the box!