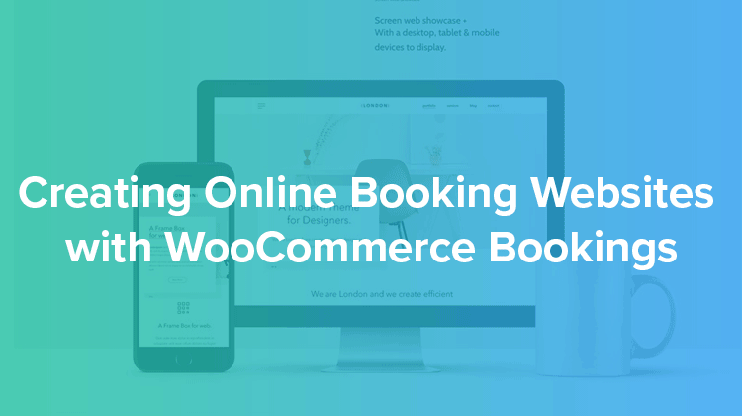 Wondering if you should go for WordPress to create an online booking website? Here's everything you need to know.
If you've decided on WordPress for creating your website, it's a good choice. WordPress is one of the most popular CMS and the best perk about it is its Flexibility. WordPress can be pretty much be used for creating any type of website. It is simple, flexible and very easy to use. Read on to get some inspiration for your WordPress booking website.
How do online booking systems work?
The World has become a small town, and thanks to the internet. Online booking is now one of the most convenient ways to book for services or rooms. For instance, if you are going on a trip to brazil and want to book a hotel to stay over, you won't need to wait till you get there. You can book a hotel or an appointment almost anywhere in the world right from where you're sitting now.
Online booking services make this possible. There are a lots of hotel booking websites that lets you view the book and know the services of a hotel at a distant place and even book the room for desired dates.
Basically, there are two types booking websites on the internet. Generally, most of the websites today provide a real-time check for the booking availability, but there are some sites where only the request is sent and the admin has to manually approve the booking.
Sending booking request
This is an old form of booking. Your online booking website just acts as an interface through which you can show the features of their bookable product and the visitor, if interested, can request to book.
Such systems may or may not have the availability checker. What the visitor can generally do with such websites is to have a look at the features of the listing. The button for booking will generally be labeled as "Send booking request" or "request to book" or something like that. The visitor gets to specify the particulars of his booking while sending the booking request.
On the other hand, the listing owner will be notified of the received booking request. This types of booking requests are processed by the admin or the listing owner. The owner will check the availability and the user requirements and allow/disallow the booking. The user will be notified with an email, message or call. Payment processing takes place thereafter.
So this method of online booking requires actions from both the sides, the customer as well as the administrator. It is was used earlier and is now, most of the online booking systems are fully automated. The automated online booking engines allow direct booking with real-time responses.
Direct online booking
This is the modern, real-time booking system where everything is automated. No admin or listing owner's intervention is required to book the tickets. The users check the availability of the required room using the availability checker or the booking calendar and then clicks the "Book now" button.
The total cost for the booking is calculated and payment will be processed by the payment gateways. The booking will be granted automatically after being assessed by the system. The visitors can also the cancel the bookings if they need.
How good is WordPress booking system
WordPress was initially used as a CMS by the authors and bloggers who weren't technical experts but wished to manage their blog websites by themselves. It emerged as one of the best CMS to create amazing websites with features and flexibility. WordPress soon became everyone's favorite and with advancements and enhancements, it became more and more capable of creating a wide variety of websites.
Today, WordPress is one of the most popular CMS, with a large number of users as well as developers trying to make it more and more useful. With the development of newer plugins and themes with different functionalities, this platform became one of the most powerful ones. Now, with tools like WooCommerce and WP eCommerce, your WordPress website can be turned into a full-fledged eCommerce website. It can be used to sell physical as well as shippable products online. Besides, it can gracefully handle subscription, bookings, tax and shipping management, etc.
WordPress, WooCommerce and WooCommerce bookings
WooCommerce is one of the best plugins for creating eCommerce websites with WordPress. It is designed to work with physical, virtual  (services) as well as downloadable products. This plugin has an organized way and very intuitive options to let you setup your eCommerce service.
When you wish to create eCommerce websites for bookings, WooCommerce has a provision for that too. You can sell you bookable product using WooCommerce bookings. It is a premium plugin that lets you create bookable products with WooCommerce. Installing WooCommerce bookings will add an option to create such product and lets the visitors book online. So instead of adding physical products like a piece of furniture or a bottle of perfume, you can add products that are available for booking. For instance – An appointment with the dentist, or a hotel room for a weekend, etc.
WooCommerce bookings, therefore comes with the flexibility and ease of use of WooCommerce with the capability to handle the bookable products.
You add product just like you usually do with WooCommerce. While adding products, you can describe every detail you want to let the visitors know about. Add multiple images for the product, and set the price for the bookable product. You can choose if you want to set a pre-defined duration for booking or if you want to let the customers define their period for a booking.
Read the full WooCommerce Bookings review.
Examples of what you can create with WooCommerce bookings
WooCommerce bookings is undoubtedly a complete package for creating booking website. With this premium plugin once included into your website, it lets you handle bookings very effectively.
A few examples of booking websites you can create with WordPress and WooCommerce
Resort booking system
Resort, Inns, holiday homes or leisure hotels, you can create websites for any of them. Just grab a WordPress Booking theme and install WooCommerce as well as WooCommerce bookings. WordPress lets you create pages and posts with utmost ease, so you can describe the resort well enough.
WooCommerce bookings ensure that the booking feature on your website is all automated and works well. The visitors can check the venues, rooms, availability and book online in an instance.
Hotel booking
Creating a website for your hotel? WooCommerce lets you do very easily. Find a suitable WordPress theme that supports WooCommerce and is perfect to represent your hotel online. Create pages to describe your hotel and the amenities you provide. For instance, you can use image galleries to display pictures of your hotel, you can create pages that describe each of your services, you create a page for introducing your staff and displaying the testimonials.
Next, you can add different rooms of your hotel as different products and configure the details. Create a bookable block of a day so that the customers can easily decide the number of blocks they want to book for. Suppose a user wants to stay for 5 days in your hotel. Then he can book 5 bookable blocks, after ensuring the availability. The charges will be calculated accordingly. Payment will be accepted through the payment gateways you allow.
Service booking
Service booking or appointment booking is also possible through WooCommerce bookings. If you want the visitors to book the appointment with your business online, you can use WooCommerce bookings for it. Let's understand this with an example.
Mr Jake is a Yoga guru and a trauma therapists. He wants his visitors to be able to book online for consultation. Here, a WooCommerce website with bookings will work. He can create a bookable block of 1 hour each, and the interested people can book an appointment based on the availability. Appointment booking works just like room bookings. The visitors will only be allowed to book if the requested block is available.
This example is quite enough to understand how appointment booking works. But what about the scenario where you want to allow 5 persons to book for the same time slot. For instance – There is a beauty salon, and 5 hair stylists are employed to service the customers. Therefore, the salon has the capacity of processing 5 customers at the same time. Well, this too can be managed with WooCommerce bookings. You can just specify the maximum number of bookings you want to allow for a single time slot, and that's that. If you specify 5 as the value for maximum booking per block, the sixth visitor won't be allowed to book when 5 customers have already booked.
Villa rentals
Villa rentals usually work just like the resort booking or the hotel booking websites. You can choose the duration of each bookable block, that in the case of villa rentals would be generally greater than appointment or hotel bookings. However, you have complete say on the size of the bookable block as well as other configurations of the bookable product. So if you want to create a website for your rental villas, you can easily do so and manage the bookings through your online booking system with WooCommerce bookings.
Conclusion
Creating online booking engines with WooCommerce bookings is very simple. Even if you've never created a website or dealt with internet technologies, you can create websites with amazing features all by yourselves. If you are starting with your website development now, here's a quick guide that shows you how to add bookable products into your online booking system powered by WooCommerce bookings.