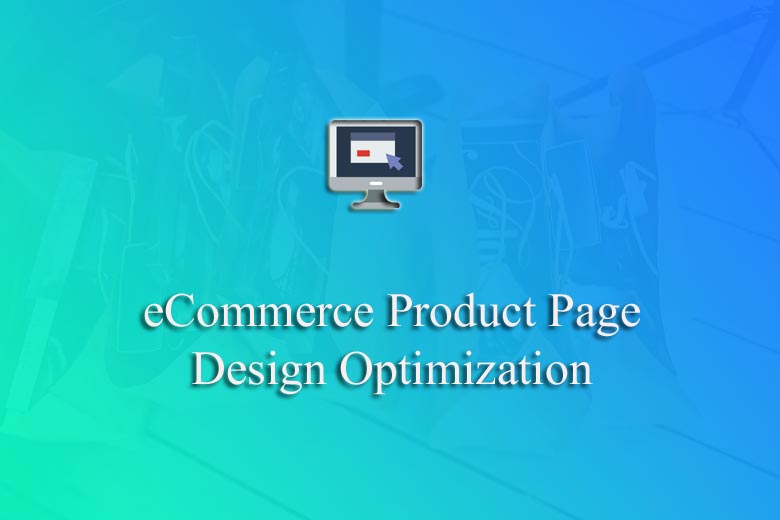 Pay attention to your product page design and there are many small features and improvements that can help you optimize the sales of the products.
Today, if you want to start selling your products online, there are so many options available.
However, the competition is intense and instead of worrying how to create and maintain your eCommerce website, you should think about how to design your product page so as to maximize the sales.
An organized page, with minimal design and clear details about the product will help you build a page that converts better.
The following are the areas in a product page where you can work in order to optimize its performance and conversions:
1)Product Title
The title is ofcourse the most important part of the product page. An efficient title is the one that represents the product in just a few words.
If possible, the title should include the important keywords. For example: The title "Puma Sports Pink Women Shoes for Running" is a title that tells a lot about the product. Just by the title, you can tell that they are running shoes, in pink and for women.
2) Proper images
When you are selling online, the buyers don't get to touch or see the products in front of them while buying. However, proper product images help visitors get an idea about what the product is.
Use high quality, original and attractive images on your eCommerce website are a must have. You should include images that helps the buyers to get a precise idea of what the product is, it's dimensions, etc.
3) Insist on including multiple images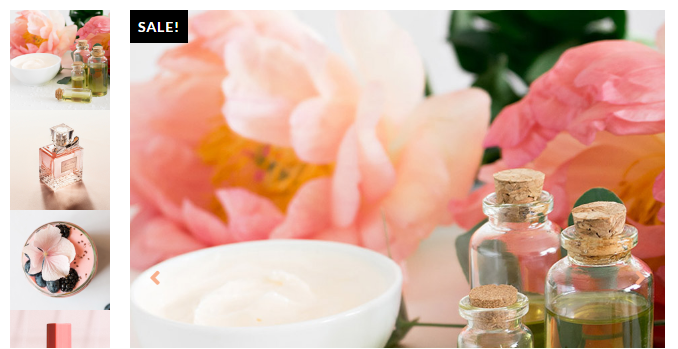 Just one image per products won't help. Include multiple images, from different dimensions, with different purpose into your website.
Nowadays, almost all the prominent eCommerce websites insist on providing multiple images for each and every product in their store. Along with an informative description, multiple images, helps the buyers get a better idea of what they are looking at.
4) Also include a video if possible
Videos can surely describe better than images or text. Nowadays, there are product page designs where you can easily include a video as well as images.
The video can demonstrate the use or features of a product. A video can deliver the message more efficiently than any other media. For example: A buyer will surely love to watch a video of a fitness band to know how easy it is to operate, how good it looks on the model's hand and the other operations.
5) A detailed description
One of the most important parts of the product page is the text description. Images, videos and other graphics are undoubtedly eye catching and helps you capture the visitor's attention, but text information is equally important.
With the description section, you can provide your visitors with all the details they need for the product. For example: For a Laptop, you can describe the RAM, ROM, Screen dimension, graphic card details, details about the USB type, battery information, and much more. For a kitchen appliance like a sauce pan, you can describe it's weight, type of material, size, what you can use it for, what you can not use it for, etc.
6) Price

There are so many theories around how to display the price of a product on the product page to optimize the call to action, by creating an emergency.
You obviously don't have to provide misleading or false information on your website. The most commonly found price format on eCommerce site is the actual price (cancelled with a strike through) followed by the discounted price. This surely helps you sell more.
7)Related products
If you have already got a visitor on a product page, you can make the best of this attention by directing him to other similar products.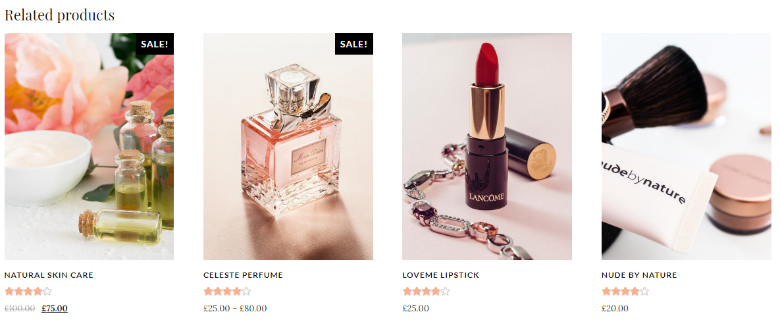 This is one of the most common features found on the product pages of some of the most popular and successful eCommerce websites like Amazon, Alibaba, etc. This sections is generally titled "You might also like", or "people who bought this also liked", "Commonly bough along with **product name**", etc.
8) User reviews and ratings
Built trust on your website with social proofs. The visitors will find your products more attractive with user reviews on it.
The visitors on your eCommerce website might find the products more reliable with ratings and reviews on it. They just make your product look more legit and reliable. Whenever possible, also allow image upload with user comments and star ratings.
Today, there are so many ways to make the reviews section way more interesting for the visitors. Shein.com uses a very efficient way for reviews on their apparels.
9) Optimized images for speed
For an eCommerce website having a lot of images, you should also use an image optimization plugin to make sure that all the high quality pictures do not slow down your website.
The speed is a very important factor for any kind of website. Especially when it comes to eCommerce website, a visitor would like to see as many options and as quickly as possible.
Therefore, all your product pages should be well optimized for speed. When the page speed of your product page is not good, the culprit is mainly the images. Especially when you are using multiple, high resolution images. So it is advisable to use optimized product images on your website.
10) Proper shipping details
When selling online, these three details are very important:
Shipping charges : State the shipping charges or if you are offering free delivery
Estimated shipping dates : Tell them the estimated time it might take to ship their product once the order is placed.
Delivery dates: Also, make sure to state a reliable delivery date for the product, and then ensure timely delivery.
These are the basic details that a buyer would be curious about. If any of these details is missing, the buyer won't be very sure of buying through your website.
11) Size Chart and extras
Give the visitors all the information they need to be ensured that the product they are choosing is the one they need. This can be done by providing proper information as per the requirement.
Make sure there is a proper size chart if it is an apparel website, height and weight information when needed. Therefore, the buyers get the complete information and a satisfactory experience when buying from your store.
12) Create an urgency
There are so many ways to create an urgency on your eCommerce product page. You can tell them about an offer that is about to get over or a deal that is about to reach it's end.
There are many tools and techniques to create urgency for a particular product, or mass of products on your website. With urgency, your visitors will be inspired to make a quicker decision.
The Urgency can be regarding anything, a limited period sale,  a limited stock, etc. These will prompt quicker user actions but you have to be careful not to make your buyers feel cheated for demonstrating the sense of urgency.
13) Provide proper return information
Returns are an inextricable part of your eCommerce website. Your buyers always need the assurance that they can return the purchased goods if their conditions are not met.
However, there are certain conditions that needs to be mentioned regarding returns, for better clarity. The details like return window, that tells the visitors the number of days after delivery when they can choose to return the purchased product. There can be return conditions, for example, the product should be in unused conditions, the package should contain all the components, the tag shouldn't be removed, etc.
Also, don't forget to mention about refund. Make sure your product clearly states how the refund will be processed, once the products are returned by customers, and received back by you.
14) Make sure it is mobile friendly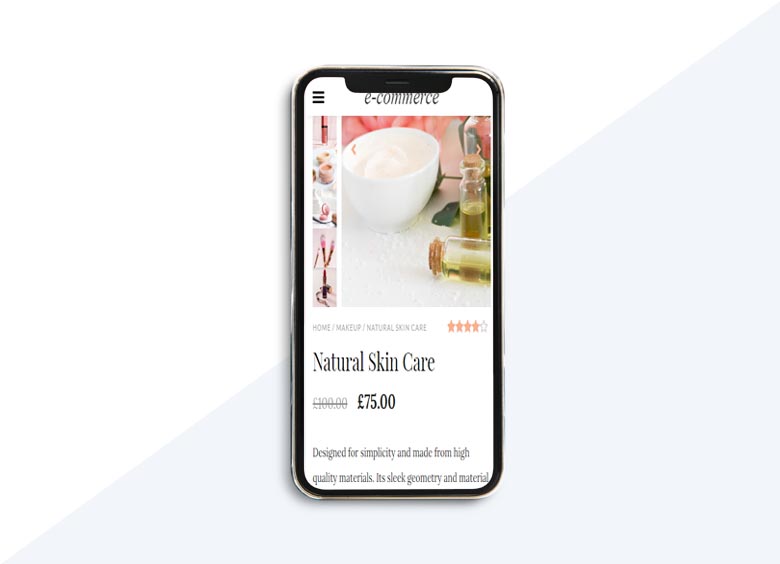 Obviously, in this age, when the internet is available anywhere and everywhere, people tend to browse more through their mobile phones. For those visitors who want to browse for a product of their need through mobile phone, your website should have a perfect mobile view.
Try viewing your product pages on mobile phone to ensure that all the details are displayed and the order is well planned. Make sure that mobile page loading speed is good too. Also see that the Call to Action works fine and the checkout options are easily accessible when viewed on mobile phones.
15) Buy now & wish list options
Ofcourse your website will have a buy now option to let your visitor immediately buy the product, or the wishlist to let him save the product as a favorite for quick access.


But what matters is how they are displayed and how easy to access they are. There are different ways, according to the structure of your website and the design of your page, to place these options so that they are easily accessible. Also the text you use before such an option matters a lot.
You can use the following eCommerce add-ons to make your online store more interesting and feature packed.
16) Clear Call to Action
Highlight your Call to Action section to draw the user's attention to the add to cart button, but also make sure not to overdo the design.
A minimal, distraction free design works when it comes to call to action.
17)  Link your images to the variants
A practical product based website will always have product variants. The variable products can have the variants in form of different sizes, colors, etc. You can have an image associated with different color, for example. If there's a dress available in 4 different colors, you can have 4 different images available for each of those color variant.
This will not only improvise the user experience but also help them see exactly what they are about to buy.
18) Optimize the page for SEO
Each page of your website should be properly optimized for the search engines. Make sure you are targeting the proper keyword and optimizing the content of your eCommerce product page for the same.
You should also SEO optimize your images by managing it's size, by using proper alt tag, etc. The title and the content of your product page should be built around the keyword, using LSI and other indicators to indicate the value of your page for the particular keyword/product.
19) Speed optimize your product page
Be it a simple blog, or an eCommerce website, a slow page load speed isn't acceptable. A slow website is annoying for the visitors, and is bad for SEO too.
You can use a tool like Google Page speed Insights to find out flaws in your product page and correct them to make sure the required results are served without making the prospect buyers wait.
Also read: Tips and tricks to optimize the speed of your WordPress website
20) Content
The content on your product page includes everything you use, the description, the image, the format of the content, how persuasive it is, and its usefulness from the visitors' point of view.
When a visitors lands on the product page of your online store, the content of the product page should keep him/her hooked to the page. This does not just include persuasive copy writing but also an efficient page structure that keeps the content of priority at the top.
Moreover, you can also rely on blogs and external content to draw your visitors to the product page.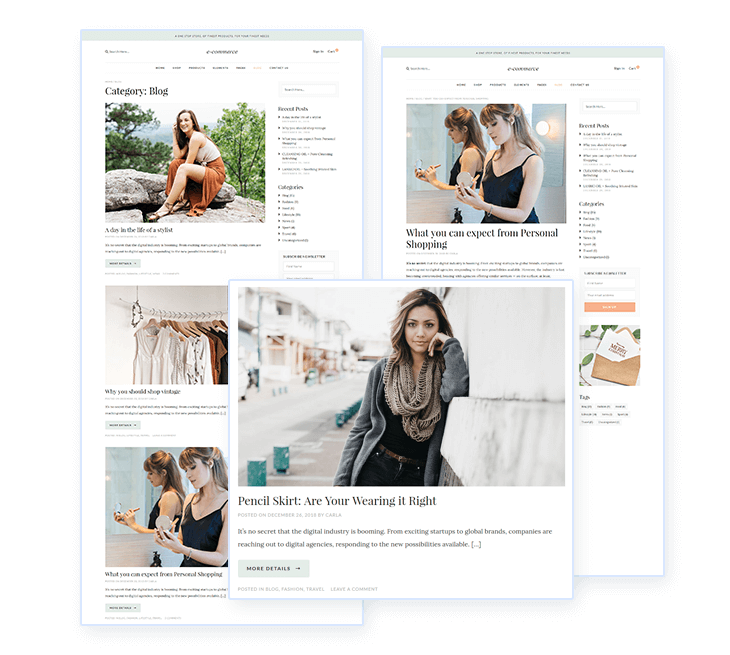 Conclusion
The buyer today is aware and knows almost everything, and the competition is intense. If you fail to provide products, or product information, someone else will.
One technique that always works is being transparent and honest.  When the buyers find your website reliable, they will surely return and like to buy more from your website.
Over time, you can experiment with the site structure and the product page design to find out what actually works for you.
You might like this Theme
eCommerce is a minimal WordPress Theme for creating feature packed eCommerce websites to sell online. Designed with the drag and drop elementor page builder, you can easily change and manage how your eCommerce website looks. It is simple and user friendly.