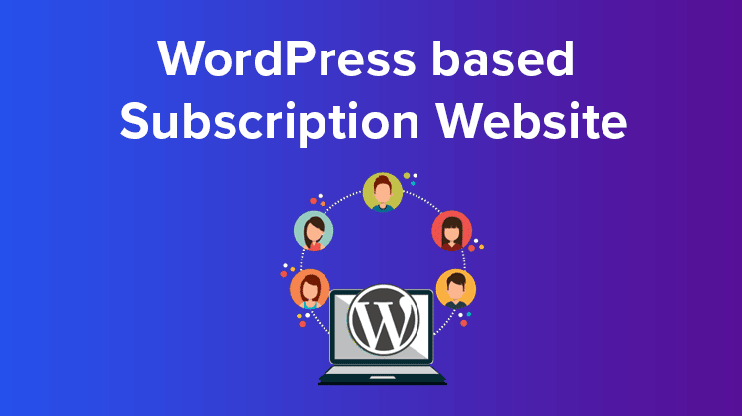 You have various options to choose from when it comes to adding a subscription module to your website. WordPress provides you with the easiest options for creating an e-commerce website without hiring developers and designers to create your online shop. Now the advanced website development options enable you to create any kind of website in minutes. It all just about choosing the right platform(CMS/platforms like Shopify, Squarespace, Wix, etc/), finding a suitable theme/template and using the plugins to add features to your website.
When we mention WordPress e-commerce, WooCommerce happens to be the biggest name. WooCommerce e-commerce plugin is free, flexible, highly customizable, and extensible plugin to convert your basic WordPress site into a full-fledged eCommerce platform. Owing to the popularity of WooCommerce, there are many add-ons designed to work with it.
WooCommerce Subscriptions
For websites that offer services/products on subscription, you can use the WooCommerce extension, WooCommerce Subscriptions (Read Full WooCommerce Subscription here). The plugin is easy to use and simple to understand. You can add product/service just like you usually do for WooCommerce and then set its subscription price just like you normally set the price. It also lets you set variable subscription prices for product variations. WooCommerce subscription makes selling such products and services and collects recurring payment at a fixed period very easy. Here are a few alternatives to WooCommerce subscriptions that you can use instead, for collecting recurring payments.
Or.. you may use this affordable, alternative plugin
Alternatively, you may also use an equally good, affordable Woocommerce subscriptions alternative plugin. We recommend Subscriptio – WooCommerce Subscriptions for your E-commerce site.
What can you sell on subscription basis?
Online courses, tutorials, where the users subscribe and the tutorials are delivered on a weekly basis.
Products that the users may need on a recurring basis on a fixed period. Example – Some industries need a fixed amount of raw material every week. As in, a factory that produces potato chips requires certain liters of oil (to fry the chips) every week.
Some of the crowdfunding websites also allow subscription for donating on their website. The donors who desire to make donations at a determined period can donate using such subscription. Example – Ben agrees to pay $65 for a child education cause, every second week. So, with the subscription system, $65 will be deduced from Ben's account every fortnight.
Membership subscription, where the membership is renewed at the fixed interval, without user intervention!
Software products, that need the users to subscribe to it. The users can use the software with a limited period license and then the license is renewed when the previous validity comes to an end.
The best example is renting server space. The Web host you choose will charge you a monthly or yearly subscription fee. When the subscription period expires, you can renew the subscription and avail the service for the next duration.
Let's start with WooCommerce Subscriptions
WooCommerce subscription is one of the most comprehensive subscription facility for WordPress. The plugin is designed to work with WooCommerce. So, if your eCommerce website is based on WooCommerce, you can use this plugin.
WooCommerce is free and in seconds, it turns your entire WordPress website in full functional eCommerce store. The best thing about WooCommerce is that there are many add-ons and plugins that are specially designed to work with it. So, if you ever wish to add features to your WooCommerce e-commerce website, you'll probably find an add-on for that. Here is a guide on how you can setup WooCommerce subscription to start allowing subscription on your WordPress website.
More about WooCommerce Subscription
Features of WooCommerce subscription for recurring payments
Very easy to use
Allow free trials and sign-up fees
Seamless integration with WooCommerce
Efficient handling of variable products and services
Works well with all the payment gateways
Automatic/Manual payment renewal
Reporting and analysis
Multiple subscriptions
You can use these features andcreate almost any kind of subscription based website with WordPress.
WooCommerce Subscription Extras
Instead of looking for WooCommerce subscription alternatives to create your subscription based website, you can use this plugin to add extra features into your website. It is a simple, light weight add-on, that you can use to add new features into your WordPress website.
It automatically updates all the subscription prices when product or shipping related changes are made. In the pro version, it allows batch processing for prices and taxes to let you update mass prices of your products. It also supports subscription of the WooCommerce variable products.
Paid Member Subscriptions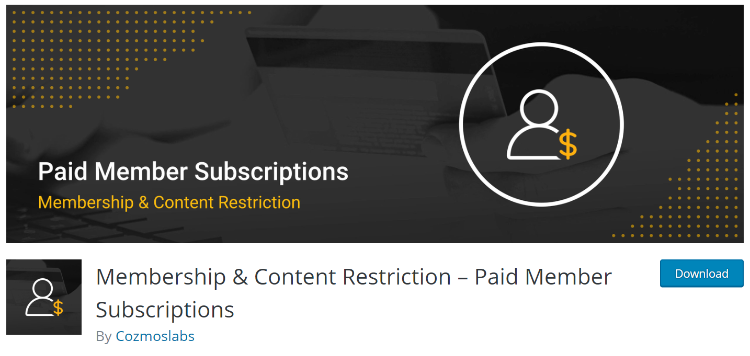 This is a membership management plugin to let you create websites with restricted access. With its content restriction feature, you can allow content access to members only. It also integrates with the Elementor page builder to help you with Elementor based content restriction.
This plugin too helps people manage the Subscription and memberships on your website. There are all the features to let you create hierarchical packages for subscription so as to create different level of memberships. Moreover, there are features to let you manage the memberships and payments. You can even export the reports for better understanding with the inbuilt features. The Paid Member Subscriptions plugin works flawlessly with the WooCommerce plugin to let you create membership based websites. You can create a members only website, or a limited access online store. There is a free version with all the basic features. However, the pro version of the plugin comes with some exciting features.
WooCommerce subscription Extras
Subscriptio
This is a WooCommerce add-on that enables it for subscription-based products. It works with WooCommerce eCommerce plugin to let you accept recurring payments.
 If you want to stick to WordPress and WooCommerce but don't want to use WooCommerce subscriptions, you can opt for this one.
Subscriptio too lets you decide on how you want to collect the recurring payments. You can opt for fully automated system that will deduce the subscription fee from the buyer's account with requiring you or the buyer to take any action. You can resume and pause the recurring payments' cycle as and when required. Just like WooCommerce subscription does, Subscriptio too handles variable subscriptions gracefully.
What subscriptio provides is as good as WooCommerce subscriptions. It comes with PayPal and Stripe fully integrated and ready to collect the fees. The plugin is available at codecanyon for $49, with 6 months of support from the team at rightpress.
PayPal recurring payments
PayPal is one of the most trusted names for collecting payments with your website. This popular payment gateway allows the ecommerce website owners to accept recurring payments using their Subscription and recurring payment service. You can also collect automatic payments using it.
WooCommerce subscriptions allow more personalization over your products and subscription offers. You can properly synchronize your products and subscription packages. As mentioned earlier, WooCommerce subscriptions also lets you deal with variable products. So, you can sell the same service with different versions at different prices. With PayPal recurring payments, you cannot directly sell variable products.
PayPal recurring payment is actually a good option because it is "PayPal". It is one of the safest name around! However, you can always go with WooCommerce subscriptions – with more features, and choose PayPal for the payment gateway!!
YITH WooCommerce Subscription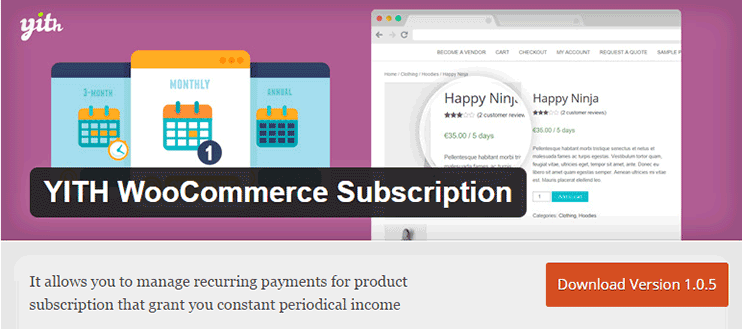 YITH WooCommerce subscriptions is yet another WooCommerce add-on for selling subscription based products. Like the two we mentioned above, this plugin, too allows you to automatically accept payments at a determined period. It is a free plugin that you can include into your website to sell services and products with subscription.
WooCommerce allows selling digital as well as physical goods and therefore you can apply subscription on any of them. The plugin is free and comes with basic subscription features. You can stop the subscription using their PayPal account.
You may also like:
Conclusion
Plugins like the ones discussed above have made it very easy to provide subscription-based products and services through your website. These plugins are designed to offer ease of use to you, as an admin as well as to your customers who want to subscribe.
Creating subscription-based websites through coding is a complicated and time taking task. Thanks to the wonderful CMSs and the eCommerce platforms that help you do this without writing a line of code and spending hours to develop it. All you'll need to do is download the plugin, install it and configure the products according to your requirements. The tips and tricks here can help you create an efficient website with WordPress based Subscription websites.
However, from among all the options, YITH is the free option. So if you are not ready to invest yet, and just want to start with the free option, it is the best. On the other hand, if you want to create subscriptions on your website with all the best features included, WooCommerce subscriptions is our recommendation. Click here to know the best reasons to use WooCommerce subscriptions.
Or.. you may use this affordable, alternative plugin
Alternatively, you may also use an equally good, affordable Woocommerce subscriptions aleternative plugin. We recommend Subscriptio – WooCommerce Subscriptions for your Ecommerce site.