Publisher
Elegant theme for showcasing and selling digital products
Options, so many options…
Publisher is one of the most complete WordPress app themes on the market today. With it you can not only showcase your eBooks and other digital products, but also sell them. The theme is powered by Templatic Digital Downloads and Tevolution plugins that come bundled with the theme for free.
Key Publisher features
Multiple ways to sell

Sell digital products on-site using the built-in selling system (powered by the Digital Downloads plugin), setup an eJunkie cart or just link to Amazon.

WooCommerce integration

Use the free WooCommerce plugin to sell physical products. Shipping, tax, variations…it's
Key Publisher features
Fully widgetized homepage

The beautiful Publisher homepage is created with a number of custom widgets. Swapping elements or including new ones is literally as easy as drag n' drop.

Custom register page

Use the Publisher back-end to create your unique register page. Add just the fields you want the visitors to fill; no unnecessary stuff.

Product Reviews

Allow visitors to comment and review products displayed on your site. To make sure there is no foul play each review/comment can be moderated before it's published on the site.

Create a multilingual site

Using WPML you can setup a multilingual website where visitors can change the default language per their requirements.

Unlimited Color Options

Publisher allows you to quickly change the color of your buttons or body background. Using the WordPress Customizer these changes can be made in seconds and in real-time.

Maintain a regular ol' blog

No worries, we didn't forget about the blog. Starting a blog with this advanced theme is as easy as creating a new category and adding some posts to it, no further tweaking necessary.

Setup promotions using coupons

The included coupon module will allow you to offer discounts on your products. Discounts can be fixed-amount based or percentage based.

Manage orders and reports

Extensive back-end section for order management and reporting will allow you to easily identify best selling products; as well as those that aren't doing well.
Publisher WordPress app themes features a stunning responsive design
Create your own post type
The ability to create your own post type extends the functionality well beyond a regular web store. For instance, create a post type called "Events" and showcase events worth visiting in your city. Cool thing about this feature is that you also create the category taxonomy.
Once you're done creating the post type, start working on a submission form. By creating a submission form you can allow visitors to submit events on your site. You can even charge for those submissions!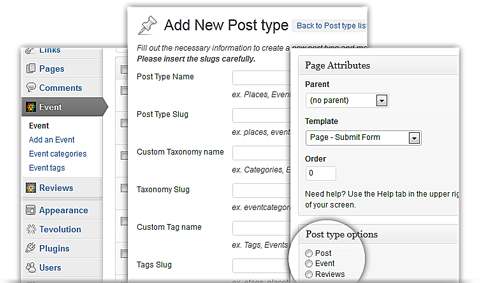 Publisher homepage, explained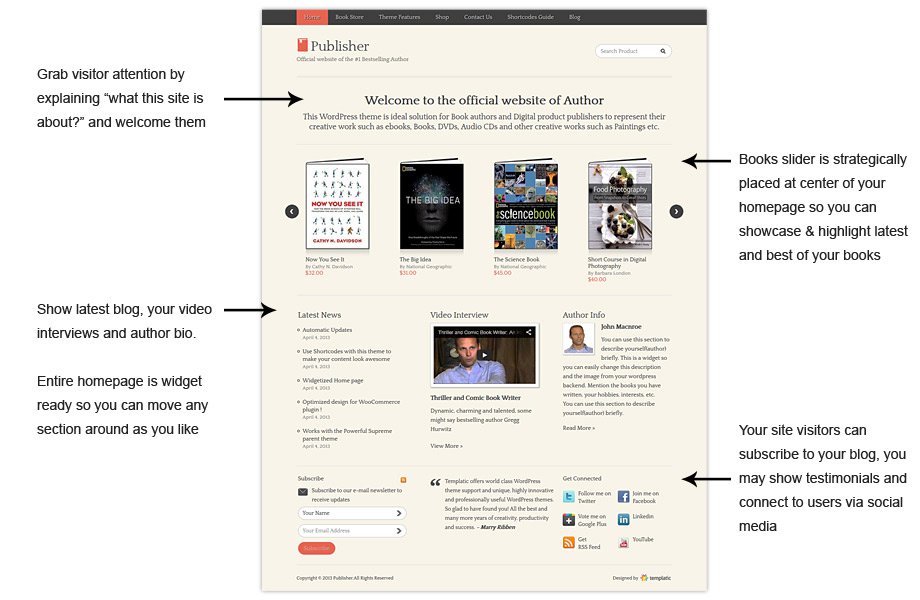 The best theme support around
By purchasing Publisher you will get access to our community forums; the primary area for receiving support at Templatic. Our team consists of both youngsters looking to expand their knowledge and skillful WordPress veterans.
Forums are actively maintained by our staff but there is also a lot of user activity. We actually encourage members to provide help to others and even give out monthly rewards (free themes) to those that do it regularly. Threads containing customizations are tracked and cataloged so future members can find them more easily.
Private, 1 on 1 communication is done in Helpdesk allowing you to freely share sensitive information such as your site URL and wp-admin credentials.
Manage emails

Use the Publisher's back-end to manage all outgoing emails sent to your visitors.

Bulk upload

Already have some content in .csv format? You can add it to Publisher within minutes.

Add your currency

Publisher isn't limited to a preset selection of currencies. Add your own currency code, symbol and position.

Mega menus

Create complex multi-level menu items. Hover over the "Shop" item for a demonstration.

Catalog mode

Use the catalog mode to just showcase your products; buy button will be hidden.

Shortcodes

Use pre-existing shortcodes to style our text and add boxes, callouts and more.
1-click auto install

Pressing just one button inside the theme back-end you can make your newly installed theme look like our demo site.

Automatic updates

The days of struggling with theme files are over. This feature will allow you to update the theme right from the WordPress dashboard, much like you would update a plugin.

Outstanding support

In case you ever run into problems, our skilled staff will be there to help in community forums and in Helpdesk.

Detailed documentation

A multi-page guide containing text, images and video makes getting started with this advanced theme a whole lot easier.

Third-party plugin support

Use popular WordPress plugins such as Gravity Forms or WordPress SEO by Yoast to enhance the directory even further.

Custom widgets

Display unique content with widgets such as: Facebook Fans, Twitter Feed, Testimonials, Browse by Categories, Contact Us, Recent Review, Social Media and more.
Can I change the logo?

Yes, of course. The logo and favicon can be changed from the theme's back-end section.


Is Publisher available as a HTML template?

No, it's not. It's only available as a WordPress theme.

Is bulk uploading available?

Yes, it is. Bulk upload, export and update are available.

Does Publisher work with WordPress MultiSite

Yes, it does. All Templatic themes work great on MultiSite, including Publisher.

Which WordPress versions does Publisher support?

Publisher will always be compatible with the latest version of WordPress. So, when in doubt – update.

Which payment gateways are currently supported?

Publisher (more specifically, Tevolution) comes with two payment options included: PayPal and PreBank Transfer. Numerous other payment gateways are available as optional (paid) extras. For a full list click here.

Am I allowed to customize the theme?

Yes, of course. You're allowed to make unlimited changes to the theme, design and functionality included. We even encourage this by including the best customized sites in our Showcase.

Is the theme available in other languages?

No, the theme is only provided in English. However, it does come with a language file which will allow you to translate it to your own language.

Can I use the built-in shopping functionality to sell physical products?

No, you cannot. The built-in shopping features are for digital products on. However, you can use WooCommerce to sell physical products.

Is registration mandatory (in order to buy something)?

Yes, it is, but only when using the built-in selling system (powered by Digital Downloads plugin). If you opt for using WooCommerce checking out as guest will be available.
It also does WooCommerce
WooCommerce is a free e-commerce plugin that will allow you to sell products with the Publisher theme.
What's included in WooCommerce?
Super-easy store management
Extensive tax and shipping options
One page checkout for improving conversions
Advanced reporting and order management
Included coupon module for running marketing campaigns
Extensive documentation for both beginners and developers
Various sharing options
A massive selection of extensions
Completely secure with frequent checks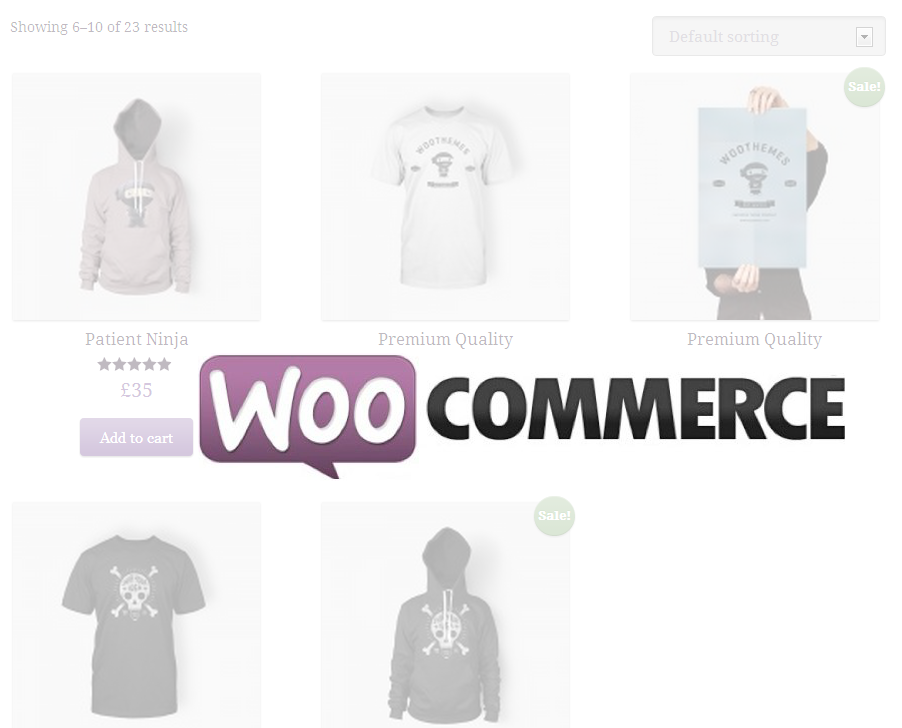 Click on these websites to see how they have used the Templatic Publisher Theme to take their platforms to the next level!
Thanks a million for the support templatic! Special mention to Sapna and Vedran for doing such an excellent job. You guys are the best support team in the world!

– Allan E. Salvatierra

Templatic has to be the greatest theme company for me because of two reasons. 1) They have amazing, stylish, and functional themes. They already put your best interest in mind for monetization when they are making the themes, so it makes it much easier for you to get up and going. The themes just make sense. 2) Customer Support. These guys and gals are tremendous at responding back to your theme support questions. If something isn't working properly they will figure out what's wrong and tell you how to do it, usually with a link to a certain section in their theme guide so you can do it yourself and learn where you went wrong or if it's a bigger issue they will make adjustments and handle it on their own. One of my problems was already fixed in an update, so it's let's you know they are always listening and improving on their themes. VERY EXCITED and GRATEFUL for Templatic!!!

– Ken Bryant

With all the features provided by this theme, our website to be on par with other national large corporate websites. Traffic is also increasing. Templatic support staff are also very professional and fast. They help me to solve all the difficulties and problems as fast as they can. I would definitely use their product again if I needed website theme. Templatic is very reliable. Big Thanks To Templatic.

– Centrury 21 Graha
New Directory child theme:
Meet the best Business Directory theme 2016 for WordPress.
Check it out now!