Create author website in WordPress on your own. A step by step guide (2020)
Posted on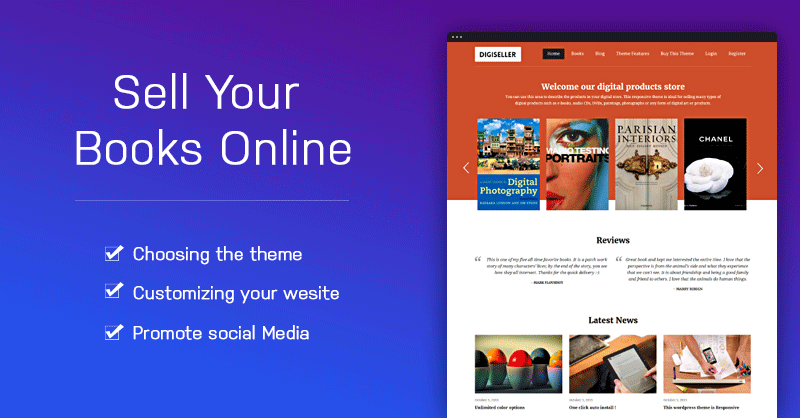 Are you a writer and thinking about getting yourself a website created but there are some questions in your mind yet?
And then you start worrying about hiring the programmers and developers, waiting till they prepare your site, and calling them again and again for site maintenance.
However, we have a better idea for you.
Instead of appointing people for creating and maintaining your site, how about creating your author website by yourself?
Because WordPress and WordPress themes come with an app like interface. So you can now create your site with the simplest options, without writing a line of code.
This is a complete guide on how to create an author's official website. And trust me, you don't have to be a programmer or designer to get your site created.
Follow the simple steps to show how to create an author website onWordPress. Don't worry, it'll be fun (plus you get a beautiful website).
There's a video as well of this entire process, at the end of this guide.
Start with the domain and host for your new website
For creating any kind of website, the basic requirements are – Domain name, that is the unique permanent address of your site on the internet as well as hosting space, where your website is stored.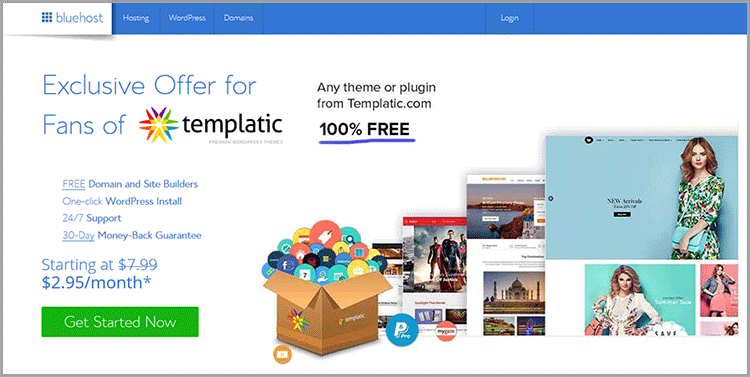 There are many internet companies that provide you with such services. We recommend BlueHost. Because they provide excellent service and lets you choose from a large range of plans and options for subscriptions.
We'll go for the WordPress hosting service from Bluehost which is optimized for WordPress website. Clicking on the WordPress hosting option (As marked in the image above) will ask you to choose a plan.
The basic plan is enough for your author's website. However, at any point in time, you can upgrade your service and change the plan.
When you proceed to checkout, it will ask you to choose the domain name. You can pick up the domain name and check for its availability.
You'll be assigned the domain if it's not already taken. Or you can choose another domain. With the hosting subscription for over a year, you get the domain name for free.
At the end of this step, you will have a domain name and hosting space. Login to your server by following the steps provided by the hosting provider to use your domain name and hosting space for your book author website.

Make a list of all the fundamentals you want to display on your writer's website
Be sure on what you want your site to be about. Make a list of all the information you want to display on your website.
Grab a pen and notepad and note down all the information you want to show on your website.
Once you've created a rough note on the details you want to show on your site, you can easily organize them into pages and menu items.

Choose the ultimate WordPress Book Author template accordingly
Once you are sure about what you want your site to contain, you can use the internet to choose the WordPress themes for authors.
There are different themes with different designs and features available. For this post, I'll go for the Publisher WordPress theme that is a simple and very easy to use WordPress theme to create an author's official website. Or you can check this list of the best multi-purpose WordPress themes.
It's really simple to use and designed for the creative beginners who want to create their site on their own.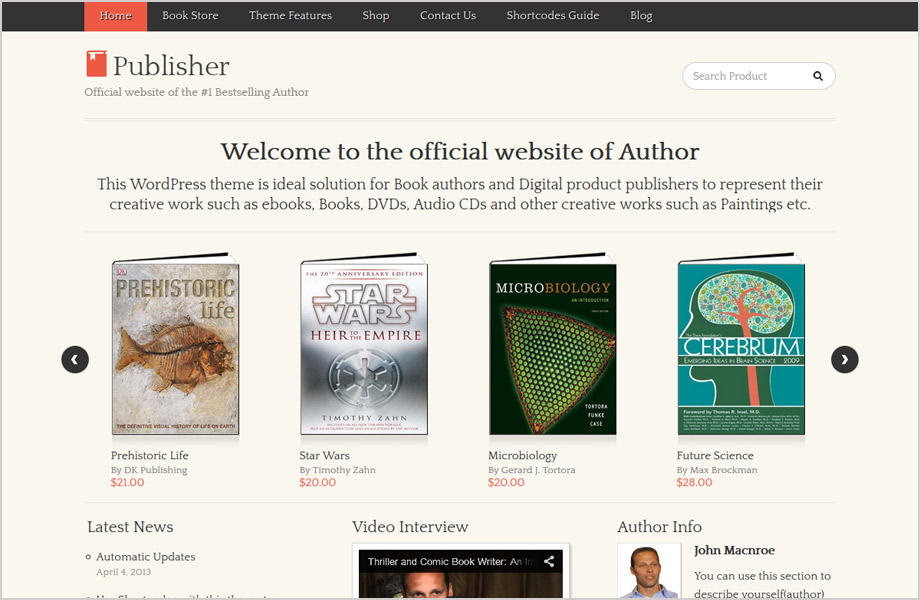 You can also check out our collection of WordPress themes for authors and choose the one you like.
Get this premium Author Theme for FREE?
Yes, subscribe to BlueHost using this link and get your favorite theme or plugin from our store without paying anything.
Elegant and responsive design
This is the world of smartphones! Most of the people use mobile phones or any such portable devices to surf the internet.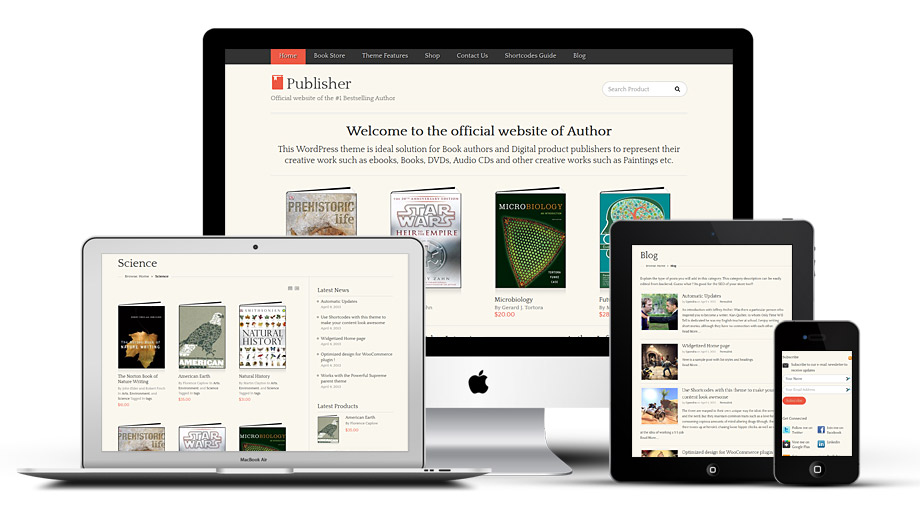 We can't let go of these visitors. So always choose a theme that guarantees a superb look on any device it is viewed on.
Publisher theme is an elegantly responsive theme and it gives a perfect browsing experience to the users regardless of the device it is viewed on.
Social media coverage
A very important feature for any kind of website is the social media activation. Social media activation in two forms
Social media sharing of your website
Linking your social media accounts with your website
Both of these methods have advantages of its own. They're surely going to help you, one way or the other.
Make it more attractive using the available options
Now that we have our theme ready with us, we'll follow the steps provided by the host and install the theme. Most of the WordPress theme nowadays come with the easy install file that allows you to install the theme with just one click.
After installing the theme, you will be asked to install the sample data. Just click yes and your website will be loaded with example content.
Your site will be updated with example logo, text, images, post and categories and widgets in the sidebars. So you don't have to start with a blank site.
With the sample data, we now have a site ready with the dummy content. All we need to do is update our writer's website with the actual data, books, and post.
Personalize your author website (site title or logo, and cover for identification)
The first thing you would want to do is provide your identity to your website. This can be done by updating the logo or changing the site title.
If you have a logo, with simple steps available at the customize menu you can upload it. See the image below.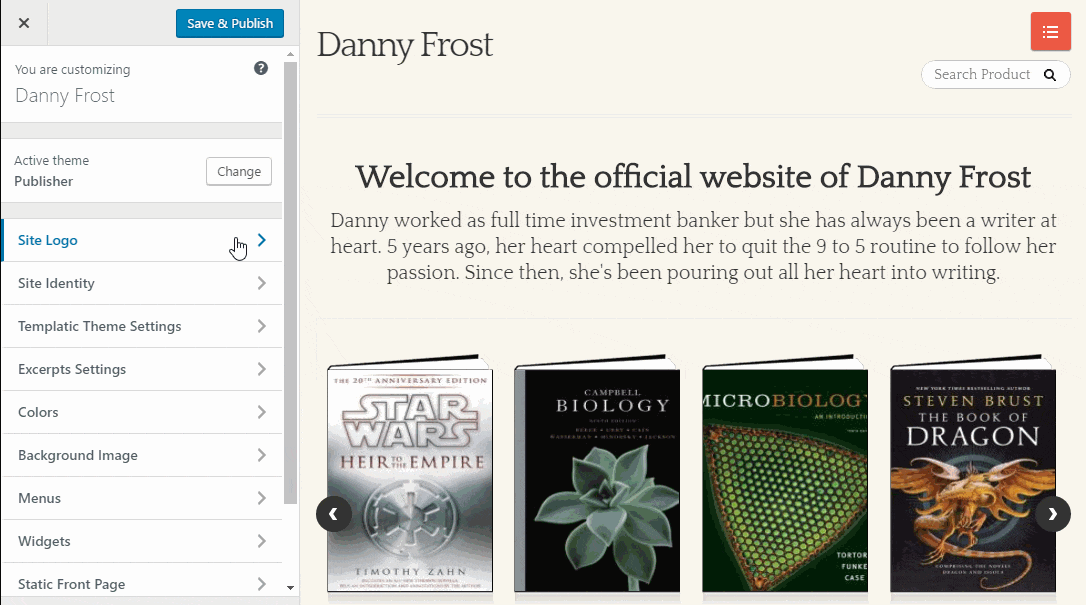 If you don't have a logo, you can opt for the site title. Just type in the name and it will be shown in bold as seen in the figure below: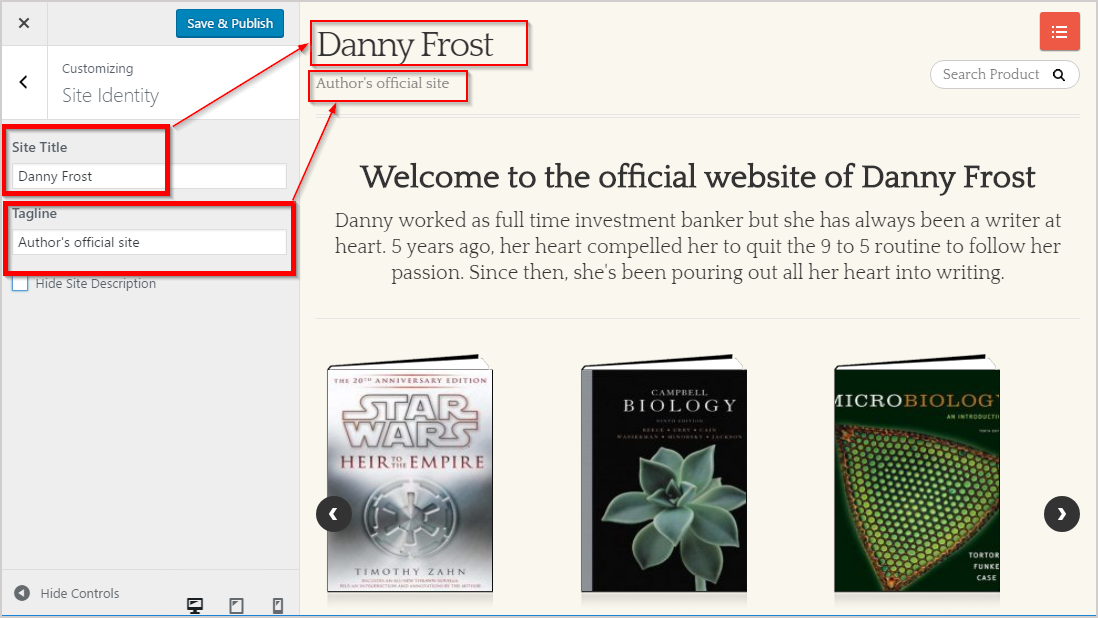 Set the colors, background, and fonts of your author WordPress website
No size fits all.
So, in this step, we'll customize the website to make it look the way you want. The very basic thing to do is to change the site colors.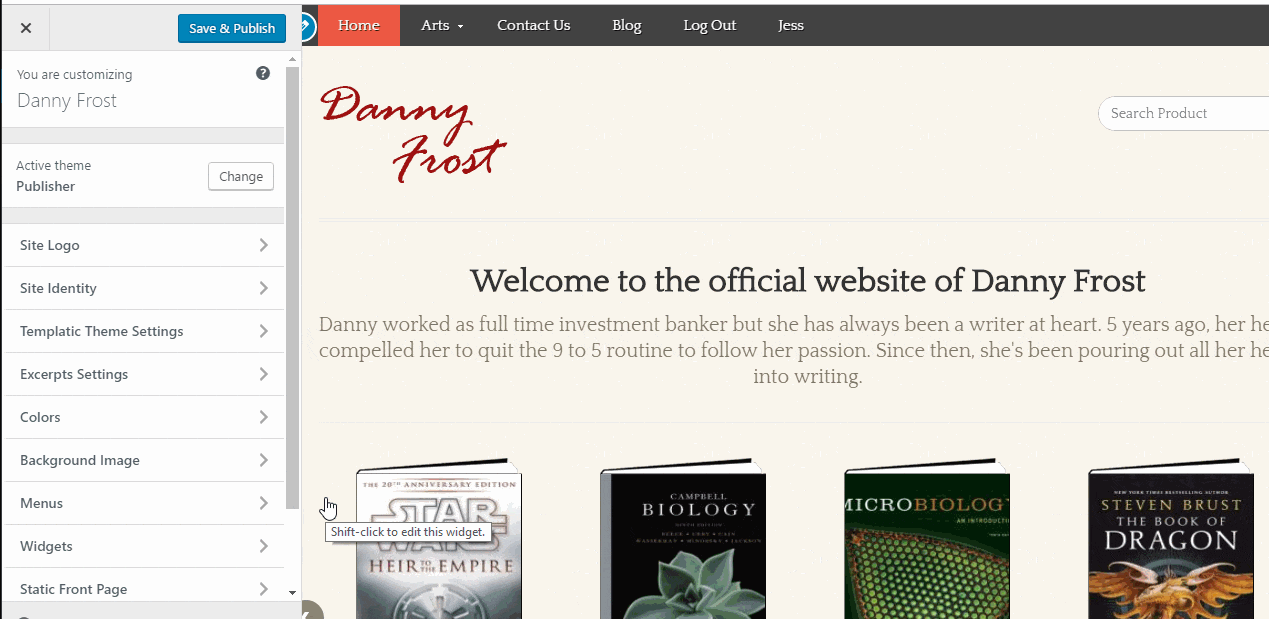 As shown in the image above, with the publisher theme you can change the color of various sections of the website.
You can set literally any color for the background, titles, buttons, etc. The real time customizer will show you the live preview of the changes you make. So keep playing till you find the best combination.
You can also set any image as the background to your site. Once you find the best color scheme for your site, click save.
Replace the example content with your original information
After the previous customization settings, your site is now ready to be updated with your original content.
The various content blocks on your home screen, as well as the sidebars of the other pages, appear through widgets.
So just by dragging and dropping the widgets to the desired widget areas, you will be able to change the position of your page elements.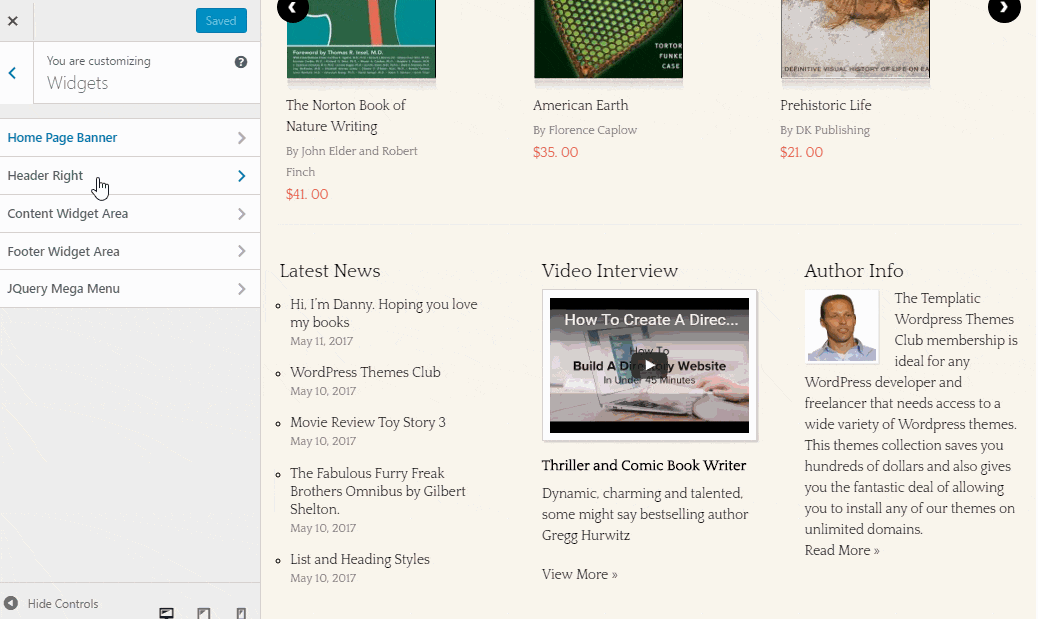 Managing and Selling your books through your author website
Once you are done with the designing part, we'll move to update your author website with original content, your content!
You can check the widgets and update the text and images as per your requirements.
Your books display section on your WordPress author website
Thankfully, the Templatic's publisher theme for authors and writers come with a pre-designed and fully functional widget to show the book gallery with a slider right on the homepage.
However, you can change the position of this slider or use it at multiple places as it comes in form of a flexible widget. It will automatically show all the books you have added.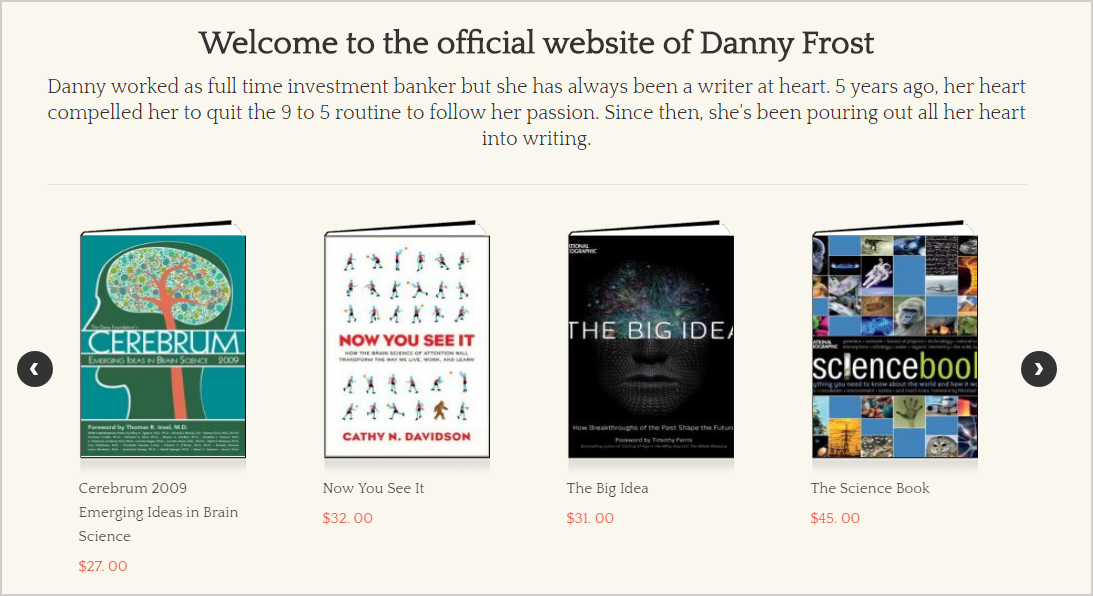 Displaying and promoting your books through your author website
Creating an author website has multiple benefits, and one of them is that you can show off your work, be it books, articles, etc. And the publisher WordPress theme, allows you to even sell your books through your website.
You can add books to your website from the admin dashboard using the two simple steps mentioned below.
Creating categories: If you are writing many books on different topics, you can use this option. Create categories and add the books to the category they fall in.
Click the add product option to add a new book.
This will open a form where you can add a book very easily. Fill in the various details pertaining to your book, upload the images, set the external links and you are ready to go.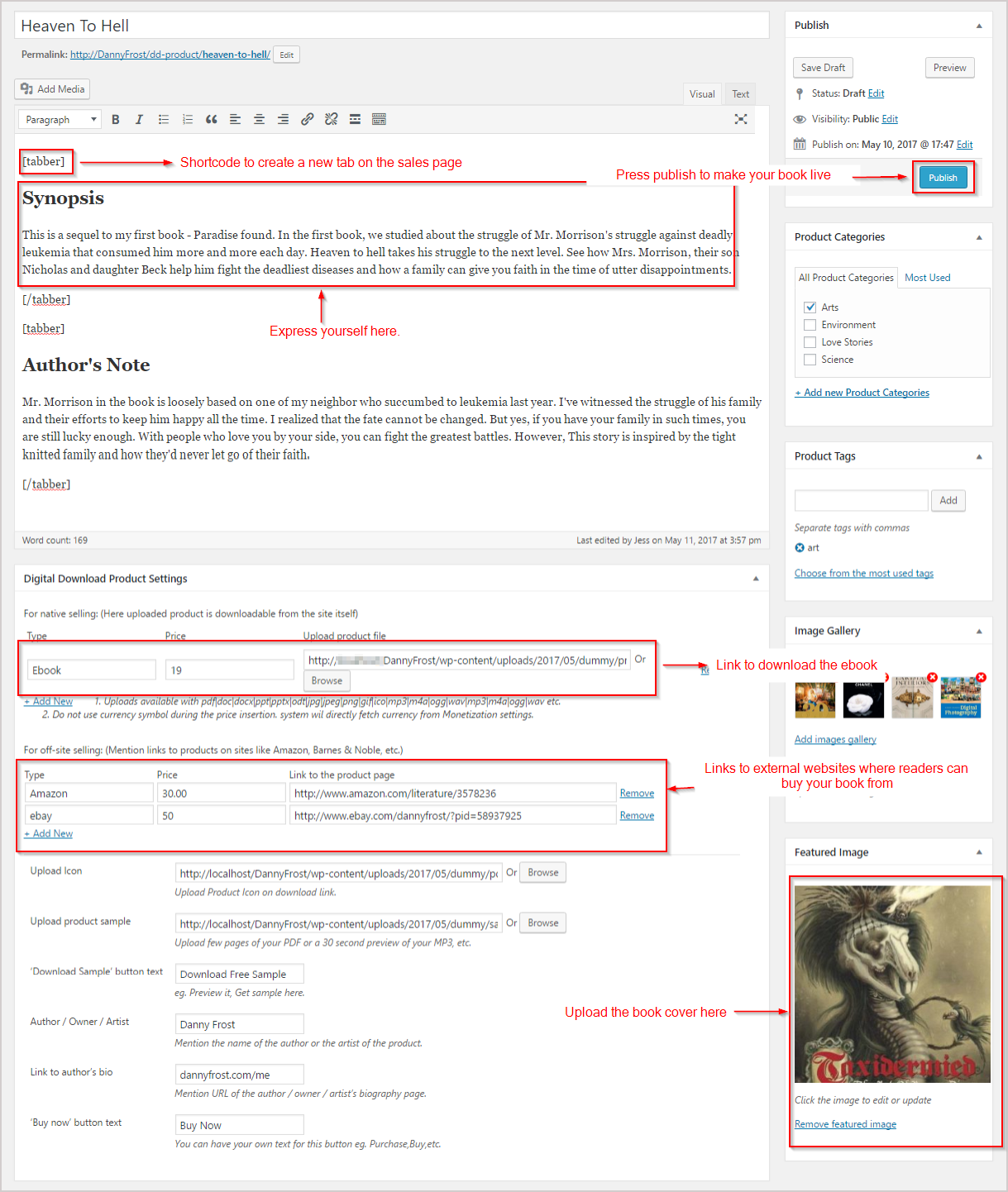 With all the details filled in and verified, click publish and your book will start appearing on your site.
It is as simple as that. The image below depicts how it appears on to your site visitors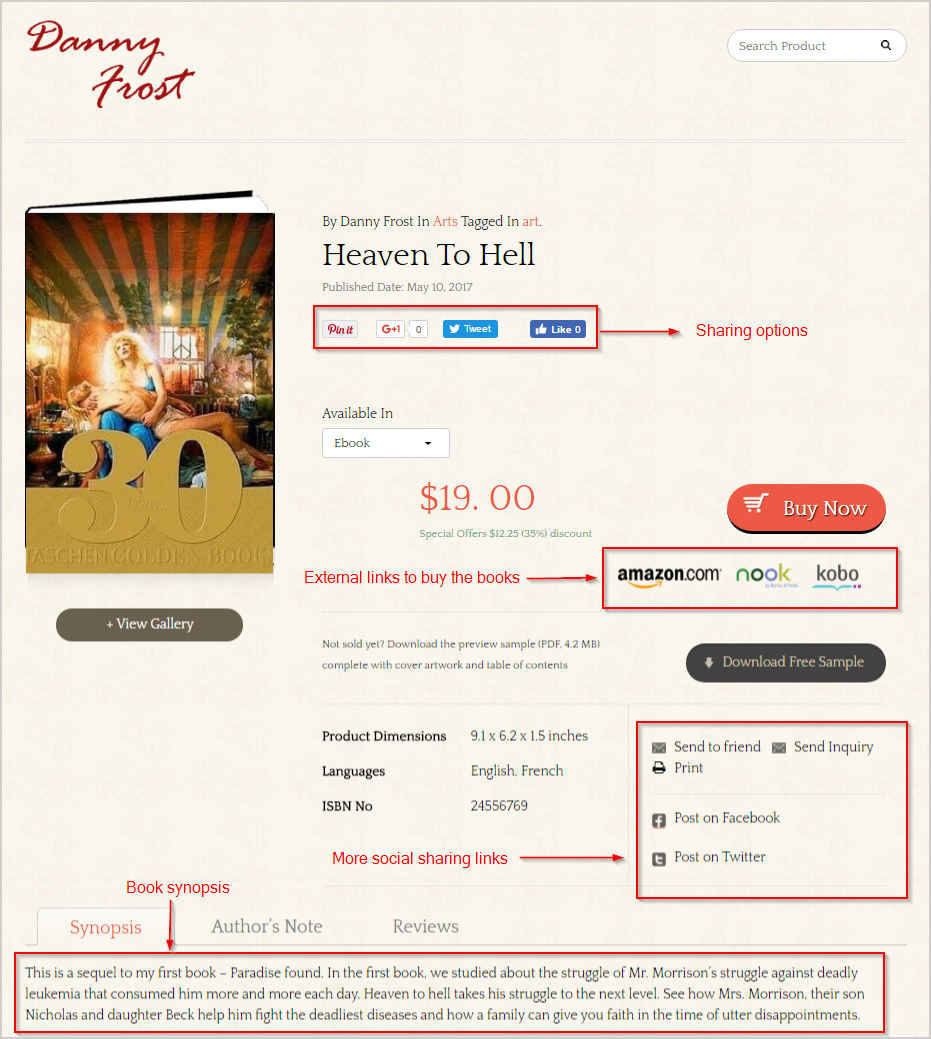 Order management with the publisher WordPress theme
It's quite simple to keep track of your sales with the inbuilt order management system. Just log in to your dashboard and check all the orders placed for your books.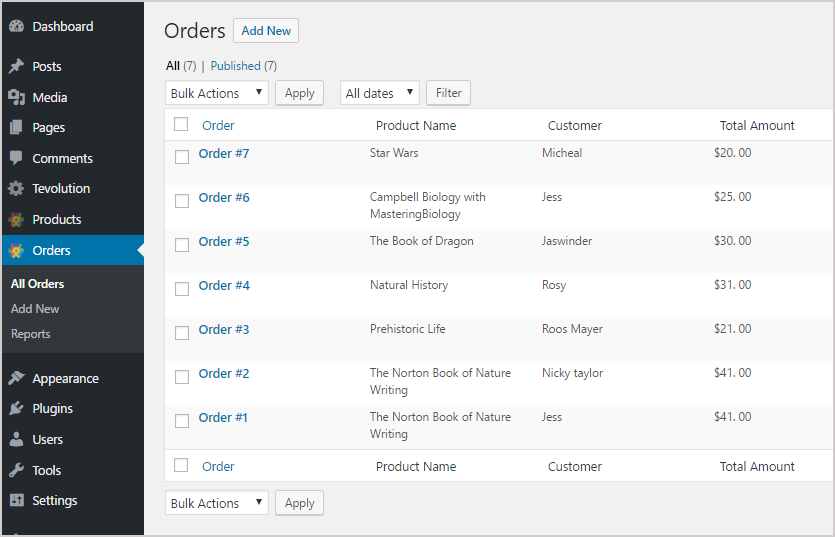 Or you can also view the reports on how your books are performing.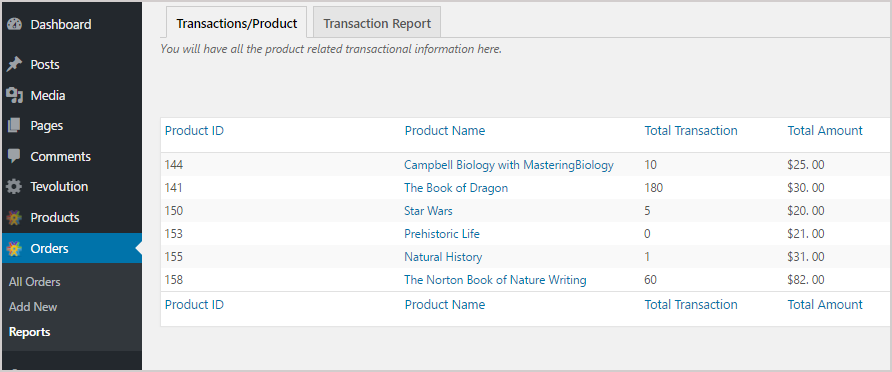 New book launch? Create a wonderful book launch landing page
If you are on the way to launch a new book, your author website can be the place where you announce it.
You can create a new page for your new book and display it through the menu. Or you can just design an advertisement banner and display it on the sidebars, header or footer of your website.
Alternately, you can use the advertisement banners in the sidebars of your website

How will you bring visitors to your author website?
Creating a website is not a difficult task, but bringing people to your website is a whole different story. There are many ways to attract visitors to your site. You can do so by promotions(more on this later) or implement the SEO tactics.
To ensure that your site is Search Engine friendly, you should take care of the following:
Choosing an SEO friendly author WordPress theme
Always go for a theme that is SEO friendly. There are some SEO WordPress plugins that you can use to improve the search engine score of your website (more on this later).
The publisher is coded with strict SEO standards and it guarantees that your site scores well with SEO.
Keyword research and inclusion for your author website content
Keyword research is basically a subject of SEO experts. But you can try to find out the keywords you want to target. There are many tools like Google Adwords: Keyword Planner tool, that can help you find the best keywords for your website.
Regular blogging on your author website
Blogging is always an advantage for you and your website. Moreover, it helps improve the visibility of your web pages. Besides, there are many other advantages of blogging.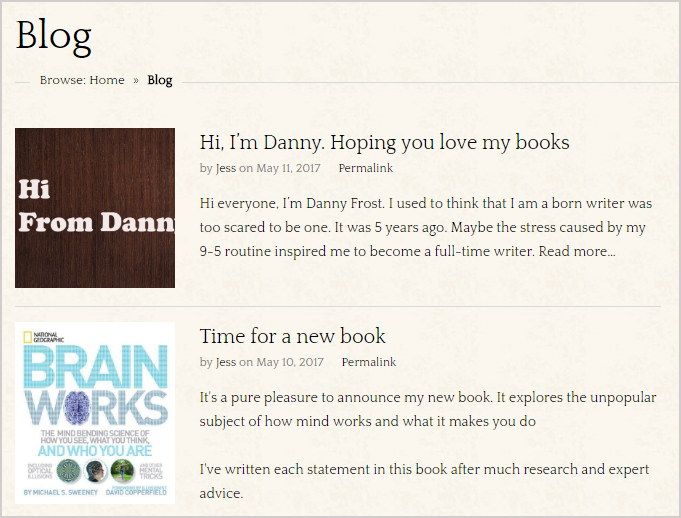 A few of the general advantages are:
You can stay in touch with your visitors and keep them informed.
With comments on your blogs enabled you can let your readers voice out their opinions
Blogs increases the unique and valuable content on your website
They can be great if you want to make announcements or break some news
Moreover, it is great from the SEO perspective. So always choose a theme that allows blogging.
Using the WordPress plugins to optimize your author site content
One of the major advantages of using WordPress is the availability of WordPress plugins. With this plugins, you can extend the functionality of your WordPress website and add features to it.
With the publisher, you can enhance the visibility of your website using the SEO plugins available in the market.
The theme is coded with the strict SEO practices, but for the content, you add to the pages or the post you can use from a range of compatible SEO plugins like Yoast SEO, All in One SEO pack, etc.

Promoting, Maintaining and updating your author website
Once you get your website created, you will have to constantly keep it updated with newer information.
Here lies the main advantage of creating your website on your own. You won't have to consult your programmers now and then to make minor changes in your website.
You can do it all by yourself.
Keeping your website updated with fresh and exclusive information
With the passing time, you'll need to change a few things about your site. For instance, you have created a new page for a book launch. But then after a month of the book launch, the book launch page is irrelevant because the date has passed and the book is already launched.
But then after a month of the book launch, the book launch page is irrelevant because the date has passed and the book is already launched.
So, over time you need to remove a few pages or add new pages.
But with the WordPress and the publisher theme, there's nothing to worry about. Just log in to your WordPress dashboard and make the changes you desire using the simple options.
Keeping your readers updated through blogs, newsletter, etc
One of the most appreciated things you can do as an author is to keep your visitors updated with the latest news.
Basically, stay in touch with your readers and keep them informed. You can do that by announcing new books, writing blogs, etc.

For example, Dan brown announced Origin in the end of September 2016, which is to be released on September 29, 2017. Moreover, he keeps us engaged with things like the "Cover design contest".
Danielle steel keeps in touch with her readers through her blogs tagged as "A letter from Danielle".
Promotions and advertising your author website
Besides SEO, you should try out other ways to advertise and promote your website. There are many platforms that you can choose from based on the scope of your website. For instance, if your books are in your local language, you would want to advertise using some local media.
For instance, if your books are in your local language, you would want to advertise using some local media.
Social media marketing campaign
Create a fan page, or a group, or an advertisement, etc. There are many mediums through which you can promote your website using platforms like Facebook, twitter, LinkedIn, etc.
It is a great way to spread your word among social circles and reach more people in less time.
Google AdSense service for promoting your books
Google AdSense is a smart advertisement service that displays targeted advertisements to the relevant users. You can visit their website to know more about their service. They help you gain positive and targeted traffic on your site.
Besides the ones mentioned above, there are multiple ways through which you can promote & SEO optimize your website. Alternately, you can subscribe to an SEO and Digital marketing service to make sure that your author website is found to the relevant audience.
And as promised, here's the video of this entire process. Check out this video guide on how you can create an author website with WordPress and start selling your books online.
And you're ready to get your site online
Above mentioned were the simple steps that you can follow to get your site created. They enable you to create amazing writer's official website in minutes, effortlessly.
So if you were thinking to create your site from a long time, now is the time to start.
Good luck :)