Digital Downloads
Digital Downloads plugin helps you to sell digital products like eBooks on your website

edit product
Digital Downloads is a plugin that will enable cool product-selling features on your WordPress site. It works alongside our main app plugin – Tevolution. This WordPress digital downloads plugin is ideal for authors, book publishers, e-magazines and anyone else looking to sell digital stuff.
Need themes with this functionality? Purchase Publisher
Key features
Custom product information

When the plugin is activated a number of product fields are created (including ISBN No, language, dimensions, etc), but you're not limited to only those fields. New ones can be added at any time.

Upload samples

Allow your visitors to experience a small part of your product by downloading a sample. File types such as pdf or mp3 are supported.

Multiple payment methods

Choose between PayPal and PreBank Transfer (provided after install) or purchase and activate other gateways such as 2Checkout, Authorize.net or Google Checkout.

Add different product types

Is your product available in two or more formats, e.g. pdf and epub? This plugin will allow you to enter both versions and assign a unique price to each.
Main Tevolution plugin is provided for free with each purchase
Sell using E-Junkie

Have an E-Junkie account? You can use it instead of the built-in selling system.

Manage orders and reports

Extensive back-end section for order management and reporting will allow you to easily identify best selling products; as well as those that aren't doing well.

Translate the plugin

Use WPML to translate the plugin and even create a multilingual site where visitors can change the default language per their requirements.

Setup promotions using coupons

The included coupon module will allow you to offer discounts on your regular product prices. Coupon codes created in the back-end can be modified and removed at any time.

Sell on Amazon

The included coupon module will allow you to offer discounts on your regular product prices. Coupon codes created in the back-end can be modified and removed at any time.

Complete email control

Use the back-end to edit each email sent to visitors after purchase. Several shortcodes are provided for including dynamic information inside the emails.
How does the purchase process look?
The individual product page is where it all starts; from that page your visitors can purchase the product. Once the payment is made you can control what happens with the order (confirm/deny). After you confirm the order, the user can download their purchased product. This is possible from their own front-end dashboard which lists all purchases they have made.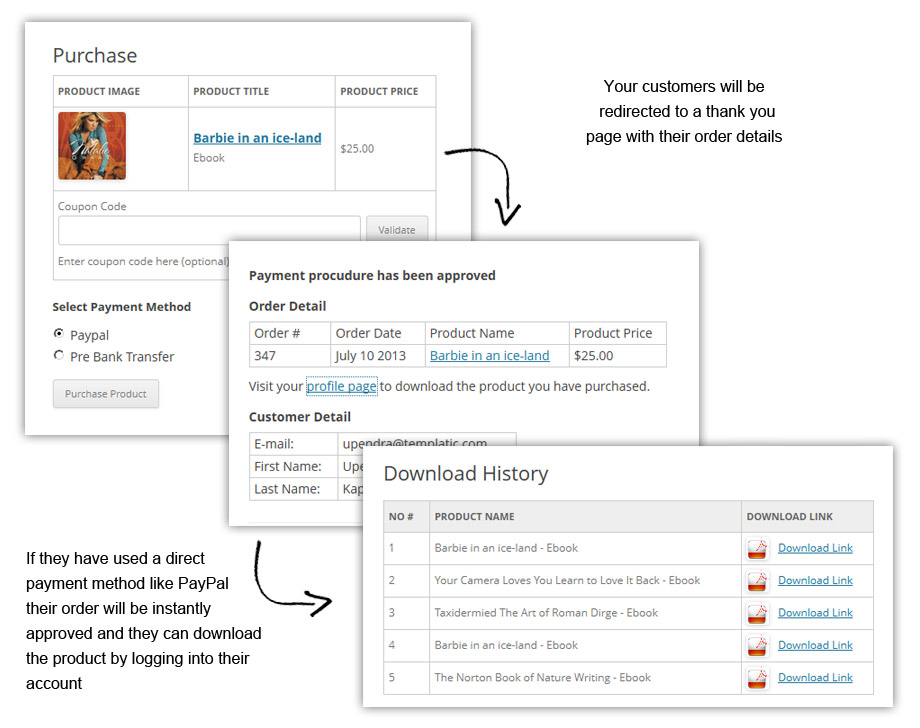 In case you're wondering, the answer is YES
The booking form in this plugin is pre-loaded with fields as soon as you activate the plugin. It's your call whether to use it as-is or modify the fields. All the settings you need are provided in a logically designed back-end section of this WordPress booking plugin. From there you can manage the actual bookings, form fields, tax, deposits, services, emails and much more.
Can I display the products on my website and not sell them?
Can I tweak the fields shown on the product detail page?
Can I change the emails that are sent to customers?
Am I allowed to customize the plugin?
Can I see number of downloads for each of my products?
Can I use e-Junkie instead of the built in selling system?
Can I tweak the fields on the registration form?
Can I keep track of my transaction reports?
Can I export the transactions in a CSV file?
Can I divide my digital products in different categories?
Can I easily load some sample products?
Can I see number of purchases for each of my products?
Can visitors rate and review my products?
Deserves 5-stars
Templatic.com has changed the way web-sites are developed. It was so easy editing your content, So fast getting perfect results and so easy customizing design based on my own need and preferences. This theme with excellent technical support certainly deserves 5-stars.
Works best with Publisher
Although designed to work with any WordPress theme, the booking plugin truly shines with our Publisher theme.
Key Publisher features
Elegant looks coupled with a responsive design
Fully widgetized homepage
Multilingual and WPML compatible
Unlimited color options
Automatic updates provided via the WordPress back-end
1-click install feature
Several included page templates
Dozens of custom widgets
Support for Templatic shortcodes and mega menus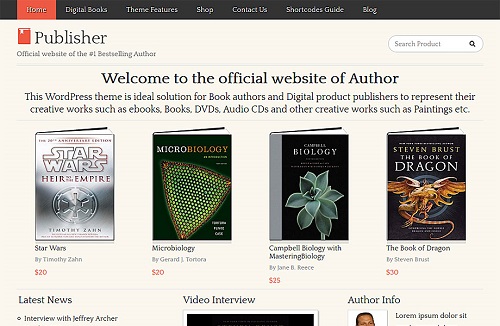 The Digital Downloads plugin is an ideal solution for all those looking to sell digital products and keep things simple and easy for customers. The best part… our advanced Tevolution plugin is provided totally free.