Note:
This product has been discontinued Because of PayPal Adaptive Payments API is now a limited release product which the plugin works on.
[The Event Ticket Booking plugin is a Tevolution add-on. The Directory Events plugin is required to be installed on your directory site.
Since this add-on offers split payment between site owner and event publisher, it only supports PayPal payment gateway at the moment.]
Have you faced this?
A user visits a particular event on your events directory website. The user likes the event and wishes to book a ticket to attend.
But all the user is able to do is to manually contact the event organizer or being directed to an online event ticketing system. This could mean less money for you as the website owner or for the event organizer.
How about if we tell you that you can have your very own event management and ticket sales system? We are talking straight on your events portal website without having your visitors being forced to leave your site to book an event.
Now imagine this…
A user visits an event on your events portal, likes the event and wants to book a ticket.
Now with this plugin installed, you have yourself a complete event booking system for WordPress and the user will see that beautiful "Book Tickets" on the event.

The user clicks the button and is then shown a form asking for the name, how many tickets to book and is then quickly directed to pay to register for the event.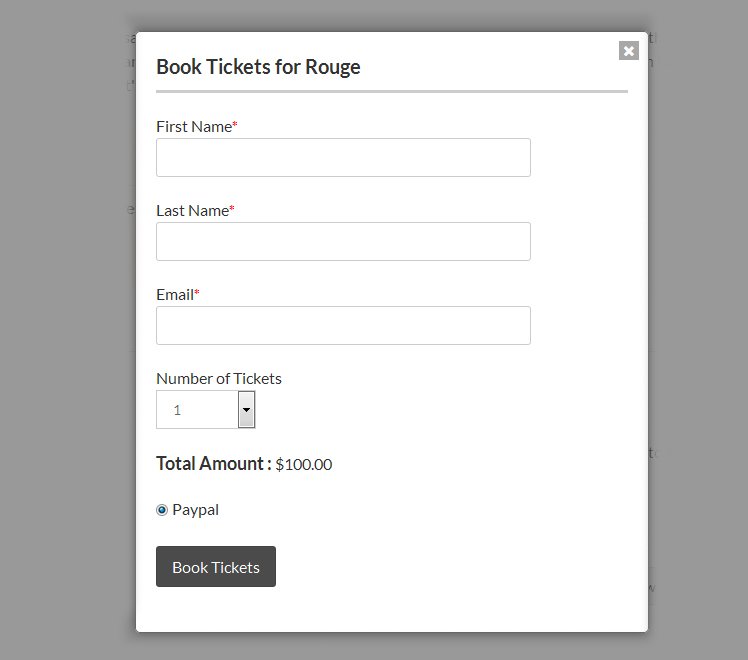 After filling in those basic details, all the user has to do is to click the "Book Tickets" button and gets taken to PayPal.
Once the payment has been completed, the user is returned to your site. The page confirms the ticket was booked and offers options to print or save the ticket in PDF format.
That's all there is to it, the event is booked!
The ease of booking truly makes this add-on one of the best event ticketing plugins for WordPress.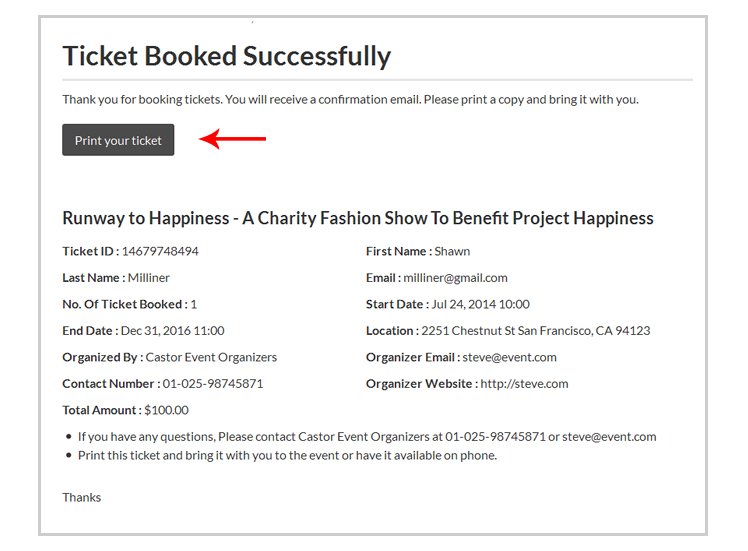 The user is also sent an email with the payment receipt and Ticket in PDF format on his/her email address.
Wouldn't this be a totally new, better experience for the user, event lister and you if this was possible?
With Event ticket booking plugin, this is absolutely possible now.
View Demo of Event Ticket Booking here and Purchase this plugin
With this Event Ticket Booking plugin, you are now able to offer a better user experience.
Monetising your event directory site has just gotten better for you and event event orgnizers on your website.
Here's how…
As Admin…
When you install this add-on, you will have two option to monetise event ticket booking.
1. Charge a fixed price per event
If you wish to charge a fixed price per event, select this option.
For example, you set the price at $10. Now when a user is submitting an event on your website, the user will be shown an option "Want to sell a ticket?" If "Yes" is selected, te user is shown an additional box to fill in the necessary details like price and the number of available tickets.
At the end of the form, extra $10 will be charged in the user's billing total for enabling this feature on the event listing.
You can also enter the price at $0 is you don't wish to charge for the option of event ticket selling.
2. Charge a percentage % per ticket
Or even better, if you wish to charge a percentage % per ticket booked on a listing, select this option.
If you select this option, you will get your percentage % paid directly into your PayPal account. Every time someone purchases a ticket from any listing submitted on your site, you will get paid.
This flexibility makes this plugin a must-have if you're after a sophisticated and profitable event ticket management system.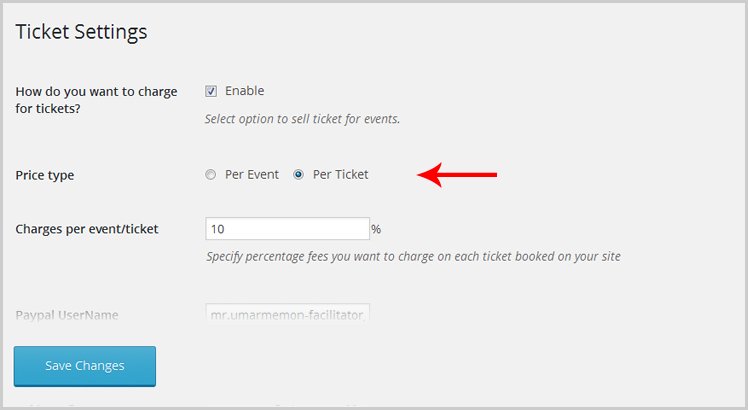 For example, You can set the percentage at 10%. Now when a user is submitting an event, the "Want to sell a ticket?" option is shown.
As with the previous 'Per Event' ticket selling option, the number of available tickets and necessary details is required. The user will not be charged anything at this stage.
After the user's event listing goes live and when anybody purchases a ticket, for example paying $20 for that event. You as admin will automatically receive $2 in your PayPal account and the event lister will receive $18.
Sweet. No?
View Transactions Report
A separate transaction report is created for tickets. You will be able to see All the ticket transactions of all the events listed on your website.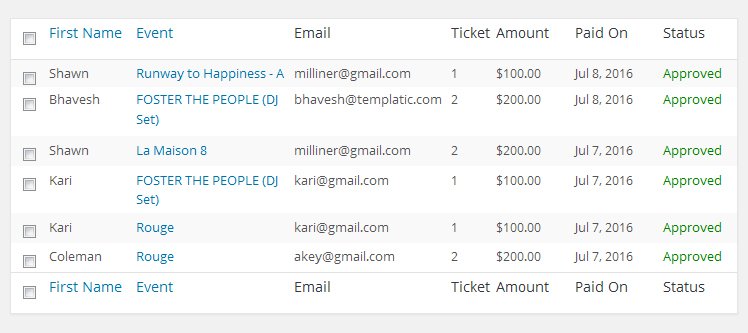 Also, if you wish to view transactions of a specific event, simply visit that event in wp-admin. You will see a separate box, showing all the event's tickets with total money charged to the user etc.
If you wish to print or view a specific transaction, you will also be able to do that.
As an Event Lister
When a user is adding an event on your site, this user will have one option asking her "Want to sell a ticket?" and if "Yes" is clicked, the user will be shown the additional box which you can see in the screenshot below.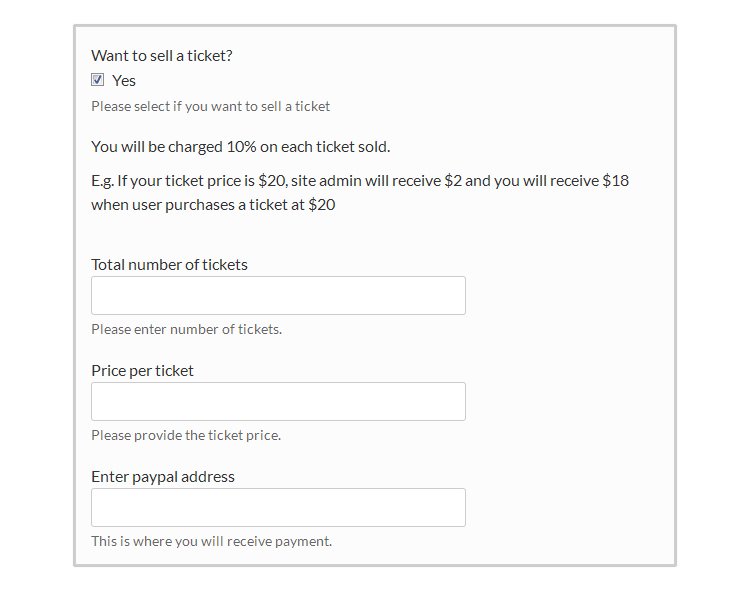 Once an event is listed and users purchase tickets, the user will get money in his\her own PayPal account.
In the user dashboard, there is a brief a summary of available tickets, booked tickets and other details displayed.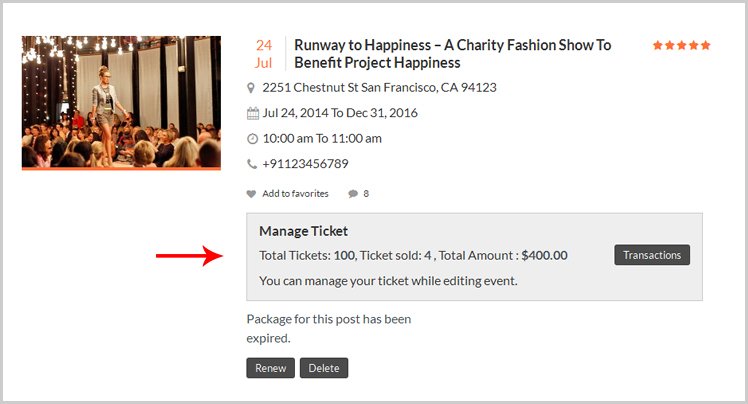 If the user wishes to manage a particular booked ticket, "Manage Tickets" button can be clicked. A popup will open showing all the booked tickets. This feature also allows the event organizer to view or print any particular ticket.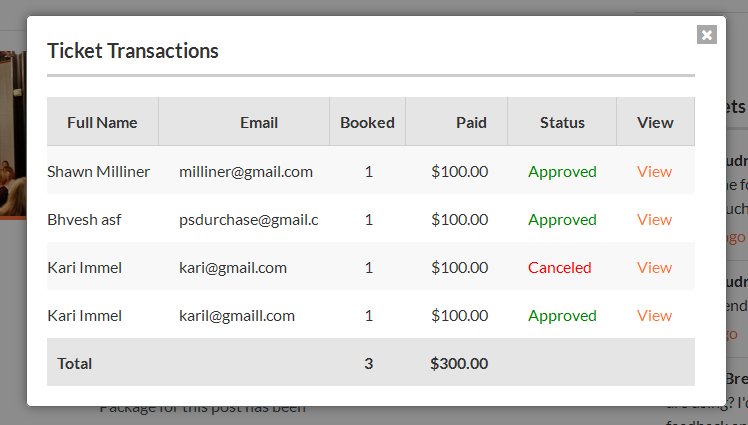 One of the great functions of this online event ticket sales system is that an event organizer can also cancel or approve tickets.
Note: If an organizer cancels any ticket and wishes to refund, a manual refund is required.
Demo: Click here to View Demo
Have questions? We'd love to answer any of your questions. Simply contact us here.
Get this plugin now.
Provide a totally new and better experience to your visitors with this cool event ticketing plugin. Make it possible for event listers on your site to enable ticket booking on your website and make more money.
It's a win-win situation for everyone.