Coming Soon WordPress theme
Posted on
If you think we are announcing some upcoming news, sorry to disappoint. The fact is, just this morning while starting the day, suddenly one of our team member mentioned that we haven't released a freebie recently.
Quite true. The reason we haven't released a freebie is because there are lots and lots of free themes available on the net and we wouldn't release "Yet another WordPress theme" unless we do have something unique to offer. Earlier, we've released unique free themes such as Visiting Card, LiveTweet, GTD and Aggregator themes which are totally different than the simple blog themes. So if we want to release a theme, we needed to do something unique.
On the other hand, development schedule is a bit tight at templatic office considering the upcoming exciting projects we are working on. For us, completing this freebie as quick as possible was important too.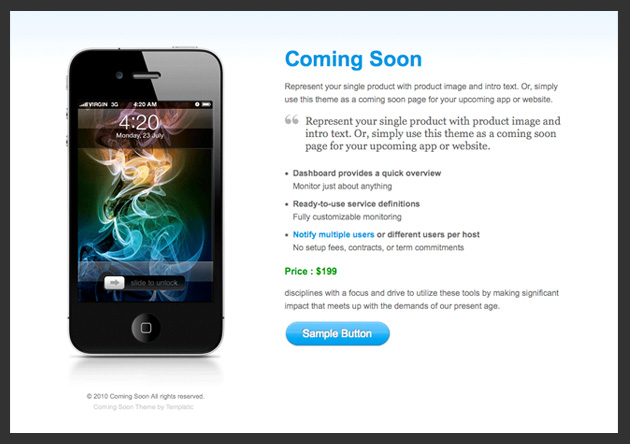 So we started working on "Coming Soon" wordpress theme – something that we can develop in a day, can be useful in lots of different ways and Can be customized as per the user's choice. Just before few minutes we completed the development of this theme and here's the theme for you to download.
Can be used in lots of different ways
Use as a Coming soon page for your website / Application / Software
Showcase your product in one single page with featured image and description on the right. Lots of iPhone App websites are built this way. You can use this theme to create a website just like that.
Showcase your digital product by creating a very quick website by previewing screen shots.
Use this theme as a list builder by enabling Feed burner Subscription Form from the design settings.
Any other way you want.
Customize per your imagination.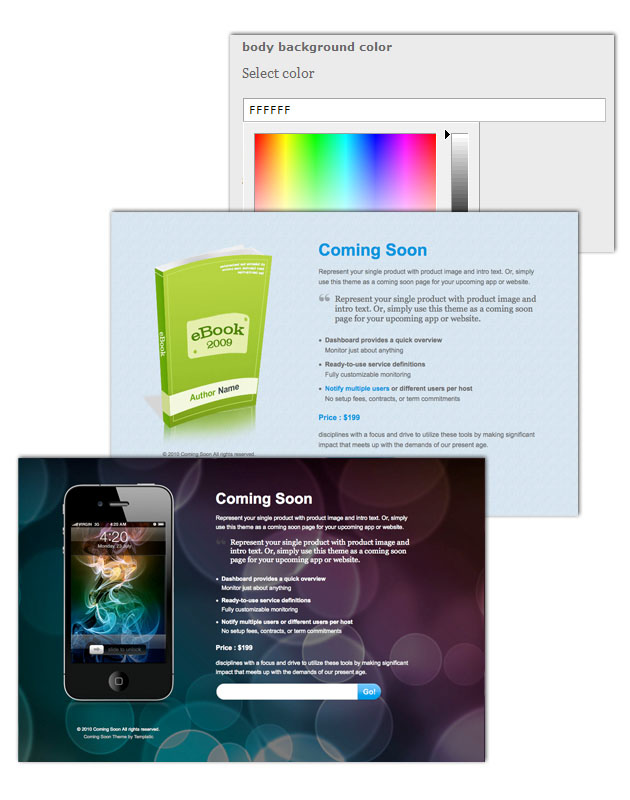 In the design settings, we have provided all the options to choose colors of your choice in every aspects of the theme. You may change fonts, background color or image, content color, product image and so on. So, your imagination is the limit. Be a little bit creative and create a unique design for yourself.  The color picker will help you choose any colors of your choice without having to know exact color codes. Check some of the quick customization we did with this theme.
Coming soon Demo
View live demo here.
How to use?
Once you upload and activate the theme, you should see "Coming Soon Theme Options" link in your wp-admin > Appearance section. You will find all the versatile design settings there. You can change content, images, colors and other aspects of the theme from here itself.
Note: This is just a single page theme for the unique purpose explained above. It does not support wordpress pages, posts or categories.
Your feedback please
We'd love to know what you think of this quick fun project we did on this Friday. Love this theme? Hate it? We're all ears. Shoot your comments via comment form below.