Realtr
Use WordPress and Realtr to create the ultimate real estate website
The Theme For Classifieds, Agencies And Realtors
Realtr is a responsive WordPress real estate theme designed to help you showcase properties in the fastest way possible. Realtr is feature-packed and comes with an easy to use for both admin and front-end users. A with our other WordPress real estate themes, Realtr is best suited for
estate agencies
and
realtors
to promote their properties online or for
property classifieds
directory websites. As well as
customizable categories
, another great feature of this theme is its
advanced search
. You can even add new custom fields to the search so you can literally use Realtr for any type of property website.
Read More
Do Have Your Own Real Estate Website for the Property Business
Today, if you need to buy any property you should know that it is not that much easy, but with the online presence of the builders and the various brokerage firms, there can be issues that you should take care of while getting enrolled with one. If you are having one of your own real estate company or you are selling some of the products of these companies or maybe you are just looking for giving them on rent, so we can able to help you out with our beautiful real estate WordPress theme. These real estate website templates are quite beautifully designed for the people to explore them in ago, and you can choose the one you wanted to put forward as your home page and then take the subdomains inside. The real estate firms have many projects and product to be listed and they also look for themes that can elaborate the product in the sides and can give the viewer a kind of 3D view too, for detailed pictures. So, such kind of themes can only the WordPress can offer us to go forward. As a real estate form if you do not have a website it looked like that you are living in the 90s when people don't have the online presence too. These real estate theme are so amazing that you will forget the real you and once you list yourself with theme the magic will start rolling for you as well. The kind of facilities, these themes have recently launched was impossible initially, but as the people start accepting the digitalization they are getting privileged with the same as well. Many of the WordPress real estate templates themes gives the front-end property submission, Google maps, advanced communication tools and of course they are not just limited to, your laptops only, they can be seen in your tablets as well as mobiles too. So, you can already feel the tremor of the online world so do make your presence strong with the online thing coming in and take the advantage of the same too, as with them you are with world. The realtor WordPress theme have been one of the revolutions in the internet world as it was quite driven that how can a person show the property through the online platform, but with them you can go through and have a check on them as well. So, it's very clear that if once you want to do anything related to the property management then do look forward to the real estate themes for WordPress and here we can also help you in getting the best one in your lap. We are the leader in the market for the same and have been existed from quite a long time, we have provided the themes to many brands and they have used them in quite a good way to represent themselves. If you are looking forward to a good representation of your product and who will show your clients to go through a presentation that is worth remembering then we can be of great help to you. Do land up to our website for realty WordPress theme and we are sure that you will not go bare handed through our platform. We have something for everybody if you are looking for a low budget or a trailer package we can help you out. So, do have a look at our pricing and if you have any suggestions, then do let us know about so that we can improve upon and make our interface more user-friendly. So, don't wait for any recommendation just checks us out!
Realtr Key Features
Property Listings

The Realtr theme has been designed for agents or homeowners to submit property listings. This theme is ideal for property agents to advertise properties such as houses and apartments for sale/rent on their portfolio. You can also use Realtr as a theme for property classifieds. As well as admin approval and searchable custom fields you can create your own custom property categories.

Free Or Paid Property Submission

The easiest and best way to make money with Realtr is to charge for property listing submissions. This popular property classifieds theme offers customizable property submission packages are available. You can create free or paid packages, or both if you like. The theme's package system is flexible and easy to use with many options such as recurring payments or featured property listing options.

Customizable Theme

In order to make managing the homepage of this properties theme as easy as possible you will find a completely widgetized homepage. Adding and removing content is as simple as drag and drop. This makes it super-easy to present your property portal's homepage the way you want. As well as this, you can use Realtr for any country and also change the default currency. You can also change the text and field labels if you like.

Custom Categories & Submission Form

Need to create a property portal for houses, apartments, villas, commercial properties or other property types? No problem, this theme is designed for property listings no matter which type. You can customize the categories and property submission form to show the fields you add. The theme's fields system also include category-specific fields. This means you can show different fields for different property categories.

MLS/IDX support

With this functionality (enabled by installing dsIDXpress) property hunters will be able to search through approved Multiple Listing Service properties in your area.

Maps

Enter the property location and the theme will display a map on property detail pages. Creating a property listings map is also available via a dedicated page template.

Multiple Payment Gateways

Realtr comes with several included payment gateways, including PayPal, Google Wallet, Authorize.net, WorldPay and 2Checkout. Offline methods are available as well.

Variable Category Layouts

Property category pages have an AJAX switcher that can show properties in 3 different layouts: Grid, List or Map. These layout changes are applied instantly once selected by a user.

Built-in Blog

As well as Realtr being a theme for real estate listings, it also comes with its own blog. This is optional should you wish to start a properties blog too. Have a blog on your existing property website? No problem, your posts and categories won't be lost if you install Realtr.

Built-in Discount Coupon System

Want to offer discount coupons for property submission? This is a great optional feature for property classifieds which Realtr comes with. All you have to do is create a percentage or amount coupon and the discount will be calculated on submission if the coupon is entered.
This awesome real estate theme features a stunning responsive design
How to make money with Realtr?
The primary way to make money with this mobile friendly and SEO optimized real estate WordPress theme is to charge for property listing submissions. This is achieved with price packages, i.e. payment plans that appear at the bottom of the property submission. Price packages are variable, meaning you decide on the price and duration. Allowing you to earn even more money are featured property listings. By paying a little bit extra while submitting a property the homeowner or estate agent can make the property stand out on homepage and category pages. Featured properties also appear above non-featured ones.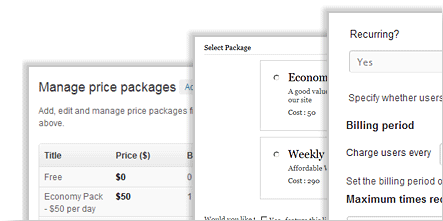 Customizable Real Estate Portal Homepage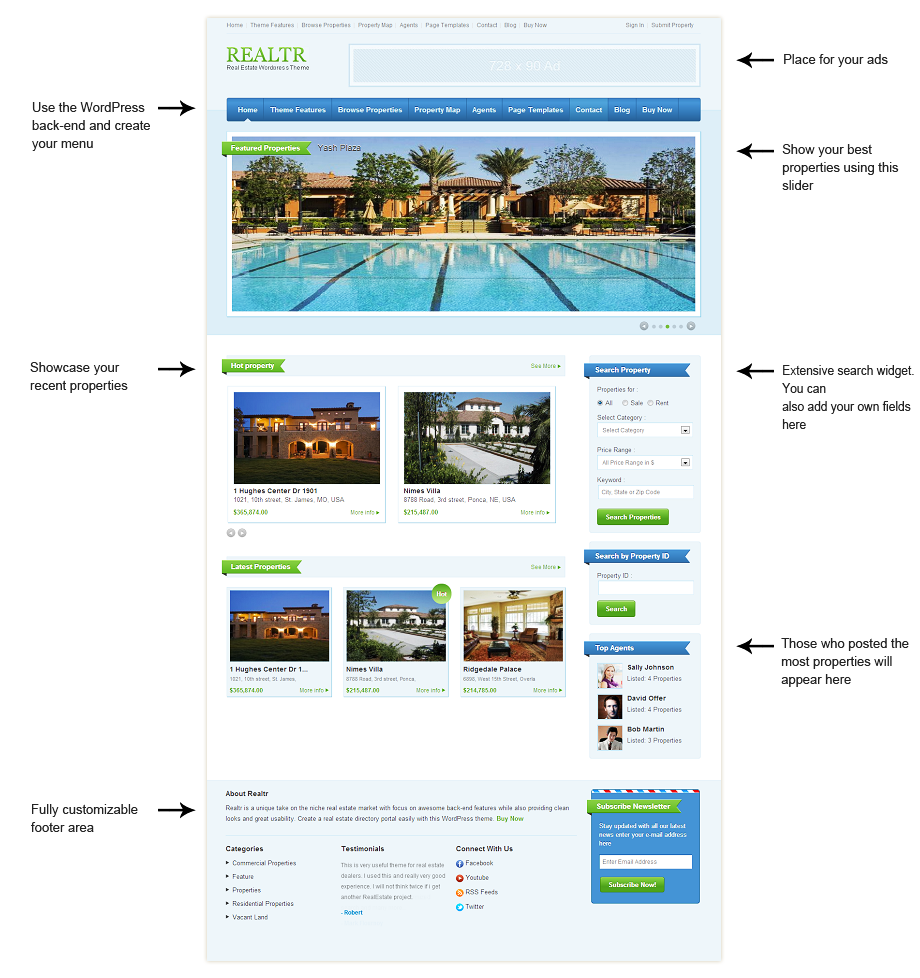 Visit the Templatic Showcase to see what some of our customers have done with our themes
Easy To Install And Great Support
Launching a great property portal? The Realtr theme comes with a user and installation guide but help is always at hand. By purchasing this theme you will get access to the Templatic support team. Our team is friendly and always happy to be of assistance. Creating a support ticket is easy and you can do so by choosing the 'Existing member' option on our
Contact Form
. You'll find the link to the contact form in the top right area of our website. You can also create a ticket from the 'Support' tab in your member's area dashboard.
Property Bulk Import/ExportNeed to import a large number of property listings at once? Use the built-in bulk import/export tool to add properties to your site. This is the perfect time-saver for real estate agents.
Recurring PaymentsSetup paid property submission packages with recurring payment options. This makes running the site super-easy and it works with the included PayPal payment gateway.
Editable Email TemplatesEdit and manage all emails sent by the theme on user events. Use shortcodes to display dynamic data. All this can be done from the theme's admin dashboard without touching a line of code.
Custom Registration FormAs well as being able to add custom fields to the property listing form, you can do the same for users. You can create new fields on the user registration form.
Add Your CurrencyRealtr isn't limited to a pre-set selection of currencies so you can use it in any clountry. Add your own currency code, symbol and position from the dashboard.
Transaction ReportsUse the transaction reports section to view purchased price property submission packages and manage your income. Includes search, export to CSV and more.
Admin ApprovalSince you can use this theme for property classified ads, it's important you control the submitted listings. Admin approval is optional and you can activate it with a click of a button in the dashboard.
Customize ColorsRealtr comes with extensive customization options including changing the color scheme. The customizer lets you choose from a color wheel so you have an infinite choice of colors.
Facebook LoginInstall a plugin and allow visitors to login via Facebook instead of registering on site. This is a great way to make submitting a property on your classifieds website super-easy and quick.
Can I change the logo?Yes, of course. The logo and favicon can be changed from the theme's back-end section.
Is this real estate theme available as a HTML template?No, it's not. It's only available as a WordPress theme.
Is bulk uploading available?Yes, it is. From the "Advanced Settings" section in the theme back-end, you can upload .csv files containing events and places data.
Does Realtr work with WordPress MultiSiteYes, it does. All Templatic themes work great on MultiSite, including Realtr.
Can visitors manage the listings they submitted?Once visitors register to the site they gain access to the front-end user dashboard. From that dashboard, they can manage their website profile and manage all the content they published. You (admin) can manage all listings from the WordPress back-end section.
Which payment gateways are currently supported?Right now the theme allows users to pay for submitting property listings using the following gateways: PayPal, Google Checkout, 2CO (2Checkout), Authorize.net, Worldpay. Along with the above gateways, Realtr comes with two offline payment methods: PreBank Transfer and Cash.
Am I allowed to customize the theme?Yes, of course. You're allowed to make unlimited changes to the theme, design and functionality included. We even encourage this by including the best customized sites in our Showcase.
Can Realtr work with Open Street Map instead of Google Maps?No, it cannot. Google Maps are an integral part of the theme, changing them to something else cannot be done easily.
Is video embedding possible?Yes. To embed a video into a place or event just paste the iframe embed code from YouTube, Vimeo or some other video sharing website.
Is it possible to organize cities by countries and statesAt the moment, this isn't possible. All cities you add to Realtr are one-dimensional. You might be interested in our HomeQuest theme which comes with such options.
Outstanding 5 star service
Pleasure to be a customer with Templatic for nearly 4 years. The product was exactly what we were looking for in terms of functionality and the price was fair too, These guys have given consistent help and offered awesome support. Nothing is to much trouble and for me it gives me peace of mind that should the worst happen they are there to sort it out. Outstanding 5 star service in my opinion.
Get started today
Hundreds of hours of team effort went into design and development of this WordPress theme. Get hold of this theme at a fraction of the price which it actually cost to develop and start your business website today.
1 Site License Install on 1 domain

49

Lifetime usage license
1 year of theme updates
1 year of theme support
Easily add your own logo
1-click dummy data install
No customization restrictions
Upgrade at any time

5 Site License Install on up to 5 domains

119

Lifetime usage license
1 year of theme updates
1 year of theme support
Easily add your own logo
1-click dummy data install
No customization restrictions
Upgrade at any time

Club Get access to 99+ templatic themes

299

Access to this theme + 90+ Templatic themes
Install on unlimited domains
Access to dozens of plugins
Lifetime usage license
Easily add your own logo
1-click dummy data install
No customization restrictions