Video 3 is a beautifully designed and feature rich theme to create a WordPress video website. It comes with complete pack of features that you will need to create your online video streaming website. Moreover, Video 3 is a SEO friendly Video WordPress theme that helps you gain visibility. Because for any website, it is very important to get noticed by the search engine. Therefore, the Video WordPress theme is designed and programmed following strict SEO standards.
Crafted with SEO in mind
There are a number of benefits of using SEO friendly themes. An SEO friendly WordPress theme ensures that your videos and content get the deserved visibility. It is very important to be found when a user enters keywords related to the content of your video. And this is only possible when your theme is SEO friendly.
Video title and Video description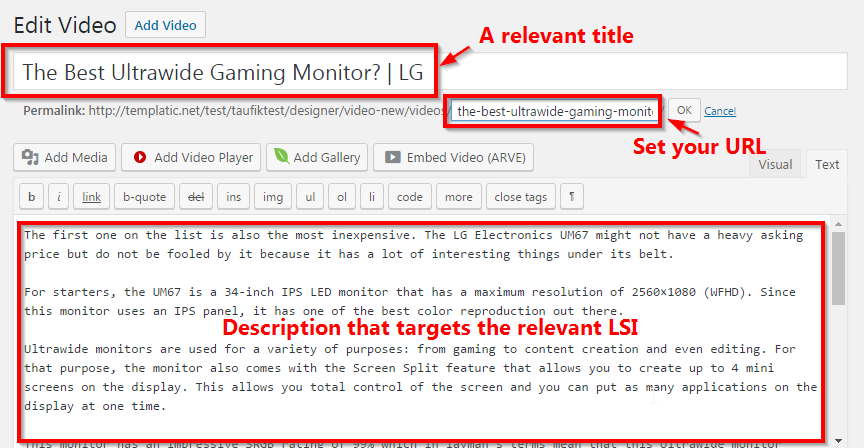 Another way through which you can make your videos more relevant is by using an appropriate title and keyword rich description. Both these fields give you opportunity to add title and content associated with the Video that may prove beneficial to the SEO of you website in multiple ways. Again, they help users understand what the video is about, and therefore adds to the usability of your website, which indirectly helps your video website with visibility.
Compatible with majority of SEO plugins
Apart from being crafted with SEO in mind, this Video streaming WordPress is compatible with all the popular WordPress SEO plugins. Because the SEO of the theme files is taken care of while coding the theme, but the SEO of the content you add as post and pages needs to be taken care of. Therefore, you will need to install SEO plugins into your video WordPress website. The good news is, there won't be any compatibility issue when you try to do so. You can choose you Google XML sitemap plugin or any SEO plugin to create a completely SEO friendly WordPress website.
Keep a track of your progress – Google Analytics

It is equally important to keep track of your progress. Google Analytics provides you insights about the performance of your website by tracking and reporting you the traffic patterns on your website. By pasting the Google analytics tracking code into your Video website, you can keep track of your website's performance too.