When you buy a theme and create a personalized website, you'll need to customize theme according to your necessity. These customizations in Directory theme can be done very easily through the easy options in the back end.
With the directory theme you can make changes to the appearance of the theme and see it reflected real-time. If you wish you can save and publish the changes. If you wish to change it you can do it too. The real time reflected changes will make it simpler to customize the website. You won't have to make the changes, go back to the front end, check if it suits and come back to make more changes.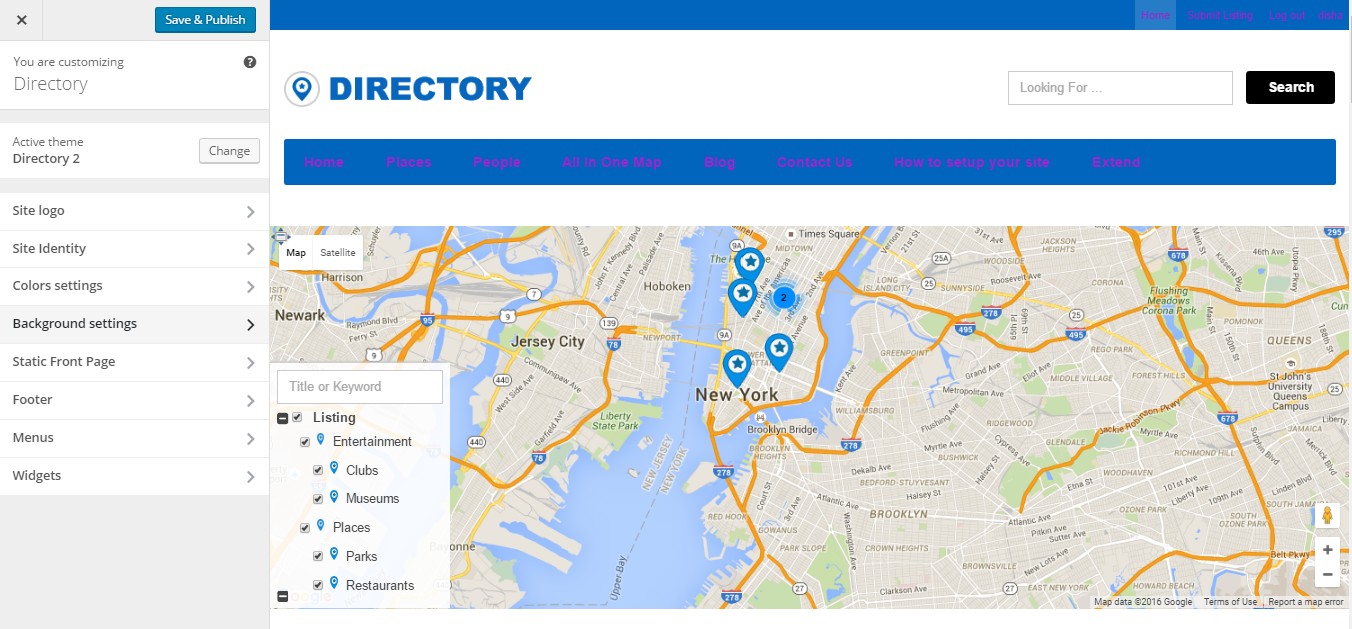 As shown in the figure, the real time customizer is divided into two parts, you can make changes from the left side panel and it will be reflected immediately on the right side. However the changes won't be applied until you press the save and publish button.
Directory allows to Customize theme instantly
To make the customizations, navigate to Dashboard >> Appearance >> Customize, and start making the changes.
Site Logo : From here you can upload the logo and favicon.
Site Identity : To set the site title and Tagline.
Color settings
Body Background Color : With this you can change the background color of the website. The background color by default is white.
Primary, secondary and footer background color : Change the background color of primary and secondary menu background, and footer background. It also changes the color of the links and the Titles.
Text color of content area : Changes the text color.
Background Settings: From here you can set a background image for your website.
Static front page : To set the front page of the website.
Footer : Manage the text shown in the line shown in the extreme footer.
Menus : To change and set the menus and menu items.
Widgets : To make the changes to the widgets in a widget area.
Use
Mr. Sporks is not a web designer or a developer but wants to develop a website. Therefore he goes for WordPress and installs the Directory theme, to built a website. He wants to customize theme to suit his business. So, with the Directory theme's easy customization option, he can easily change the look of the website.
He can go to the customizer and try different settings and see the changes in the right panel. He can keep on trying till he finds the best combinations. He can save and publish the changes now.