There is a Flicker photo widget in the Directory website using which you can directly integrate your flickr photos in the directory website. The widget can be placed anywhere and it is very easy to use.
Configuring the Flickr widget
You can find this widget at Appearance >> Widgets >> T → Flickr photos. Drag and drop this widget to the required widget area. To configure this widget to display the photos, fill the following details.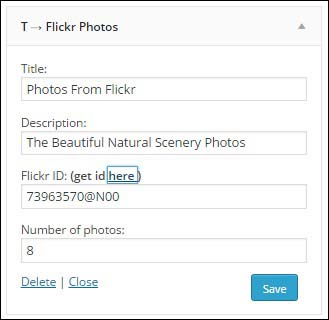 Title : To set the title you want for this widget.
Description : A short description that will be shown above the photos. This can be left empty.
Flickr ID : This is a compulsory field. You can use this link to get the Id of flicker account, photos of which you want to make appear in the website.
Number of photos : Determines the number of photos that will appear on the website through this widget.
Advantage of Flickr photos integration
The widget displays the flickr photos in the form of thumbnails to the users. Using the Flickr photos widget you can let your visitors have a look at the photos you posted on the flickr.  This makes the website look more engaging and interesting.