Maps are a very presentable way to show the address. Therefore, Templatic's Directory WordPress theme comes with a map Google map location widget that will let you display your location through maps.
The widget is mainly used for displaying the address of business on the contact us page. But this is not its limitation, it can be used for any purpose where you want to display a static location on the map.
The specialty of this widget is that it works perfectly in any widget area.
Configuring the widget
Like any other widget in WordPress, this widget also starts working by dragging and dropping it to the required widget area and applying the following settings.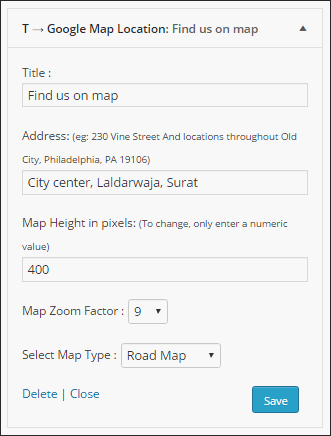 Title: The title that appears above the map.
Address: Full address of the location you want to show on the map. On entering the correct address the widget will show a map with a marker at the location.
Map Height in pixels: To change the height of the map you can adjust this pixels.
Map zoom factor: This lets you set the zoom factor, value set to 19 will show the map in full zoom while 1 will show the normal map, without any zoom.
Select Map Type: This will show the type of map to be displayed. You can choose between road map, that is a pictorial format of map, or the satellite view map.
How it Google map location looks on the front-end?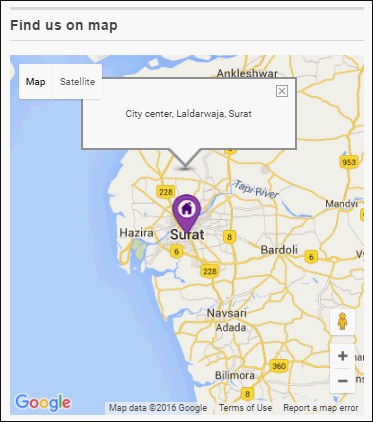 Use
There are many situations when you would like to display a place, a static address on the website. For this the widget, T → Google Maps Location can be used anywhere on the website.