The principle aim of the Directory theme is that it helps you earn money. It has all the features that you can use to make the visitors of your site convert to your customers. When you use these features, you'll need to provide your customers with proper payment options so that they can make secure payments.
In built payment options

For this, the Directory WordPress theme comes with two payment methods inbuilt. Directory theme works on the base of a powerful and multi-featured plugin called Tevolution. It comes with the Paypal and PreBank transfer method inbuilt.
PayPal
Paypal is a trustworthy and well-accepted online payment option. With Tevolution installed, PayPal gets installed and ready to use.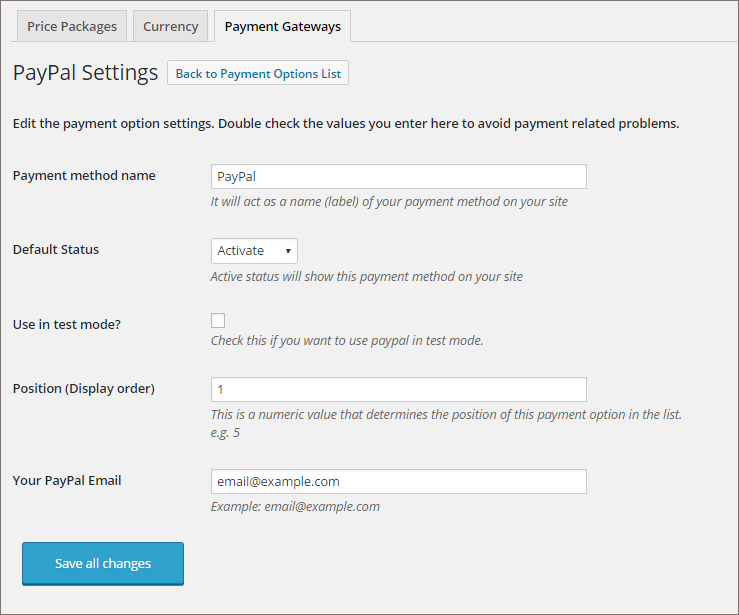 To start using PayPal for the transaction on your site, all you need to do is create a merchant account with PayPal and configure the PayPal payment option in Tevolution settings and it is ready to use.
Prebank transfer method
The prebank transfer method allows you to accept payment offline. You have to fill up the necessary details like bank name and account number to make it available to the customers.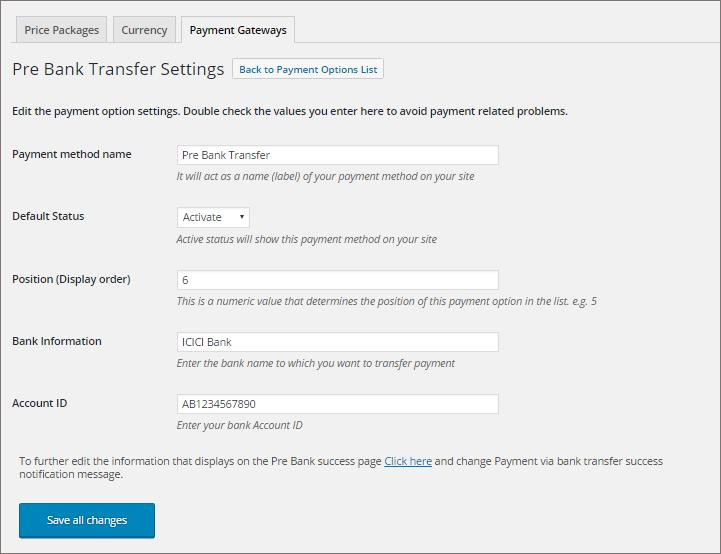 After submitting a listing, authors will see your bank account details along with the amount required to pay. Once you verify the payment (by checking your bank account) proceed by confirming their submission. Don't forget to add your own bank details by editing the Prebank Transfer payment method.

The video demonstration for Pre-bank Transfer method:



Other methods
Besides these are various other payment gateways that you can integrate and use with Directory Theme. These can be easily installed in the theme. Using multiple payment gateways is also possible. This will let the customers choose which option they want to pay with.
Use
If you start your Directory website and want to accept user's payments for using the Directory website features very soon, you can start accepting payments right away with the inbuilt PayPal. All you'll need to do is to create a merchant's account with PayPal and enter the relevant details to configure PayPal in Tevolution.
You can also allow the users for pre-bank transfer method for offline payment. Here the amount won't be electronically transferred but will be paid by offline options. You can assess the payment manually and then allow the customer the requested service.