The Directory theme is full of features and facilities for the visitors. The visitors will be able to view the listings, and get detailed information about them. If the visitor has some questions regarding the listing he can send it using the send inquiry button and form
The Send inquiry button
The button is available on the detail page along with the options to send to a friend, claim ownership, Add to favorites and print options. As the name suggests, the button will allow the visitor to instantly send an inquiry message to the owner to get further information.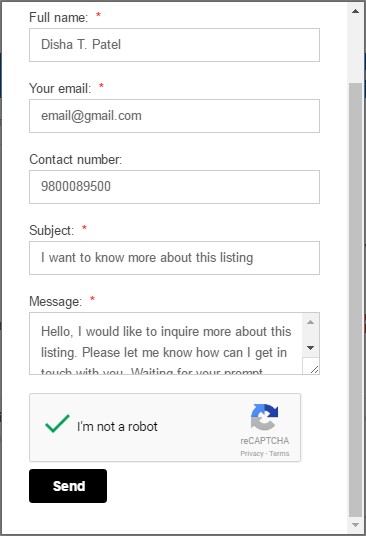 The Send inquiry form
The send inquiry form will consist of the following fields that the visitors will have to fillup and submit his message for the owner. This query will be sent as an e-mail to the listing owner.
Full name – Name of the visitor sending the query.
Your E-mail – The email address of the sender.
Contact – Phone number of the query sender. It's not a compulsory field.
Subject – The subject of the message. This will be sent as the email title.
Message – The message body where the actual message can be posted. A me
Use
Musicevents.com is an events website with events related to music. A user is interested in one of the events. But he is confused about certain things. He also want's to know how to buy tickets also know few other details about the event. He can use the send inquiry button, fill up the simple send inquiry form and ask his question to the site owner.