Use Coupon WINTER2020 for 45% off your order!
Brilliant Directory
Easily create a local or global, money making business directory websites using this brilliant directory software for WordPress
Release The Power And Brilliance Of Your Directory Website
Don't want to spend loads of money to shape your directory website how you like it? No need to – we've got you covered. The easy to use but yet powerful Brilliant Directory theme software has plenty of amazing features and tweaks under the hood. Building an online directory is made easy with many things you can customize. Starting from unlimited custom fields, categories, and listing submission packages, this theme can be customized and used for almost anything you can throw at it. Launch your online directory website today without having to worry about monthly charges. We don't charge you anything to host the theme on your domain. Once installed, you' re in full control. The admin dashboard lets control all aspects of your directory website. Do we charge commission on listing submissions? No, we don't do that either – your profit is yours to keep. Use this theme to create anything from a hotels directory, city or restaurant or company guide to a local or international business directory.
Includes Mobile App View
This directory theme is not just responsive and mobile friendly – it also comes with a mobile app view. This feature is designed to show a minimized view which is optimized for mobiles if your users visit your directory website from a mobile. Thie app view has been designed for faster loading times and ease of navigation when your site is visited from mobile devices. Admin can activate or deactivate the mobile app view from theme settings. With the mobile app view switched off, your brilliant directory will still be responsive of course. This is just an extra view for mobiles at your disposal in this software.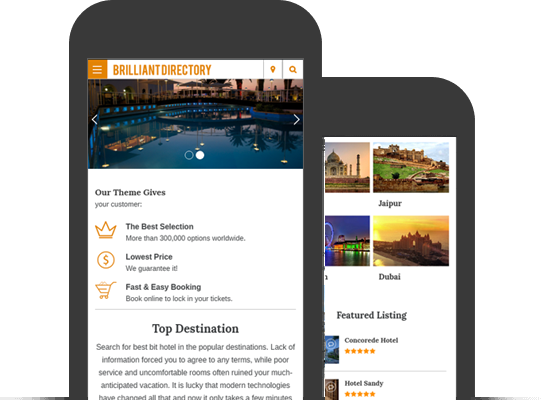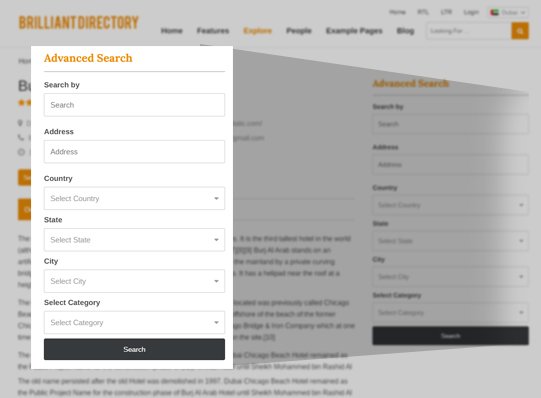 Flexible & Powerful Advanced Search
The theme's Advanced Search widget doesn't only come with the fields you see on the demo. You can also create new fields from the dashboard and choose them from the widget's options. This great feature makes it possible to use this theme for almost any type of directory you like. Imagine your directory website is for restaurants, businesses or even hotels. No matter what your directory is built for, the Advanced Search in this directory software can let your users refine their search by fileds which are relative to whatever your directory is for. You can also activate category-specific fields options on the search. This option will make it possible to display different fields according to the selected category.
City Selector
Building a site for different cities? As all of our directory themes – Brilliant Directory also comes with our powerful Location Manager plugin. This powerful feature lets you create a directory site for more than 1 city and be able to manage your multi-city directory all from 1 admin dashboard. The theme can also be used without the Location Manager if it's just 1 city your directory is targeting.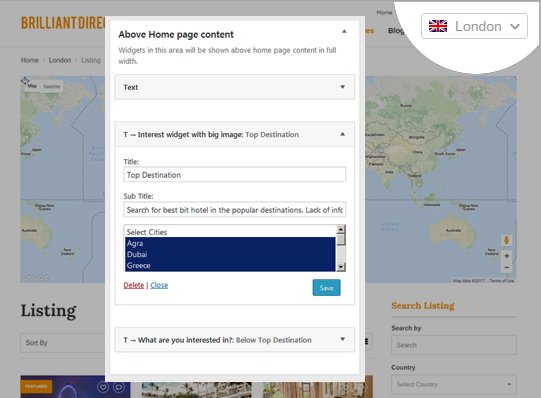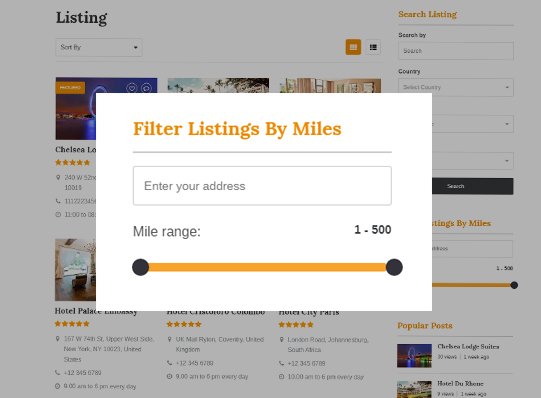 Search by Miles/Kilometers Range
Let your users filter listings on category pages by mile/kilometer. This is just one of several widgets this directory theme comes loaded with to help you offer a great user experience to visitors on your site.
Multipurpose Banner Area
The Homepage banner area in this directory software can be used in three ways. Whether you wish to use the theme's beautiful image slider with custom images or the slider to show business listings with images, you can do it with a few simple mouse clicks. The homepage can also display the map with the pins for listings.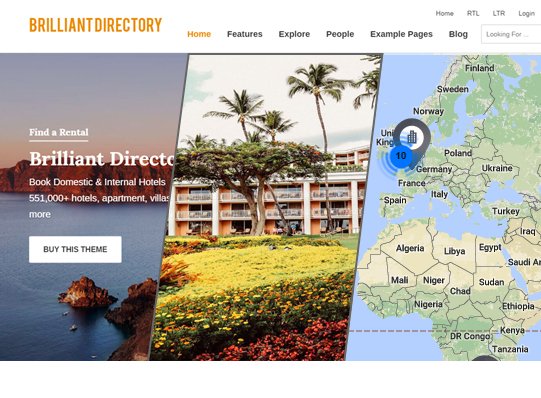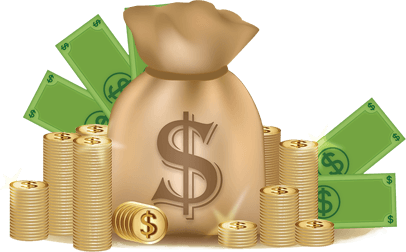 Can You Make Money With The Brilliant Directory Theme?
Yes you can. Making money from your directory website is very easy with all the features this theme has to offer. As in all of our
directory themes
, this template is designed to help your launch a profitable online directory website. Checkout just some of the included options you have at your disposal in your directory software.
See more built-in functions
Create unlimited price packages.
Create subscription packages.
Recurring payment packages (optional)
Publish AdSense and banner ads.

Claim business listing options.
Charge for featuring a business.
Charge for specific categories.
Create unlimited custom fields.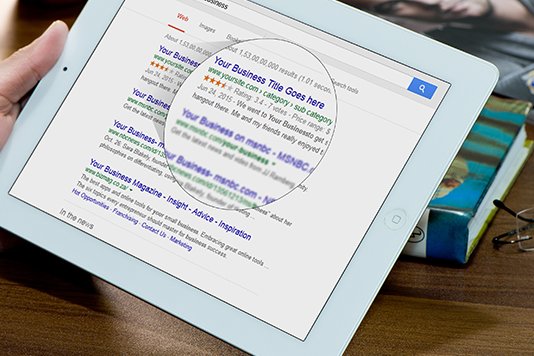 Build An SEO Optimized Directory Website With Great Ease
Brilliant Directory is an SEO friendly directory WordPress theme which is coded with focus on search engine optimization. Install the popular SEO plugins such as Yoast SEO, All In One SEO, Google XML Sitemaps and All In One Schema.org Rich Snippets to help you to optimize your directory website. Offer your clients great online exposure for their business to ensure they keep coming back.
Build Your Business Directory In Any Language!
Our Directory software script is tested with WPML plugin. So you can create massive multilingual directory websites with this powerful directory script. You can also translate this theme into any other language instead of English. Translating Business Directory is possible with the provided .PO and .MO files, you don't need the WPML plugin for that. This theme also
supports RTL
languages so you can build a business directory in Arabic or Hebrew if you like.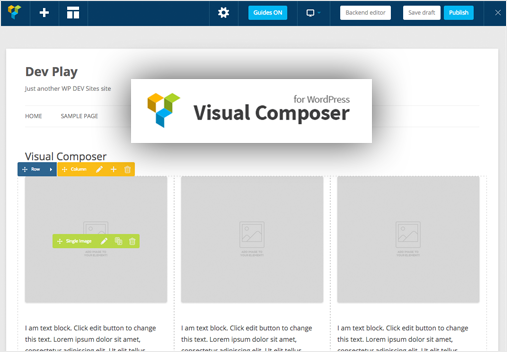 Visual Composer Plugin Compatibility
Use this powerful plugin to manage the content of your Directory site with intuitive front-end WordPress editor. You can create beautiful looking web pages without changing a single line of code. Use the built-in skin builder to change design elements and the styling of your website. This awesome page builder lets you create complex layouts of your pages and posts with a simple drag-n-drop interface. Best of all, the visual composer lets you create new page content which is fully responsive too.
Reservation and Booking System
Need to offer a powerful reservation and booking system on your directory? We have you covered with integrations to the industry's best booking services. Installing WooCommerce Booking plugin turns your portal to a fully fledged booking system. Allow users to book hotel accommodation, rental properties, hire cars, book tours, appointments or even restaurant tables and a lot more.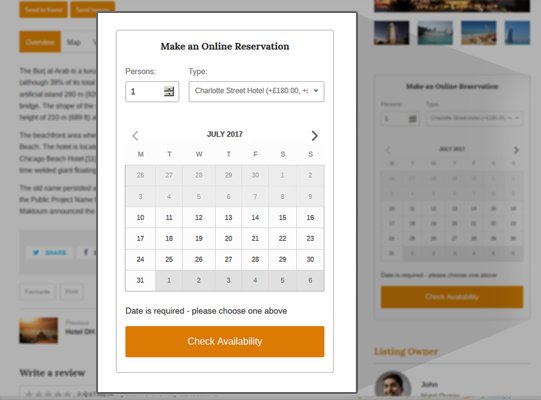 Compatible with popular WordPress plugins
The Brilliant Directory theme is compatible with some of the most popular WordPress plugins.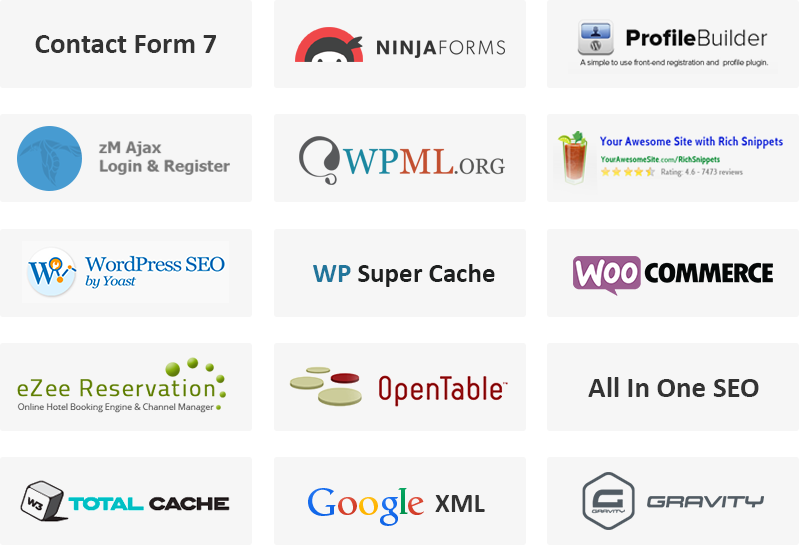 Here's why you'll love the Brilliant Directory theme
See below just some of the features that give our
Directory Themes
their brilliance.
Bulk Import or Export

On your Business Directory site using sample .CSV file provided with this theme

Managing Your Directory

Use the theme's powerful admin dashboard to control all aspects of your business directory.

Listing Management

Add listings from your admin dashboard and also let businesses submit and manage their own listings.

Powerful Search Options

Comes with simple and advanced search widgets. Advanced search can also be category-smart if you like.

Google Maps

Includes Google Maps for each business listing. Maps on categories, search results an all-in-one map too.

Unlimited Custom Fields

Create a business directory for anything you like. Manage and add custom fields to make your submission form all the more relevant.

User and Listing Management

Admin control on all users and their listings from the admin dashboard. Admin approval listings is also an option.

User Dashboard

Each user gets their own user dashboard. Editing, renewing or upgrading own listing can be done by a user.

Business Ratings & Reviews

Includes a business rating and reviews system. You can launch a fully fledged business reviews website.

Email Notifications

Plenty of user and admin email notifications. You can edit each email template from your dashboard.

Color Customizer

Theme colors can be customised easily from admin panel to match your color scheme.

Google Fonts

This theme utilises awesome Google Fonts to give it unique look.
Extra Resources
We have put together a huge collection of resources for our Directory platform like free add-ons, list of compatible third party plugins, theme and plugin guides, 75+ tutorials and a lot more.
Free – All in One Directory Resources Page
Several Payment Gateways Available
The PayPal payment gateway is included with this theme. You also have several other paid payment gateway add-ons which are designed to work with this and all of our directory themes. These optional add-ons help you accept payments for listing submission with the payment processor that best suits your country or currency.
See All Payment Gateways
Outstanding 5 star service
Pleasure to be a customer with Templatic for nearly 5 years. The product was exactly what we were looking for in terms of functionality and the price was fair too, These support team have given consistent help and offered awesome support. Nothing is to much trouble and for me it gives me peace of mind that should the worst happen they are there to sort it out. Outstanding 5 star service in my opinion.
Business Directory software Theme
Hundreds of hours of team effort went into design and development of this Business Directory theme.
Get hold of this software at a fraction of the price which it actually cost to develop and start your online brilliant directory today.
1 Site License

(Including Directory)

99

Show Features

Use on 1 domain
Includes parent Directory theme
Lifetime usage license
Updates and support for a year. Optional renewal at discounted price
Upload your own logo
Free footer credit removal
No customization restrictions

Source code provided
All functions seen on demo
PayPal payment gateway included
Insert Sample data button
Add your own categories and cities
Add your own custom fields
Add your own menu items
No monthly fees or commissions
Use on your own domain and hosting

5 Site License

(Including Directory)

199

Show Features

Use on 5 domains
Includes parent Directory theme
Lifetime usage license
Updates and support for a year. Optional renewal at discounted price
Upload your own logo
Free footer credit removal
No customization restrictions
Source code provided
All functions seen on demo
PayPal payment gateway included
Insert Sample data button
Add your own categories and cities
Add your own custom fields
Add your own menu items
No monthly fees or commissions
Use on your own domain and hosting

Club Get access to 100+ templatic themes

299

Show Features

Use this theme and 100+ Templatic themes on Unlimited domains
Includes many of our premium plugins
Choose a Directory premium plugin every month
Lifetime usage license
Updates and support while subscribed
Upload your own logo
Free footer credit removal
No customization restrictions
Source code provided
All functions seen on demo
PayPal payment gateway included
Insert Sample data button
Add your own categories and cities
Add your own custom fields
Add your own menu items