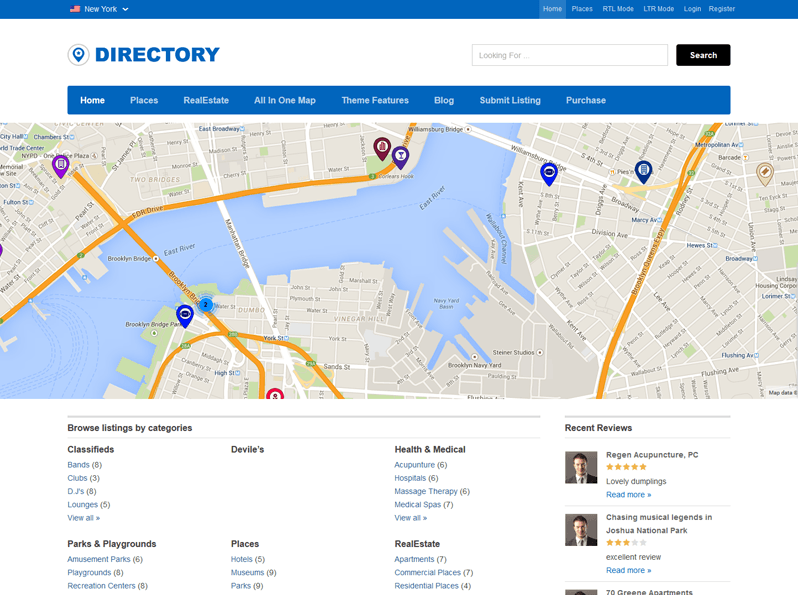 Directory, most powerful listings theme ever
It is your perfect choice for creating an online listings directory. Directory offers custom post types, subscription price packages, Google map search and unlimited searchable custom fields. The most comprehensive directory WordPress theme you will ever need.
Directory is a massive theme and comes with hundreds of features across multiple plugins. However, along with all that we're also providing lots of secondary content… stuff that isn't included inside the theme itself, but useful nonetheless. On this page we'll outline the most important resources for every Directory owner. So, let's get started!
Free Directory Child Theme Template
The 'Free' directory child theme template is there to save you from the hassle of creating a child theme for customizing your parent Directory theme. Consisting all the required files for a child theme, the template lets you over-write the files of the parent theme without actually changing or updating it. Keep your parent theme files intact and get the changes reflected by just tweaking the child theme and overcome the fear of losing your customization on updating the theme/plugins. This has its own benefits. Read the Directory Child theme template guide to know more what it has to offer.
Free Directory add-ons
You can extend functionality of your Directory website by using these free add-on plugins and other resources.
Useful Tutorials for Beginners
Just getting started with WordPress and our Directory themes? Don't worry, we have created this list of tutorials you can refer. It will definitely help you get started with setting up your website.
Configuration Tips
Tutorials under this section are related to the configuration of the Directory theme, some useful tips are shared in these tutorials which will surely help you build a better website with our Directory based themes.
Customization Tips
Tutorials under this section are regarding the small code tweaks which extends the functionality of your Directory theme powered website, we highly recommend that you go through this list of customization tutorials. There will be that one customization that you always wanted to do on your Directory theme.
Useful Articles and Free Resources for Directory
If you're creating a large directory, the ability to quickly populate it with cities is extremely beneficial. To make this happen we created a forum thread where each member can share their CSVs. To entice members into sharing, we're offering a free add-on of your choice for every CSV submission.

Similar to how city CSV sharing works, we've also made it possible to share your translations and get rewarded for it. Each member that shares his/hers fully translated file gets rewarded with a free add-on of their choice. Visit this forum thread to read more about how you too can share a translation file.

To make customizing Directory easier, we are actively indexing customizations done by the staff and regular members inside our forums. An index of existing tweaks is available in this article . Along with that thread, we also have a number of general tutorials on how to customize themes, including How to use Firebug and a tutorial about custom.css.

If you have experience with developing plugins and a good idea for a Directory add-on, why not creating it yourself? To help you with this, we made multiple developer guides that explain the in-and-outs of Directory. If you'll have any questions about this, just submit a ticket through this link.

If you purchased GeoPlaces or Nightlife sometime in the past, Directory is available at a lower price. With the discount, the standard license price is lowered to $60, while the developer price is lowered to $120. For details on how to get this discount visit this blog post.

This is one great article shared by one of our user on how you can strengthen the security of a Directory website, it explains everything in detail step-wise.

Directory is our most popular project so we keep updating it, and we are always listening to your suggestions. If you have any feature request for Directory post it here.

New "mobile app" view – beta Explained

We created an optional app like mobile view for Directory2, It gives the site a feel like an app when it is surfed on mobile devices. Have a look at article to know more about the mobile app view.

If you are upgrading from Directory 1 to Directory 2, don't forget to have look at this informative guide .
Helpful Tutorials for Some Frequently Asked Questions
Here's a list of some frequently asked questions for Directory theme with their detailed answers. We recommend you to take a look at the list once, it might answer that one question you were having for a long time now.
You think we should write a tutorial on a particular topic regarding Directory? Write to us here to request a tutorial.
Customer stories of Directory theme users
We are encouraging Directory users who have built a successful Directory website using our theme to share their stories so that other users can learn and take inspiration from them.
You can share your success story with Directory theme too, write to us here.
Directory Specific Blog Posts
Recently we have published some articles on our blog which includes articles about how you can make the most of your Directory website, it gives you insights into the business part of the Directory websites. It also has case studies of successful websites created using our Directory platform.
Special Bonus for all Club Members!
Note: ALL child themes are part of club membership. You are able to download one bonus plugin per month under your club membership. Join Our Club Membership.
Child Themes

Using Directory child themes you'll be able to drastically change the look of your Directory-powered website. All themes listed below inherit the functionality from Directory and do not work as standalone themes. Child themes are also fully compatible with Directory add-ons! All child themes featured on this page are completely responsive.

Plugins

Directory is our most popular platform that encompasses a parent theme, various plugins and a wide selection of child themes and add-ons. It is the most advanced system we've ever created with literally hundreds of custom features. Have a look at these add-ons to know more about how you can extend the functionality of Directory with these add-ons.
Help us make this page more resourceful!
Do you think we are missing something very important on this page? Do you think we should write new tutorial on a particular topic for this page? Please write to us here.