If you you visited templatic.com in the last week noticed that things have changed. Finally we have a brand new site! Even though site design is not revolutionarily different, it is much better than what we had earlier. This new site offers faster, universally same and better user experience than earlier.
Our main goal in this redesign was to adapt changes happened in recent years and offer a fresh user experience to you. Literally everything has changed and months of work has gone into this. We hope you like how it turned out. We'll use this post to outline most of the changes and also explain the best way to utilize them.
The main site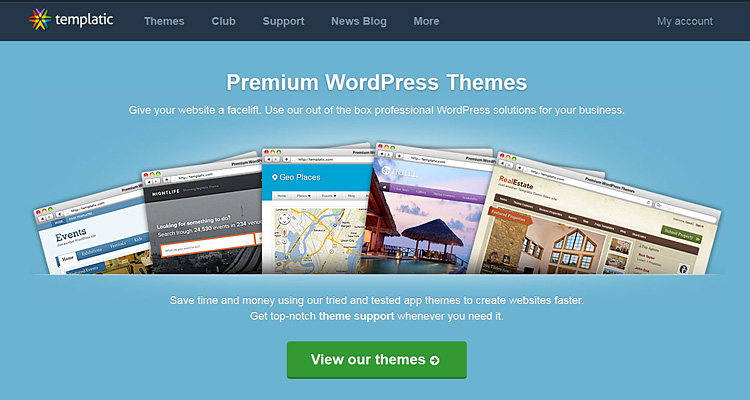 Changes to the main site are mostly design related. Entire site now works by default for 1200px screens with bigger, easy to read typography. One of the first things you'll notice is likely the header. On the old site the header contained three separate bars with links. Now, it's just one menu with one mega item (More). Inside that dropdown item you'll find all important links in one place.
Some new content is available. For instance, the About us and Testimonials pages has been redone. A blog archive index now exists if you wish to quickly find an old blog post. The Themes Gallery page now offers more ways to filter through themes. We've added a new category called "Tevolution-ready" which displays themes compatible with our advanced Tevolution plugin.
On top of that, dozens of tags were added, including tags for:
Community Forums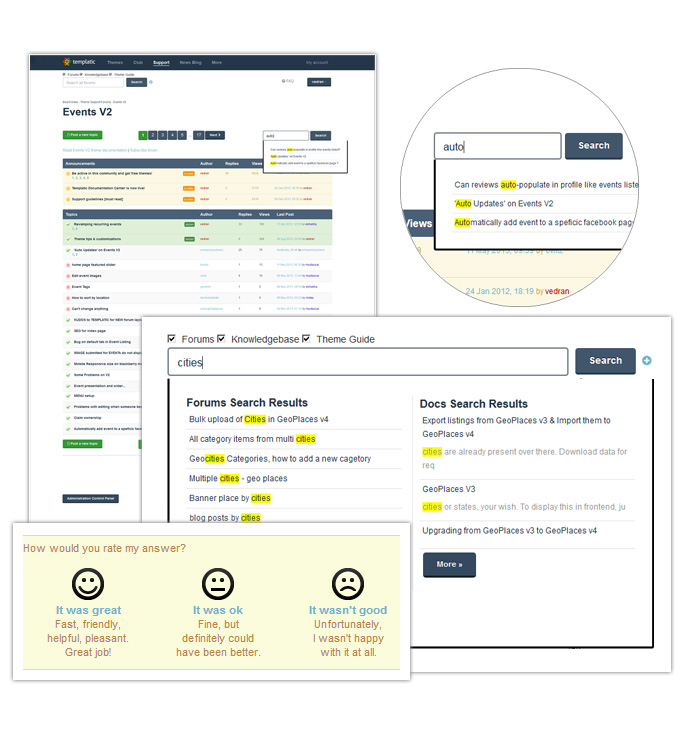 The system used for powering the forums is still phpBB, however it looks totally different now. Along with the radically different looks, the forum also provides a Live Search function. Live Search is available both site-wide (at the top) and as forum-specific. Big changes can also be found inside the post editor. Instead of a standard bbCode editor it's been upgraded to a visual WYSIWYG editor similar to that available with WordPress. While posting you can now also rate the reply provided by our support staff!
A number of changes have been implemented that users can't see but will make lives easier for our support team. We now have internal performance monitoring system, improved site backend, better helpdesk and forum tools that helps us review your purchases, threads and tickets so we can provide relevant help faster to you. We should mention that forums are still a work in progress. If you notice a problem please let us know.
Members area
With themes like Publisher that come powered by several different themes or plugins, we needed to come up with a better way to educate new users on which files to download and how to install the theme. The new member area displays a section for each theme. Along with all the necessary download links, the section also provides basic installation instructions. We hope this new approach will make these first steps easier.
Renewing or upgrading a license has been simplified greatly using the new "Renew" and "Upgrade" options. Instead of manually transferring money to our PayPal account, now you can simply click on a button and checkout using your preferred payment gateway. The system will do all the calculations and also renew/upgrade the account automatically.
Test site

The test site has been moved onto a new server is now significantly faster than the old one. On top of that, because of the new design it's also more stable. On the new site you choose the test theme on the first step of the process. Once the site is activated and you successfully login, the test site will automatically load your selected theme and dummy data. This makes the whole process much faster and also more user friendly.
With time our plan is to populate the test site with some frequently asked questions so testers can get more information about the theme they are testing.
Customize site

The old customize site required members to post their customization jobs and wait for developers to contact them. Since developers were the ones required to make contact it meant that most people never received a reply. The new approach aims to fix just that. Templatic members can now contact developers directly and inquire about the customization job.
Team effort

Redoing such massive site which integrates different software was no easy task. Especially when we have live data going onto the site. Thanks to dedicated team members at templatic, we've been able to pull this off. They really deserve credit on this one.
Other quick updates…
Even though the site is coded responsive, it has not been tested yet.
Forums will continue to see some new updates in next two weeks.
A complete overhaul of our documentation site is coming up.
Site footer has a tiny fun rocket which will take you to the top :)
So what do you think? Like/dislike what you see? Please comment and let us know.