And now it's time to announce upgrade of iPhone App theme. It has been on the market for a while, 3 years to be exact. When it was released after lots of brainstorming, it was first and best of it's kind, later replicated by many others. Till now it helped many in selling their iPhone apps.
Over time, smart phone apps has evolved and this new version caters to latest demand of this market. The updated version (iPhone App 2) will offer even more flexibility when it comes to selling your apps.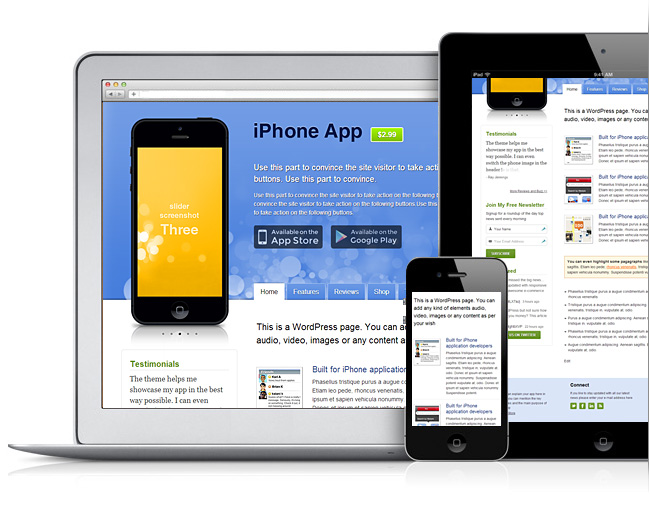 What's new in iPhone App 2?
Mobile friendly (responsive) design that looks great in any device.
iPhone, Android and BlackBerry sliders. Which means you can showcase not only iPhone, but other mobile application as well.
Better coded and powered by our supreme framework. Which includes numerous other features such as page templates, mega menu, additional widgets and so on..
Full WordPress SEO and bbPress plugin compatibility
Widgetized homepage for easy content manipulation
WooCommerce compatibility for those that do not sell their apps on App/Play Store
Shortcodes
iPhone App 2 comes with an extensive selection of shortcodes created using Twitter Bootstrap. Along with standard shortcodes such as alert boxes or icon lists you can also add tabs, galleries, tooltips, popovers and more. A full list of shortcodes is available on the iPhone App 2 demo site
Automatic Updates
Just as eBook v2 released a few days ago, this theme also supports automatic updates! With iPhone App 2 you won't have to worry about updating the theme, notifications about new updates will come directly to your WordPress dashboard. What's more, you'll be able to perform the update right there inside the dashboard. Be careful though…updating will undo all your customization so be sure to back everything up first.
View Live Demo or Test Drive and Purchase this theme
Hope you'll love this upgrade. Wishing you greatest success selling your mobile app :)