Tired of seeing that old WordPress logo everytime you want to login? No problem, that login logo can be changed to your own Company/Blog logo and no plugins are required to do the task. Plugins are great but not really necessary for simple tasks like this. Those site's that require a login every time, or those with multi authors can create a good impression and give that professional touch by displaying their own logo instead of WordPress logo.
How to Change WordPress Login Logo
The first thing we'll need to do is to create your logo with the following parameters:
– Image format should be PNG
– Transparent background
– Size should be: 274px wide and 63px height
– Save it with this name: logo-login.png
Now that your new logo is ready with above parameters, connect to your FTP client (e.g. Filezilla) or use File Manager from cPanel. Navigate to wp-admin/images folder. If you're new to FTP be sure to check out our FTP tutorial
On this path, you will find an image with the following name: logo-login.png. Rename this image to something like logo-login-backup.png or download the image to your hard drive (and delete the copy on the server). This is so you have the original in case you decide not to use the custom logo anymore.
Upload your newly created logo at the same path – wp-admin/images.
That's done. Your new logo should be live on the website. Check it out by navigating to your login page at: yoursite.com/wp-admin
Here's a preview of what we can achieve with this useful trick.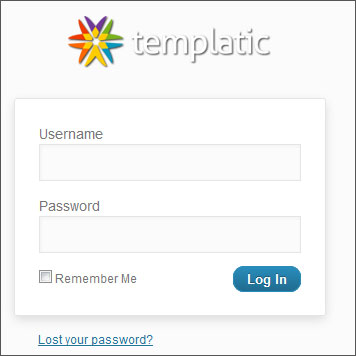 See, the login logo has changed which can give the site that unique and professional touch. Just in case, if in future you change the mind, then just replace the old logo-login.png image and the default WordPress image will be restored.
Plugin to Change WordPress Login Image
For those who are afraid to follow this manual method, can use a plugin named Custom Login Logo Lite. Just install this plugin, activate it from your WordPress plugins page and then you will see a new option in settings > Custom Login Logo.
Now all we need to do is to enter the full URL (full path) of the login logo image. Configuring this plugin is a piece of cake. To upload the logo image, go to Media > Add New and upload the image. Now copy the full image URL and paste it in the options of this plugin.
Changing login logo image will only take a couple of minutes. Those who have registration enabled on their website's, can benefit by displaying this custom logo, instead of the old boring WordPress logo.
Remember: Whenever you update to the latest version of WordPress, you will need to follow this procedure again. Basically, all you need is to just upload the custom logo at wp-admin/images path. That's all it needs to be done.