As you know, the development of GeoPlaces V4 started back in first week of September this year. Almost 4 months since then and here we are with beta (almost final) version of the GeoPlaces theme just in time as a Christmas gift for you. This means that the features and additions are done. Now we test the theme thoroughly once again and at the same time get critical feedback from early adopters in the forum so everyone can get a stable, perfect theme for their project.
Though there are lots and lots of improvements and additions, I'd love to introduce to some of the important one in here. For thorough look at the theme, please check live demo of the GeoPlaces V4 here. So, lets take a quick look..
Make MORE money
Recurring payments for PayPal are now available. This will help you get recurring revenue and users can set their listings to be auto renewed instead of manual one each month.
Advanced, multiple Price Packages with different time duration, categories and conditions. Helps you grab every kind of customers.
Better Listing, Better Management
Custom field management per category so you can have relevant fields for different categories.
Custom Post types for Places & Events so you can manage them better. WordPress default posts are considered as blog posts.
Mega menu plugin support and also the theme has built in code wherein you can set basic mega menu yourself.
Completed recoded, non-flash, better Image Upload for your site.
Complete support for Google Maps 3.0
Gigya Plugin compatibility (optional) for Social Media logins. Users now don't have to register if they log in via social media profile.
Multi Cities can be managed in a better way. Add country, regions, cities..
Improved Backend Design for theme settings. Setting options for your site is now fun.
Improved Security
You can also block back end access for the users based on their role. Restrict Role based back end access.
You can also Block IP addresses to prevent SPAM and abusive users.
Along with this, a tiny but useful feature of Claim Business is added where in user can request ownership of the business and you will get this alert in back end. Then on, you can approve or reject the request.
Splash homepage
You can show splash page (optional) to your first time site visitors so they can chose city they wish to navigate to. Alternatively, you can set default city from the back end as earlier.
Category Listing
You can now add category description that helps explain what this particular category is all about.
Also it lists all the sub categories of the current category at the top so your users can better navigate.
Along with this, now we have added option of adding category map at the top (or in sidebar) so you can have same big map in categories as well.
Business / User profiles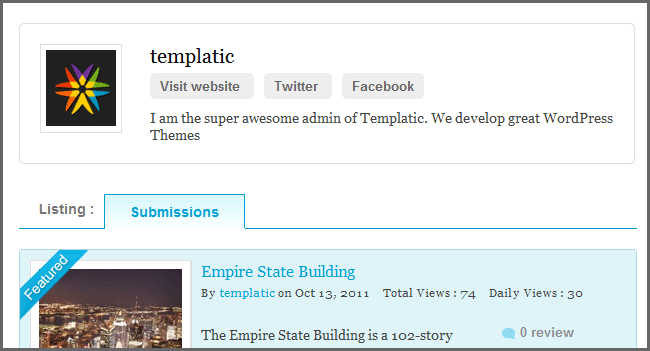 Clicking on a Username takes you to their Business profile where you can see all the lists added by them along with their photo/business logo, profile details etc. This helps your site visitor check other listing from the same business/person and get better understanding of them overall.
Import – export content
This is still in alpha.
GeoPlaces 3 has been updated with export data option and you can import the content in GeoPlaces 4. However, this is still in alpha and we recommend not trying this on live site. Test this in local host and once you get satisfactory result, import the content and update the theme.
Download
GeoPlaces v4 beta is available for download only in our community forum. Click HERE to visit the Beta forum
Final Launch
We plan to launch final version of this theme for everyone in second week of January. Meanwhile, our team will do thorough testing of this theme and rapidly improve any and all bugs reported. Hope you will take active part in this as well and report any bugs/glitches you find in the forum so we can act upon it immediately.
Thank you all for your feedback, suggestions, patience and co-operation. Without you, this would not have been possible :)