eMarket, built on top of our improved e-commerce framework is the latest theme in our store releasing today. With Market WordPress theme you can setup & manage your online store easily. Whether it is a physical product, digital product or an affiliate one you can sell all of them using Market theme.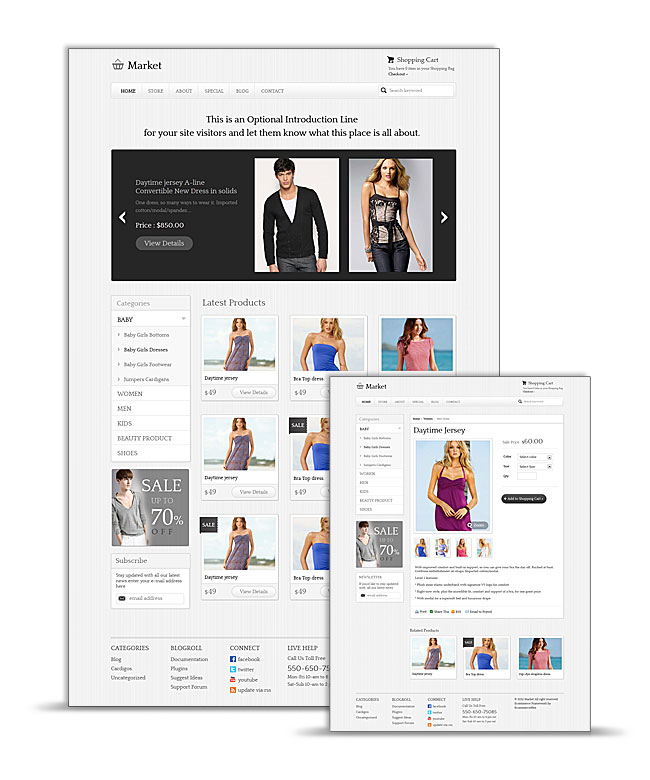 View live demo of eMarket theme and Purchase it here.
The design of the theme is minimal and emphasizes more on standard e-commerce features like shopping cart, checkout, registration. The grid view of products on the home page as well as category and store pages is so well structured that it enhances the display of your products.
This theme is developed for you to setup your e-commerce site in minimal time with lesser efforts and money. Just install the theme and start adding your products with images, description and other product information. If you sale your products in different variants like different sizes, colors, etc. then you can add product attributes too from the same page.
Of course this theme shares all the the standard features that our e-commerce framework offers such as shipping, different tax rates for different country/state, stock management for your products, offering discount coupons to your customers, etc.
Here's the list of some of the new added and improved features in our framework:
Integrated PayPal Pro
A new custom post type for products which distinguishes products from posts
Improved guest checkout
Added a new section to generate transaction reports for your store
Video Overview
Our aim was to provide nicely structured, minimal theme design so as you can utilize the theme at it's fullest and implement your design creativity into it without removing anything. We hope you'd love this new addition in the theme store.
If you are using one of our other e-commerce themes, framework updates for you will be available next week. We'll announce each update via our Twitter and Facebook channels