The users are allowed to submit their listing using the submit listing form. Also, the listing owner  can claim the ownership for their listing on the site. They can submit their claim simply  by clicking a button on the listing detail page. This claim will be shown to the site admin in the transactions. The site admin can voluntarily decide if he wants to grant the claim or not after manually verifying the identity and authenticity of the claim.
How to manage the Claim Ownership?
When a property/listing is claimed, it blocks any other users to claim it again until an admin action is taken to approve or deny the claim. If the claim is approved, the claimed listing's detail page will show a green tick beside the listing name, indicating that the listing has been already owned and no more claims can be made.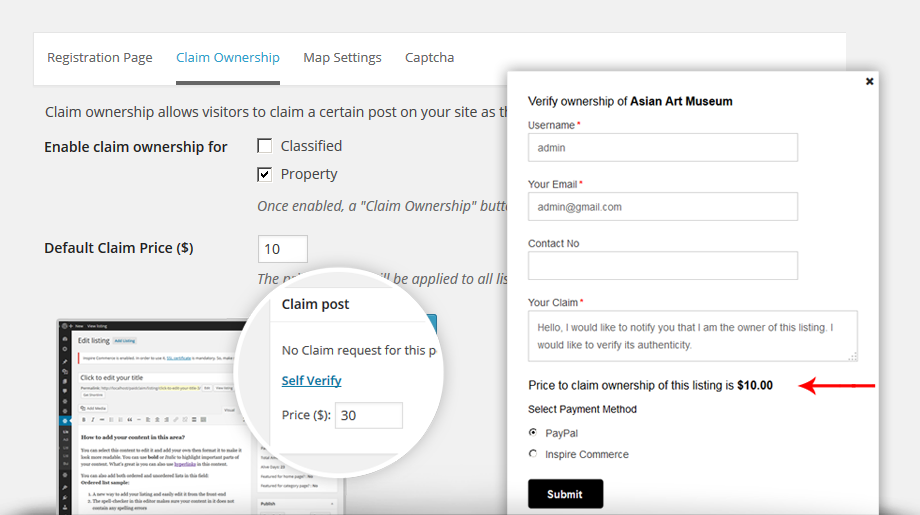 Paid Claims
Now, we can have our users to pay for the claims they make. This is necessary so that people cannot randomly claim for the listings on our site. With the "Paid Claim Directory add-on" we can set a claim price for our listings. It also enables to set a default price for all the claiming any listing that gets applied to all the listings on the website.
To accept the payment from a claimant, Directory offers number of compatible payment gateways. The claimed listings will come with a green tick mark beside the listing name. This will let the users know that the listing already has been owned.
Suppose, you have a local Directory website rich of listings of a certain city or a state, where you have listed the local businesses of the place. Now, the business owner wants to own the listing so that other people cannot claim it. You can charge the business owner to claim the listing.
After verifying with proper documents and proof that the claimant is actual owner of the listing, you grant him the ownership.
This will benefit you in two ways: It will generate revenue, by the paid claim and your site will get an owned listing, with more credibility. You can even deny, if you don't have enough proofs to believe that the claimant is legit.