Start selling products online now with the Elegant Furniture WooCommerce theme
Posted on
Say Hello, to the simple and very easy to use Furniture theme from Templatic. This time, we have this elegant Furniture WooCommerce theme to showcase your furniture online and sell it without bothering. No shop maintenance and no sales staff needed for your online shop!! All you have to do is to grab this theme, install it and get the free WooCommerce plugin to setup and help you maintain your online furniture showroom.
The shop is mobile. And it is responsive allowing you to carry all the management possibilities in your pocket and allowing your users to shop from anywhere, anytime. Your shop will be available to everyone, everywhere regardless of the physical location and time zone differences.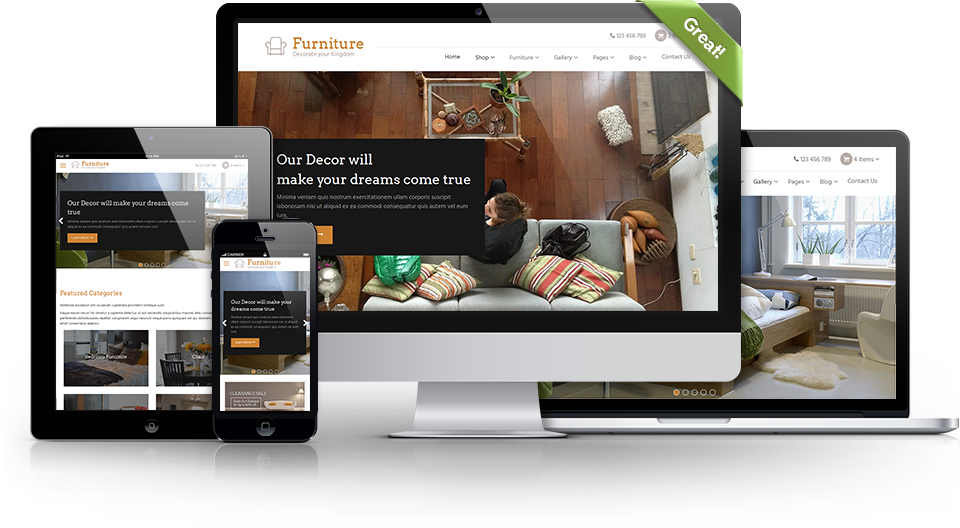 Why you should go for the furniture theme?
Your shop is always available
Responsive design friendly to any device
Simple and Stylish design
Widget ready pages
Parallax scrolling
Easy and uncomplicated navigation
Light weight theme for speedy performance
Clean design that focuses on product presentation
Widget ready home page
Every basic setting possible without directly tweaking code files
WooCommerce ready
Easy WooCommerce Checkout facility
Comprehensive product description
Supports extensions for added functionalities
Easy customization options
Encompasses all the desirable features for an online shop
Assured Templatic support for your queries
Translation ready, RTL and WPML compatible
Social media widgets to let the users share your pages
Takes care of the SEO
The Furniture WooCommerce theme for the perfect online store
The Furniture theme is the "Best" because it is simple and extremely handy to use. It does not bombard you with a number of unnecessary features yet gives you everything that you will basically need for a perfect Furniture shop. Most of the changes you'd like to make can be done without ever having to touch the code files. Minor appearance tweaking that require CSS changes can be done using the custom css editor. So the shop is really easy to manage!
WooCommerce Reliability
WooCommerce is a well accepted and popular e-commerce plugin. Furniture theme relies on the reliable WooCommerce plugin for sales management, product management, taxation, shipping, stock management, and checkout facilities. The plugin is used widely and has very positive user reviews. Furniture theme works seamlessly with WooCommerce to let you have a shop that is easy to manage and makes no mistakes when it comes to calculations and transactions.
Performance oriented
In their busy life, most people won't have much time to spare on a website that is slow. They won't like to wait for a product to load, when they already have ample other options available on the internet. The best strategy for an online shop today, is to quickly provide the potential customers with the kind of products they are looking for. With the performance based Furniture WooCommerce theme, you can provide the customers with fast results, clearly presented and comprehensively described.
The theme is coded with speed in mind. The lightweight theme takes moments to load and works well even with slower connections. This speed is achieved without compromising the features and details of the theme.
Product presentation and description
The more we know, the more we trust… Therefore, a promising product should be described properly, each of its details should be mentioned clearly. Everything a customer needs to know should be answered with the product description page. And so does the cleverly designed product detail page of the furniture theme. The specifications of the product are presented in a tabular format. It has a very simple design and structure that ensures that the customer gets everything and do not miss a detail.
Infinite opportunities
The theme can be used to sell any kind of furniture online. With the popular and widely used plugin – WooCommerce for the sales related functionality, it becomes very easy to manage everything. From taxation to shipping, to the stock management and checkout, everything is just so simple and manageable with WooCommerce integrated into Furniture.
The theme is translation ready and comes with the .po and .mo files. It also can be used to create a website in RTL languages . The appearance of the theme does not suffer even when the site is constructed in RTL orientation. Moreover, if you want to create a website that offers different languages for the visitors, you can do that too. Multi-language translations are possible with the help of WPML plugin that is compatible with the Furniture theme.
Powerful plugins support
The basic functionalities that any established online sales website offers can be included into the theme. These functions can be included by downloading and installing some free available WordPress plugins for which the theme offers compatibility. Your online furniture store can have the product image zoomed on pointing, the product comparison, wishlist and quick product preview facilities by installing these free plugins.
The theme has a clean and sleek look and the products on the product pages are presented in a beautiful way. With this theme, you will have everything needed for a perfectly beautiful online Furniture sales website.
So, buy this theme at a minimal price. Install it with just one click, another click for inserting the demo data and you have a totally customized online furniture store, ready to be updated with real content and products.