Case study of Engdex.de: A business directory powered by the Directory theme
Posted on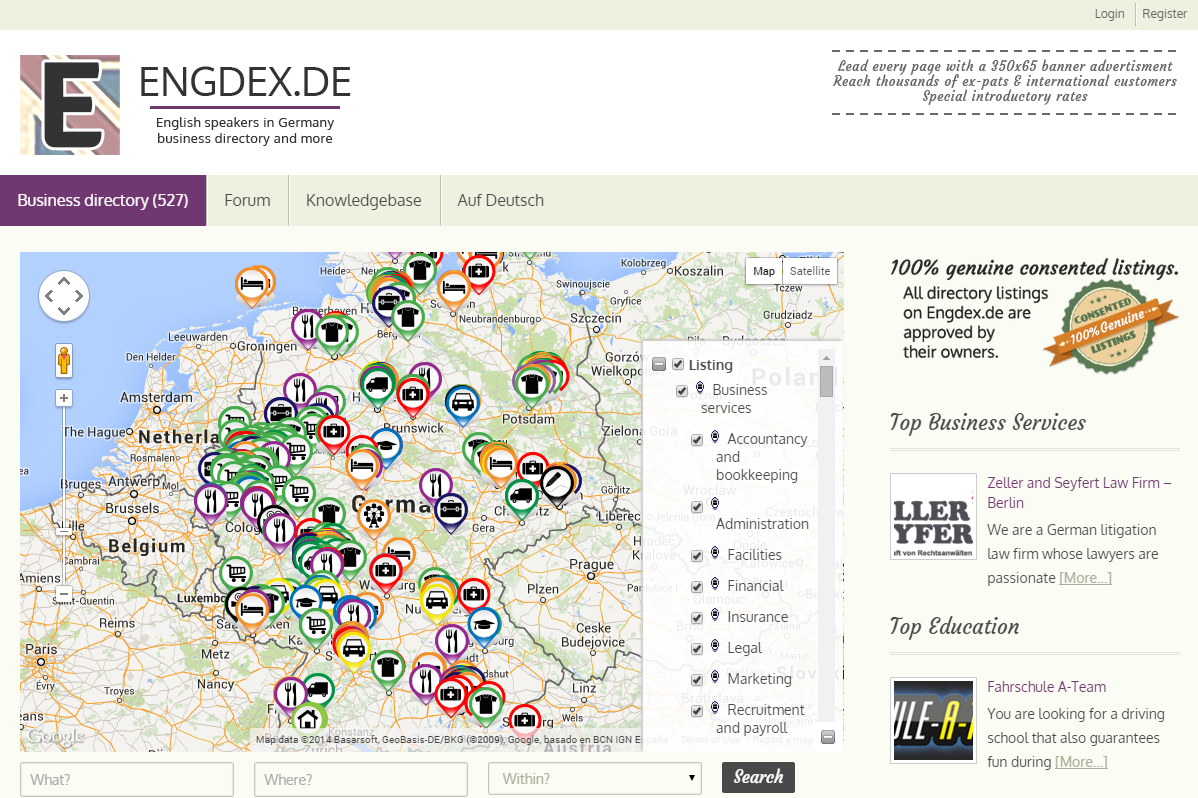 Creating a directory website is easy and fun. We will now hear from Brian, about his experience of building website with Templatic theme.
Can you provide a few more words about yourself? What is your background?
I am Brian Burroughs, the director and CTO at Enterprise East, incorporated in Poland. I spent more than 20 years in the IT field, from Unix engineering roots growing to enterprise midrange, storage and monitoring, and solutions architecture. In 2012 I decided it was the right time to make the move to entrepreneur. At the time Poland appealed as a startup-friendly place, and I chose the North coast "Trójmiasto" region. We have a small office in Sopot with a great team where we run a remote concierge service, and are growing web communities such as Engdex. We also do a small amount in general web development and animation production. We have a lot of plans to leverage our multi-lingual team for new streams of business, but have to stay focused on core initiatives so as not to spread ourselves too thinly.
How did you get the idea to create Engdex.de?
We followed an interesting path to arrive at Engdex. We have a sister company offering multilingual virtual assistants (//EuroConcierge.co) and in the beginning 2012/2013 we were looking to market it to the ex-pat community in Switzerland and Germany. We looked into advertising on some of the websites there. We found that the websites we did find were extremely poor quality, reminiscent of 1990's HTML, and the prices were high. Even worse, the people behind these sites were individuals with no decent support response and no real company infrastructure. For example, none were capable of issuing an EU VAT receipt. One even had a foreign national taking payment for advertising space by funds transfer to her offshore personal account!
It seemed like this market was a viable business model, and we could take a slice provided we could combine quality front end sites, a dependable EU VAT registered company behind it, and full-service creation and curation of quality listings.
Who is the key demographic at Engdex? In other words, who are you targeting with your offerings?
Our intended audience is English speakers in Germany, be they immigrants, business people or foreign companies. It can be daunting coming to a new country where you don't speak the language, I have been in the same situation myself more than once. We are providing a community space where ex-pats and international visitors can come together and find help from English-capable services, everything from a Dentist to a Vet, and recently we have added a bbPress forum to begin to foster community discussion.
The companies that list with us are English-capable, and even if not fluent, will at least lend a sympathetic ear, and should be willing to try with foreigners. We have spoken to each and every listing owner, and have their consent. We find with Germany in particular they have been victims of many online scams and the biggest hurdle is often suspicion about your authenticity, and whether they can trust you. Normally once they are convinced it's a genuine deal, they are very willing to list with us.
Apart from the fact you verify all listings, are there any other challenges unique to running Engdex?
We do a lot of work around communication and managing customers. We run a simple database where we have prospective customers. We use this for both new customers and to refer back to when it is renewal time. In the beginning we had a three month renewal cycle but found fairly quickly that it was too short, we were spending too much time contacting to confirm details and get renewal approved, so changed it to six months.
The renewal conversations are sometimes tricky, customers who agreed initially have either forgotten us, or we were approved first time around by a different person. Occasionally customers actually don't believe us when we say they initially approved the listing, and ask us to delete it. But that's fine, we don't want to list anyone that doesn't want to be there, for any reason. We are not spammers.
Another difficulty we face is around duplicate listings. While you don't actually get a penalty for duplicate listings, in SEO you do get search engines aggregating to a "favoured" listing which is usually the wrong one. You do however get an SEO bonus for "managing duplicate issues well". So where we have a chain of 50+ branches of stores, for all but 2 or 3 we have to spend time configuring noindex, no-sitemap and if they are all pointing to the same URL, nofollows. We spend almost as much time on SEO management as we do on the actual listings.
What is the monetization strategy for Engdex? How do you plan on making most of the money from business directory theme?
Engdex.de is a freemium site. So simply put, for most people it's free but we offer chargeable upgrades such as featured listings and simple banners. We support the site by going to expos and meeting companies, to talk to them and offer the default free listings. Having some dialogue with listing owners makes it a lot easier in future then to propose an upgrade.
We make sure listings are high quality, have good language and are something that the listing owners are pleased to have representing them.
Moving on to design; how did you decide on the current look of the site?
We've gone with the CityGuide business directory theme, primarily for its clean and relatively minimalistic layout, and nice trim and presentation of the icons. Also, crucially, it has a space in the header area for a banner advert. We took the default colour scheme. For us the priority is getting the customer to the listing they are looking for, fast, so we wanted the search bar and category grid presented to the customer immediately.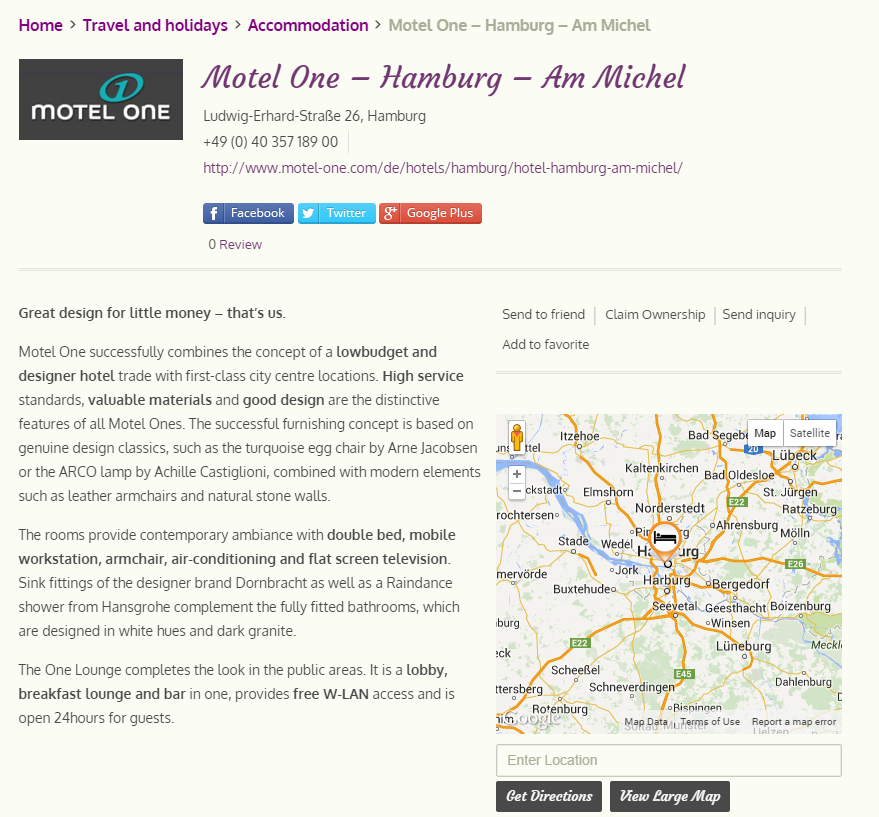 Describe why you have chosen this particular layout of your listings directory?
I would say that the map is more like eye candy for encouraging users to stay on your site, and click further, than for real functional use, the search bar and category grid is where it's all at. We spend time trying to find nice subcategory map markers as it makes a real difference visually.
How would you describe the content structure in Engdex?
Our choice of categories has gone through multiple revisions, and it continues to change. As we get more and more listings we find that some subcategories get heavily loaded, especially where a chain of stores wants to go in, so we try and split them up where practical. We also have a forum section, a knowledge-base, and plan to start a more news/blog-style channel at some point. We opted not to use location manager as the "whole country" view is a powerful thing when a user first visits a site. So we do rely on the location-based searching. As we pass the 500-listing mark however, I wouldn't rule out a conversion to Location-Manager at some point in the future.
How are you currently tackling the marketing of the site? Email, social media, something else?
I have to start with a warning for anyone considering creating a directory. The days of creating a directory, waiting for people to list organically, and then for traffic to come, while you do not much work, are long gone. Bear in mind even with a populated directory like Engdex.de we are still only at the beginning of traffic and advertisers, and it's a continuous commitment.
Plugins like Yoast do a lot of the heavy lifting for SEO, but Templatic also are behind in their contribution to on-page SEO. When a new listing gets published, we auto-propagate the links to Facebook, Twitter, Pinterest and LinkedIn.
For us, we need to keep the new listing machine turning over, keep tight control over on-page SEO, and are now looking into off-page SEO possibilities. We also have been neglecting email newsletters so far which is on the to-do list.
How does your site help listing owners promote whatever they are advertising online?
The fact we offer English language listings. For example, we have more than one chain of stores in Germany that don't have English pages on their websites, so they are very keen to have us act as their English language gateway. An extra benefit is that we can catch English language search engine matches, and can pass them more traffic, or even better, more walk-in customers.
It's a space where English speakers come together, which listing owners can benefit from. The forum is quite new but eventually this should add the "hangout" angle to the site. Eventually we would like to extend the social aspects but the main WordPress social package, BuddyPress, leaves a lot to be desired, and does not integrate with Directory very well. One option might be to take the same userbase and access it from a dedicated URL running a non-Templatic theme that plays nice with Buddypress.
Curated listings. We offer to fully create and manage listings for our customers. We have a great team managing the site, and as a native English speaker I help out with language oversight. Eventually we would like to get more customers to claim and take over management of their own listings
SEO assistance: we are very SEO literate and maximise the impact of listings
Multisite listing: whenever we add a new listing, we propagate the links to Facebook, Twitter, LinkedIn, Google Plus and Pinterest.
What is in your opinion the stand-out feature of Directory? Something that makes your life easier every day.
#1 is the front end. It makes it so much easier to "sell" the directory having a great appearance on all screen sizes.
Is there a particular feature you'd love to see in Directory in the future? Something that would make your life easier?
There are a lot of behind the scenes aspects that have been neglected, mostly around SEO and workflow, there is a lot of work Templatic could be doing in this area. To choose one – the workflow around renewals: we would like to see the ability to "renew" while something is still listed, in it's final days, instead of having to wait until after it has expired.
Do you use third party plugins with your theme? If so, you can mention a few of the important ones?
We use a lot of plugins! Some of the more important ones:
Multisite plugins
——————-
I really loved talking to Brian about Engdex, he definitely did his homework when it comes to creating a directory website. If you want to get in touch with Brian and learn more about Engdex try following him on Twitter.
More success stories: