Showcase digital products with our Publisher theme
Posted on
Last couple of weeks have been pretty exciting here at Templatic. It has become an unspoken norm within our team to create more and more niche themes specifically targeted at a particular group / community of users. Of course, our users have played a tremendous role in encouraging us doing so. You have liked our previous niche themes and here we are again, presenting a brand new theme for publishers, book authors and artists to sell digital products – Publisher theme for WordPress.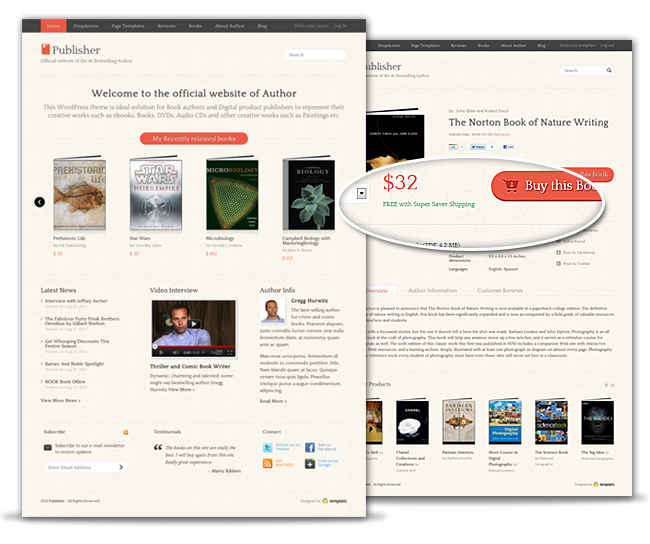 Here are some of the nice features of this theme:
Sell unlimited products: You can enlist as many digital products as you want and sell them online.
E-Junkie integration: We have seamlessly integrated E-Junkie digital download system along with secure native download. Users can easily select any of the two methods to manage sales.
Secured downloads: We've implemented all that's necessary to secure your uploaded files. Users will be able to download them only after the payment is done.
PayPal support: Payments for your digital products are handled through PayPal gateway, so you know it's safe.
1 theme for all: Although we're calling it 'Publisher', this theme can be used by individual book authors, small music companies, artists, etc. who wish to sell digital products online.
We have tried to streamline the product management in the back-end as much as possible. You can add new products, specify details using custom fields like Artist/Author's name, profile link, price, publishing date, language, etc. As I mentioned, you can offer either native selling or off-site selling or both. Apparently, you can specify different prices and download links for each of them. Buyers can easily select the type they want and proceed with the payment process. You can list unlimited sites for off-site selling. E-Junkie digital download system has been seamlessly integrated within the Publisher theme to provide you maximum benefits.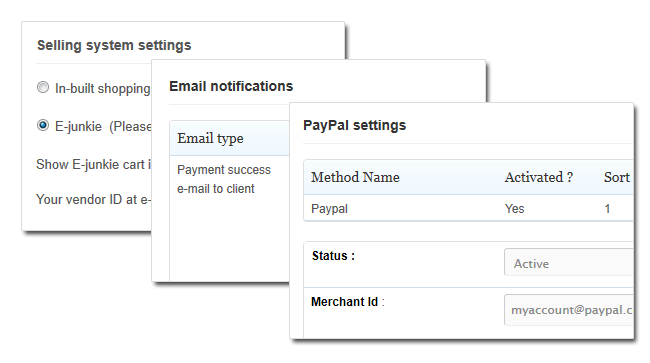 A dedicated short-code [tabber] has been implemented for you to easily create different tabbed sections like 'Description', 'Custom reviews', 'Author Info', etc on product detail pages. Viewers can rate your product and leave feedback. Buyers are provided with their own buyer dashboard where they can view and download previous purchases and manage their account settings. Like most of our themes, there are many custom widgets packed into this theme and the homepage is entirely widgetized.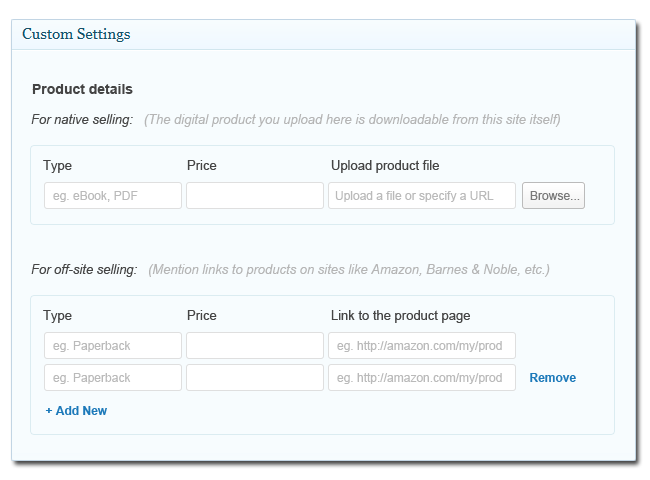 While it almost looks like one, Publisher is not an eCommerce theme. So you won't find most of the features of our eCommerce themes. However, we hope that you like it and provide us your valuable feedback. Please check out the demo.
View Live demo and Buy this theme. Showcase your digital products now!
Share & Win
Like this theme? Want to have it? Help us spread the word about it and who knows, maybe you'll be among 3 lucky winners who will get it. Unlike our past contests where all 3 winners won the theme by retweeting or liking the post on Facebook, this time you can also win the theme by being the fastest one to respond (with a correct answer) to our Twitter question. The question will be published on our Twitter feed sometime between today and September 25th. Just like before, there will be 3 winners overall, but now 2 will get there by retweeting or liking the post on Facebook and one will win the theme by answering our Twitter question.
Note (for Twitter users): In order to participate in the contest you must follow @templatic because winners will be notified via direct message.
Retweet: Win a copy of Publisher theme from @templatic //bit.ly/WPPub Retweet to Win
---
The time has finally come to announce the winners of our Publisher competition! First off we would like to thank all of you who participated and spread the word for this beautiful theme. Just like last time two lucky souls were selected at random and one person won the theme by being the quickest to answer to our question. So, the three winners are:
Oliver Dale. Oliver won the theme by being the fastest one to respond to our Twitter question. You can check out Oliver's twitter feed by clicking here
Arun Balasubramanian. Arun won the theme by retweeting. You can check out his twitter feed by clicking here
The last winner is Kim Lyng Larsen. Kim won the theme by liking our Facebook post. Thanks!
Again, thanks everyone who participated!