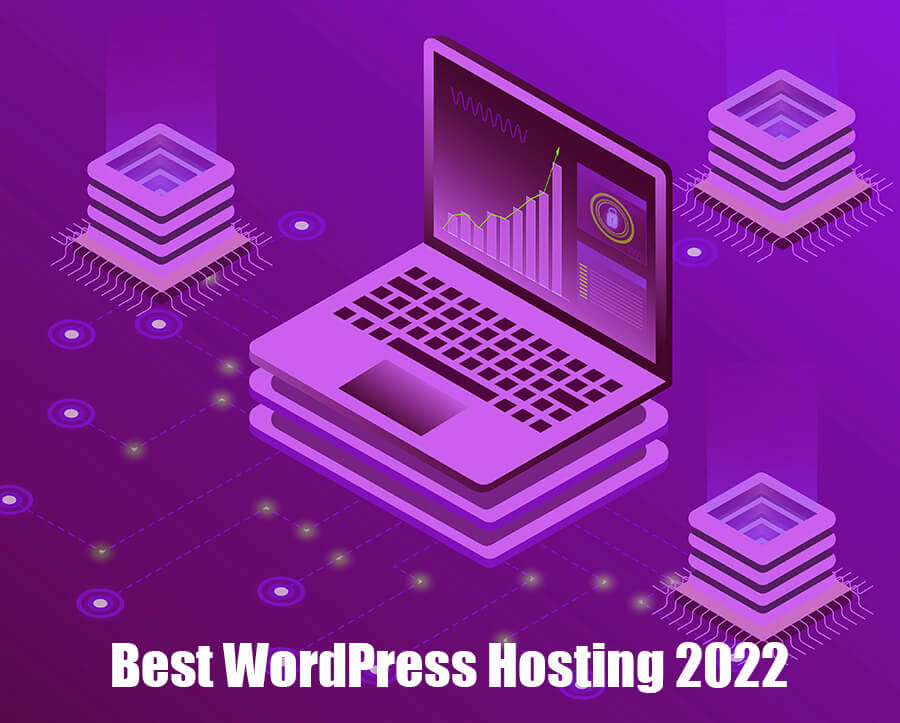 If you are looking for the best WordPress hosting in 2023, this article is for you.
We have written many times about how good web hosting is an important factor for the proper functioning of websites. Poor web hosting can slow down your site a lot and thus have a negative impact on the overall user experience which will have a bad effect on your business. In addition to speed, a good hosting provider must keep complete software up to date to keep the pages on the servers secure and to execute the code correctly. Don't forget support either, good web hosting companies offer support 24 hours a day, seven days a week. The most common support channels are chat and email, and the best companies offer the ability to call them anytime and respond immediately to a reported problem.
It is known that there are many hosting companies that offer different hosting solutions. However, there are very few quality companies that will really provide the user with the service he paid for. If you intend to run your own WordPress website and do not know which web hosting to choose, in this article we will list some of the top web hosting companies of 2023.
1- Bluehost
Currently, Bluehost is the largest and most famous hosting company in the world. The company is headquartered in Orem, Utah, USA, and was founded in 2003. Proof of their quality is the fact that they host more than 2 million domains.
We recommend Bluehost and they are also recommended by WordPress.org. In their hosting package offer you can find membership packages that are tailored for WordPress. Whether it is a blog, portfolio or online shop, you can easily get a hosting package for any type of website.
In addition to being relatively cheap, this popular hosting provider will give you a free domain for the first year. Best WordPress hosting has a great user panel where you can set up your hosting in just a few clicks. If you want to run a WordPress site then Bluehost will install WordPress for you.
The support from Bluehost is great, you have the option to start a call or chat with support 24 hours a day.

Bluehost offers shared, dedicated and VPS hosting. All hosting packages are scalable so you can get absolutely all the performance that your WordPress website needs.
Among the available hosting packages there is a special section for WordPress hosting where you can buy a hosting account customized for WordPress or WooCommerce websites.
All servers are high available with 99.9% uptime, inside the server there are SSD disks, each customer will receive free SSL certificate, malware protection, SPAM protection, auto backup, multi-layer caching, site staging, multi-tiered security and many more useful features that only the best hosting companies can offer.
2- SiteGround
SiteGround is another big player when it comes to WordPress hosting. The company was founded in 2004 in Sofia, Bulgaria. They have hosted more than 2 million domains, and offer shared hosting, cloud hosting, VPS hosting and dedicated servers. Just like Bluehost, you can find hosting packages specializing in WordPress and WooCommerce sites. They are officially recommended by WordPress.org as one of the best WordPress hosting companies in the world.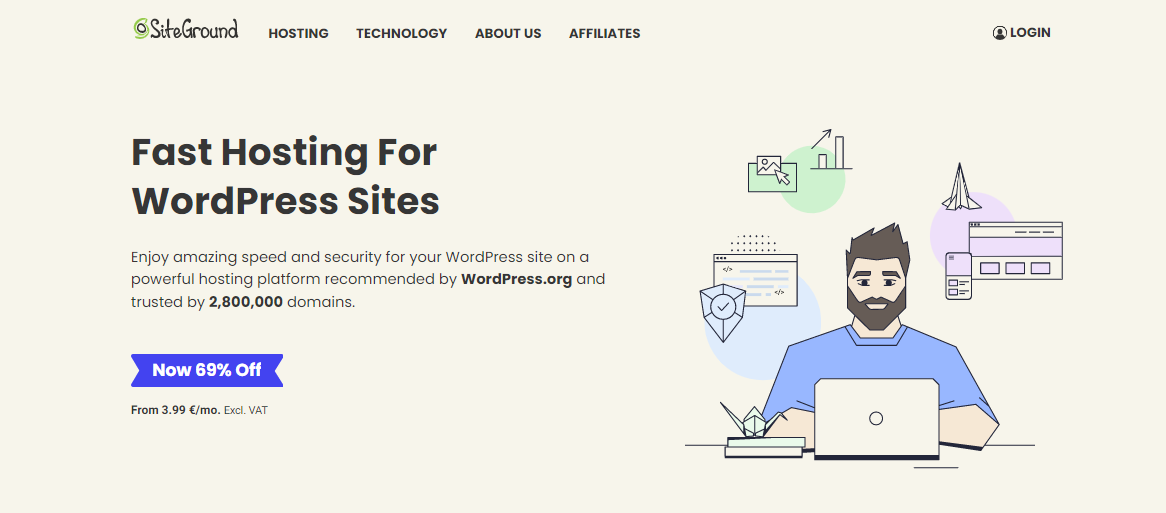 When it comes to WordPress hosting, there are 3 packages on offer, StartUP, GrowBig and GoGeek. All hosting packages have free SSL, free WP installation, daily backup, free CDN, unlimited databases, e-commerce enabled. Hosting servers are highly available and are located in Singapore, Amsterdam, Chicago and London. All servers use SSDs and thus ensure maximum execution speed of your WordPress pages.
Customer support is great. If you have a WordPress site hosted elsewhere, technical support will transfer your pages to their servers for free. Installing WordPress on their hosting takes a few clicks, and all WordPress hosting packages have: WordPress auto-updater that will automate the update process; WordPress SuperCacher – caches your WP site and speeds up page loading up to 5 times; One-click WordPress staging – the ability to make a copy of your site with just one click.
Just like all large companies, SiteGround has support 24 hours a day, 7 days a week.

In addition to support from agents, SiteGround has an excellent knowledge base with a lot of materials, they have pre-recorded webinars and tutorials to make it easier for their users to use their hosting accounts. The users of this hosting service are very satisfied and gave it a rating of 4.6/5 for the overall impression. If you want a good and reliable hosting account that has data centers all over the world then SiteGround is for you. Their CDN ensures the speed of site loading wherever your visitors are located.
3- GoDaddy
Third on the list of best hosting companies is GoDaddy. The company was founded in 1997 in Phoenix, Arizona, USA. Many people know GoDaddy as the largest and most famous domain registrar, but in addition to domain registration you can buy great hosting packages intended to all types of sites.

GoDaddy hosting offers options to purchase shared hosting, VPS, dedicated hosting, cloud hosting and email hosting solutions based on Windows and Linux operating systems. GoDaddy also provides a lot of storage space in the cheapest membership package – you get 100 GB with unlimited bandwidth, free domain name. All other hosting packages except the initial one (Economy) have unlimited disk space.
Users of GoDaddy hosting are satisfied with the support, there is the possibility of calls, chat or e-mail communication 24 hours a day.

Most hosting companies offer free SSL certificate in addition to their hosting packages, but you might have to pay for a SSL certificate if you choose GoDaddy.
Just like the previous companies we listed, GoDaddy also has hosting packages customized for WordPress and WooCommerce websites. Users are satisfied with their WordPress hosting and have given a rating of 4.6 out of 5 based on nearly 40,000 reviews.
All hosting plans include SSD, easy-to-use control panel, on-demand resources, 1-click install of over 150 apps, global data centers, 24/7 network security including DDoS protection. For prices and additional benefits visit the official website.
4- WP Engine
When it comes to hosting specialized only for WordPress websites then WP Engine is definitely the company you need to choose. The company offers fully managed WordPress hosting that will satisfy even the most demanding users. The only difference compared to previous companies on this list is the price, WP Engine is more expensive than other hosting providers. To see the exact prices of each hosting plan it is best to visit their official website.

Although the company is relatively young, founded in 2010 in Austin, Texas, USA, in a very short period they have grown into one of the market leaders when it comes to WordPress hosting. They have nearly 50,000 customers and data centers in the US, UK and Japan. WP Engine provide services only to WordPress users and have adapted most of their infrastructure to this. Many WordPress-related tasks are automated and executed automatically. Hosting packages for WooCommerce sites are also available and they are much more expensive. However, the price includes many WooCommerce themes and other tools for optimizing online stores that you would have to pay somewhere else, but WP Engine gives all for free.
Like other big hosting companies WP Engine has 24/7 support via chat, email and call.

If you want a hosting company that bases its business on WordPress solutions then WP Engine is definitely the best choice.
5- Namecheap
This is one of the companies that has been in the business of domain registration and  web hosting  for a long time. The company was founded back in 2000 in Phoenix, Arizona, USA and to this day has grown into one of the largest and best hosting companies in the world. They have more than 11 million registered users and more than 10 million domains, which makes them one of the leaders in the field of domain sales in the world.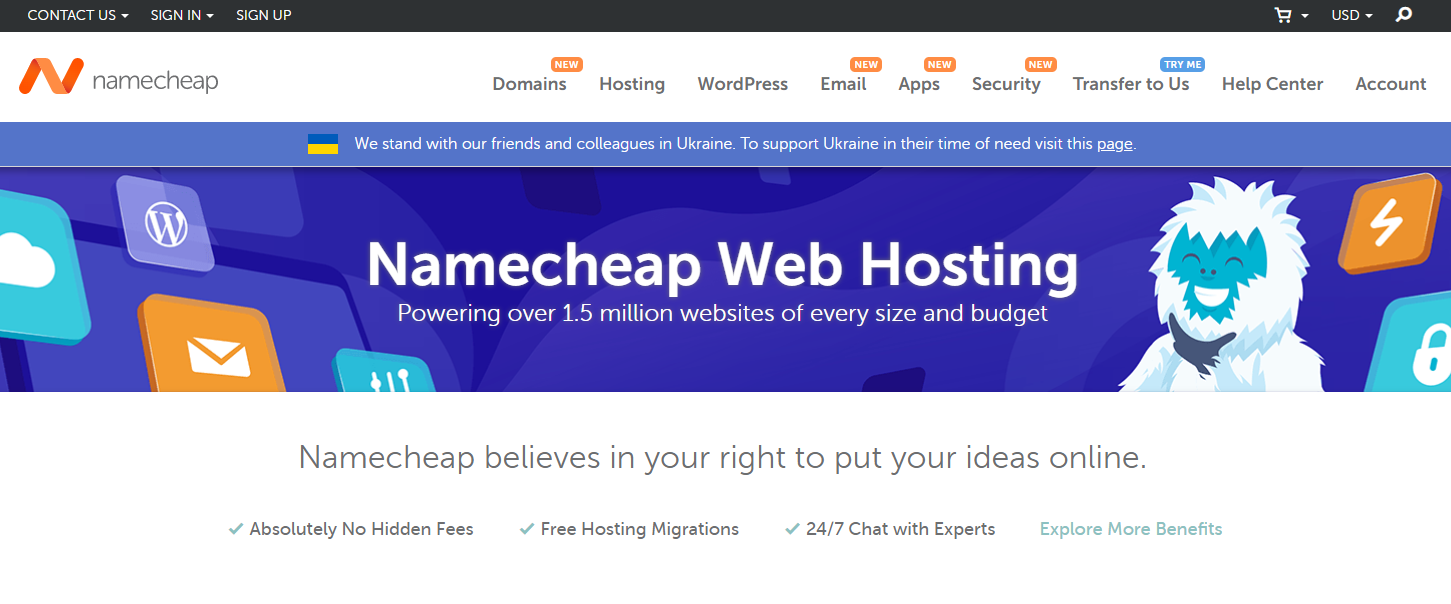 When it comes to web hosting, they offer shared hosting, VPS, WordPress hosting, dedicated servers. All hosting packages include unmetered bandwidth, free CDN, cPanel, free SSL certificate and free website builder which will be very useful for beginners in business.
Like other companies on this list, Namecheap has great support 24/7 via chat.
If you decide to use their hosting adapted for WordPress then you will have the ability to try hosting for free for a period of 30 days. This is a service that no other hosting company offers.
Namecheap offers three membership packages for WordPress sites, namely EasyWP Starter, EasyWP Turbo and EasyWP Supersonic. The first membership package is quite limited and offers only SSD storage with the possibility of 50k visitors / month. The remaining hosting packages besides SSD storage have free CDN, free SSL, more RAM and a faster processor on the hosting server. It is important to note that each of these hosting packages has a free trial for a period of 30 days, and if you use the hosting of another company then Namecheap support will migrate your site to their servers for free.
Namecheap is a great and reliable WordPress hosting for less demanding users.
How to choose the best WordPress hosting
As we aim to help you find the best WordPress hosting in 2023, below point put what you need to pay attention to when choosing a hosting company.
User opinions
We think that the first thing you need to check is the opinion of the existing users. If a company is present on the market for a certain period of time, it already has a reputation that can be good or bad. See the opinions and reviews of other users and based on that decide whether this company is for you. Most hosting companies post only positive reviews on their official websites, so look for independent reviews and user ratings to know if you will build your business with that company.
Security and infrastructure
Security is the most important segment of any business. Hackers are getting smarter every day and finding new ways to attack your web sites or the servers on which they are hosted. That is why it is very important to find a hosting company that takes care of the security of its servers, company that does updates on a regular basis and acts proactively in order to avoid downtime.
The main security segments you need to pay attention to are the availability of SSL certificates (can be free or paid) and assistance in their installation and implementation, protection against DDoS attacks that have become frequent, backup of your sites (daily, weekly and monthly). In terms of infrastructure, choose hosting companies that use the latest technologies, high-speed equipment (such as SSD storage), are available in multiple locations (CDN network) and guarantee 99.9% uptime. No one needs a slow page that runs on old servers and has frequent downtimes.
Support
Perhaps the most important segment we will mention is support. You need to have a hosting company that offers great support because you simply can't fix some server errors yourself. If you have decided on a hosting company that specializes in WordPress, then you are looking for one that will help you with common WordPress problems. They should have a team of experts who can solve basic WordPress problems so your site has the shortest possible downtime. The companies we mentioned in this article have excellent support for all types of hosting packages they have on offer.
Flexible hosting packages
When we create our web site, we have the desire and intention for that site to grow and expand over time. That's why we need a hosting company that offers flexible hosting plans to meet our requirements. These requirements are usually handled by a sales team who will contact you and recommend an upgrade when your site needs more resources than it has.
Load speed and CDN
Website loading speed is often overlooked by users but it is very important. If your hosting company has data centers located in multiple geographic locations, then the loading speed will be faster no matter where your visitors are. The purpose of the CDN is to show visitors the content from the geographically nearest servers so that content can load as quickly as possible. This way you will increase the overall user experience, and due to the speed your SEO results will be significantly better.
In this article we have reviewed the best WordPress hosting in 2023. Whichever one of these companies you choose you will certainly not go wrong, the differences are mostly in some small details. We also did our best to write how to choose the best WordPress hosting with an emphasis on key things such as availability, security, load speed and support. If your hosting company has positive reviews in all these segments then you are certainly in good hands.