This article is a collection of some of the best and free One Page WordPress themes that you can use to create stunning websites in 2019. This list contains some handpicked, feature-rich and easy to use themes to create your website.
If you are a WordPress newbie and want to try creating a website, then these themes can be a great help. With these themes, you can learn the basic WordPress features and options.
These themes are perfect if you want to create a very simple website that takes your company's name on the internet. The theme have enough features to let you display basic company details, introduce team, contact form design, etc. If all you need is a basic introductory website that you don't need to spend on the theme. Get a free theme and create a website in hours (If not minutes!).
What I really love about these themes is that most of these themes are the lite versions. There are pro versions available for the same. So, you can try the free themes for yourself. If they succeed to impress, you can opt for the pro versions of the theme to create a highly professional and pro-featured website.
These themes are either multipurpose or designed for some special purpose. The special purpose themes include business theme, law agency themes, app landing page theme, and much more. So, you'll most probably find a theme of your interest in this list.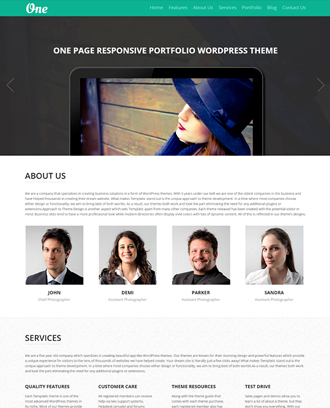 The One page WordPress website for all your business details
Looking for a simple yet elegant template for your business website or online portfolio?
Have a look at the One Pager WordPress theme that is designed to impress. What more? It's easy to use and you can use it to create your website on your on
Note : No technical skill is required to use this theme.