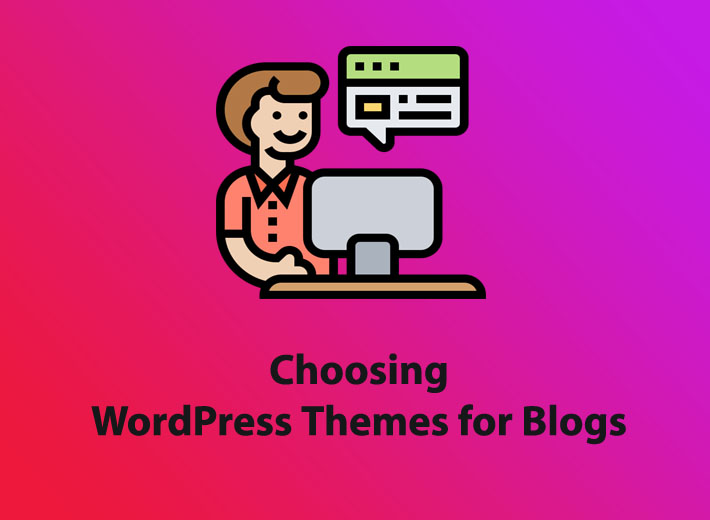 Choosing the right theme from all the available options of WordPress themes for your blogs goes beyond the looks and design. After all, most blogs rely on SEO as their main traffic source, so you also have to keep the loading time or quality of the code in mind.
And while there's a plethora of blogging WordPress themes out there, only a handful of them are fit to be used for blogs in these times, especially when things have gotten pretty demanding both in terms of SEO and user experience.
With that said, let us talk a bit about what factors to consider when choosing a theme for your blog and then review our best WordPress themes for blogs.
What Factors to Consider?
While we are going to walk you through the best WordPress themes for blogs, it's important that you're aware of some of the important factors to consider as well. It would help you choose the one that's the best for you based on your needs and preferences.
Clean Code
You may not understand how to find out if the theme has clean code, but it usually only means that the theme only has the features you need, and isn't loaded with useless features that you will never need.
While more features might seem nice to have, they will take a toll on your site's speed and overall performance, as a lot of features make the theme bloated and slow. Furthermore, bloated themes often also come with complex, messy code, which paves the way for vulnerabilities that hackers often use to hack into your site.
So the bottom line is that you must choose a theme that's clean and simple, and doesn't have a lot of design elements or useless features.
Responsiveness
A clean theme doesn't need to compromise on the responsiveness. In fact, the responsiveness of your website is more important than ever now that Google focuses heavily on the need for sites to be fit for mobile screens.
In other words, an ideal WordPress theme should have a light mobile version to serve to visitors browsing your website on their mobile device. But that's not all. It must also have all the right widgets and menus, with a fair bit of customization as well that would allow you to tweak things as per your needs.
Finally, when it comes to choosing a theme for blogs, it's also important that they can show multiple posts on the homepage, as well as have widgets like recent posts. This helps pass the SEO juice to all your important and recent posts, as most of the time it's your homepage that gets most of the backlinks and not your inner pages.
Premium vs. Free WordPress Themes for Blogs
It's always better to purchase a premium theme than go with a free theme. Premium themes are not only more functional and customizable, but also come with a better level of security and customer support, which are essential for running a successful blog.
That said, if you're tight on budget or are just starting out, then the free themes we have reviewed below would do just fine too. But once your blog starts getting a decent amount of traffic, you should consider switching to one of the premium themes for better functionality, security and support.
Finally, never try to use a cracked version of a premium theme, which are available to download for free on various websites on the internet. They often include malicious code that will allow hackers a pathway right into your website, which will ruin your blog sooner or later, in many cases after you have put in a lot of effort and started getting a fair bit of traffic.
Best Blogging WordPress Themes
Now that you're aware of some of the most important factors to consider, let us get right to the themes that are specifically designed to help you build functional, responsive, fast and SEO-friendly blogs.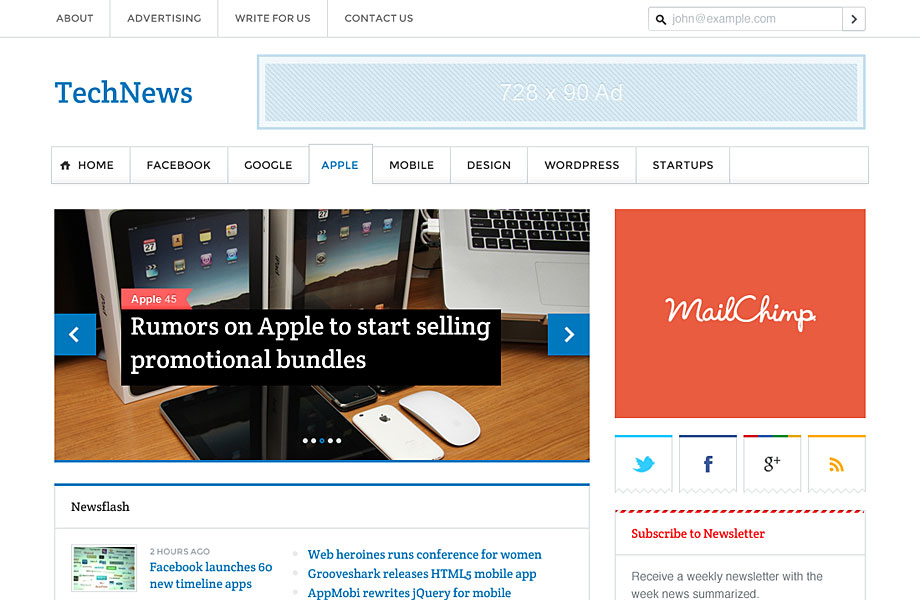 TechNews is a perfect WordPress theme for an authority blog that covers a wide range of topics on any certain niche, or even multiple niches for that matter, such as a lifestyle blog. Needless to mention, it's also designed to be a great fit for news blogs.
If you want to hit the ground running with your blog, you just need to install this theme and replace the sample content with your own content and you will be good to go. This theme offers an impressively high level of customization, including full control of the footer area that you can use the way you want.
It's also one of the few themes out there that allows you to use easy shortcodes to build and add a wide range of elements and functionalities to your site, without having to mess around with any real coding stuff.
If your blog manages to build a loyal audience base, you would also have the option to sell right from your blog as it's WooCommerce compatible as well. It's mobile-friendly, SEO-friendly and offers easy navigation to your visitors, all while loading surprisingly fast with a neat, clean code.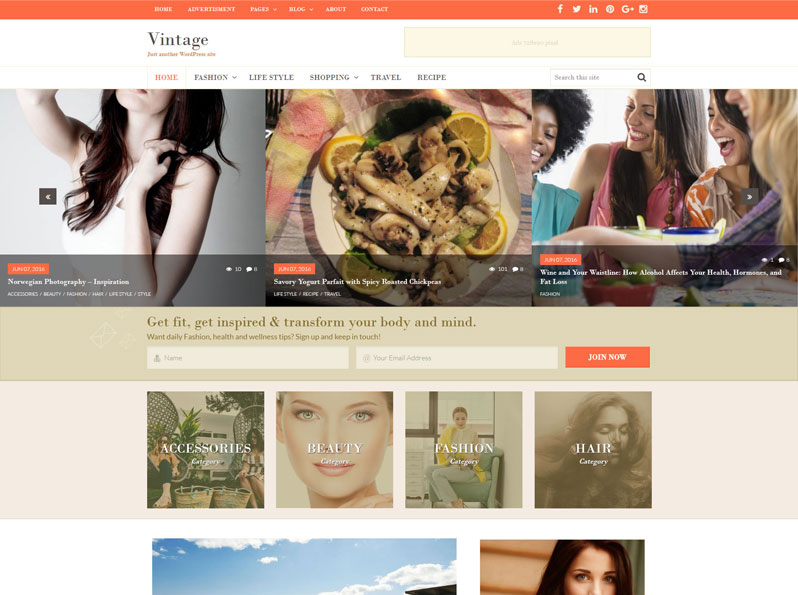 If you want to start an authority blog covering different related niches or many different sub-niches on a free theme, then you will be hard-pressed to find a better option than our Vintage theme.
It's very well-designed with many dropdown menus and easy navigation. The design is such that it allows you to have many posts on the homepage and link to all the categories and menus from the homepage without cluttering it in any way, offering the best of both worlds in the form of SEO optimization and a great user experience.
It comes in a great, appealing look but with a clean, fast-loading design. It would work great for all types of blogs, no matter the niche or whether it's an authority or big niche blog.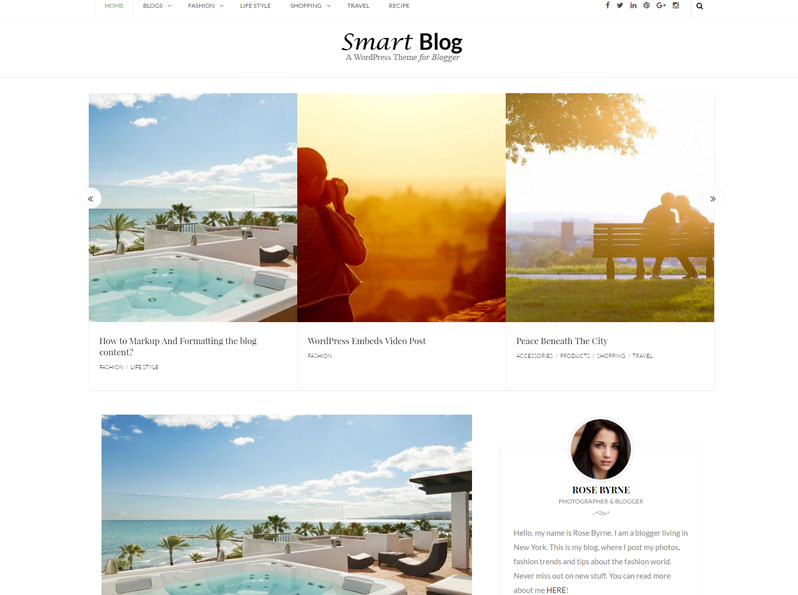 If you want to get started with as little investment as possible, then the Smart Blog is going to be a great theme for you. It's a free theme but offers premium-like features, including a super clean, distraction-free and SEO-friendly design, easy navigation, responsive layout, and lots of customization.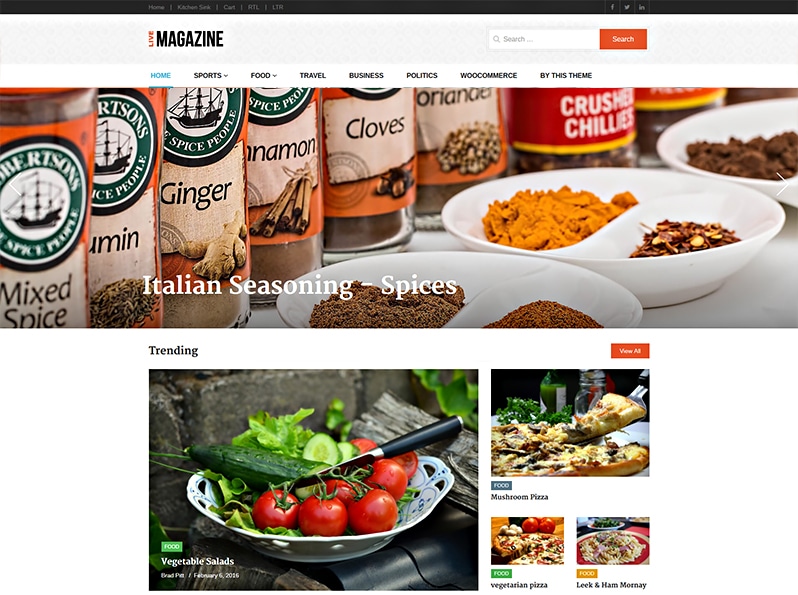 The Live Magazine WordPress theme for blogs is responsive and beautifully crafted to create attractive blogs or news magazine websites that are content centered. It comes with a professional looking design with just the enough number of options to help you create blogs in just minutes.
The homepage is specifically designed to help you organize your content easily. The WordPress theme is very easy to customize and use. Moreover, there are no complicated options to make it difficult to understand or manage your website. Strict SEO standards have been followed to develop the theme. With the help of different widgets, you can make your blog's homepage as exciting as you want it to be.
Note: Don't forget to have a look at our blogging guide before you setup your blog. It will help you with ideas, resources, tips and tricks to help you blog efficiently.Blogging guide