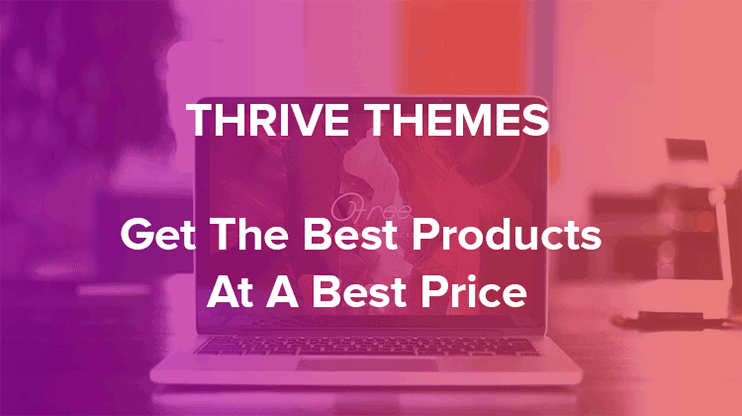 If you are looking for WordPress products focused on Marketing and conversions, Thrive themes is definitely one of the best places. Get the best of Thrive themes and plugins at best price without searching for the  Thrive themes discount coupon. How? You'll see soon in this article.
Thrive Themes are basically focused on Marketing. However, there are some of the best themes to showcase your product or services. And the plugins from Thrive themes are totally dedicated to adding modules to your website that attract more audience and make your site look more reliable to them.
Before we talk about the pricing and discount at Thrive Themes, we shall have a look at the amazing products they have to offer.
Thrive Themes Discount Coupon: Thrive WordPress Themes
Thrive themes has a really feature-rich collection of WordPress software. You can choose from some of the best, professionally designed themes or plugin from the Thrive Theme store.
You can buy a single thrive theme or become their club member to access all of their themes. Thrive themes and plugins are designed for better conversion. Get the best of Thrive theme with the Thrive theme coupons.
The themes at Thrive themes can be used by any person regardless of their technical skills. Any non-technical person can now create their own website without hiring professionals to get their site created.
Thrive themes come with easy and intuitive backend options. Therefore, managing the appearance and behavior of your website is really easy.
At the Thrive theme store, you will find some of the best themes for creating Magazine website, blog and product/content focused marketing websites. The themes here are best for a Content marketer, product based websites, affiliate marketer, etc. Besides, there is the flexible multipurpose theme like Squared.
PerforMag WordPress Theme
The Performag WordPress theme for creating monetized News and Magazine websites. Create amazing WordPress magazine website in minutes with the PerforMag WordPress Theme.
The performag is focused on ad revenue generation. Besides, it is designed to boost social sharing as well as maximum reader engagement.
Rise WordPress theme from Thrive Themes
This is a WordPress theme for blogger and affiliate marketer. The theme comes with beautiful layout and focuses on the readability. The theme is made for product presentation, review, general blogging and affiliate marketing.
Rise is customizable, speed and SEO optimized for better performance on the search engine. If you have some serious goals about affiliate marketing and conversions, try the Rise WordPress Theme from Thrive themes.
Thrive Themes: Storied Theme for WordPress
Storied is a blog theme that emphasizes conversion. You can create a simple or multimedia blog using this WordPress Blogging theme from Thrive Themes.
Manage everything easily with the Theme options and the live customization settings. Besides it's speed optimized for a better user experience and SEO optimized for your blogs to rank well.
Ignition WordPress theme from Thrive Themes
Specially designed for Marketing your products and services, Ignition focuses on Conversion. Create expressive landing pages, with this responsive and flexible WordPress theme.
Create all the pages you want with the automatically generated pages. Tell your audience all about your service and products and get them to sign up or buy.
Discount on Squared WordPress Theme with the Thrive themes discount coupon
Squared is a multipurpose WordPress theme from Thrive themes that you can use for your WordPress website building.
The theme is speed and SEO optimized, flexible and very easy to use. So create a website of your choice using the Thrive Theme's Squared WordPress theme.
Besides the ones mentioned here, you can also check out the LuXe from Thrive Theme and FocusBlog for a performance-optimized blog. You can even have a look at the Voice WordPress theme from Thrive Themes for multi-author blogging websites.
Other themes from Thrive themes are the Minus WordPress theme from Thrive Themes, Pressive WordPress theme from Thrive Themes.
Get thrive themes at best price. 
Thrive themes discount code for Thrive plugins
All of the plugins at Thrive themes are focused on only one thing – Conversions. These plugins help you optimize your website and user experience in one way or the other.
The ultimate goal is leaving an impression on the end user and inspiring them to take the required action. The
Best price for the Thrive Architect Page Builder
The Thrive architect is a seamless WordPress page builder plugin from Thrive themes. With this page builder, you can create and manage the pages of your website with easy drag and drop options.
Therefore, you can design pages that could leave the best impact on a prospective customer.
Discount on headline Optimizer from Thrive Themes: The headlines play a very vital role on any page. Optimize the headlines of your website with the Headline Optimizer from Thrive themes.
Cleaver Widgets from Thrive Themes at max discount: Thrive Cleaver Widgets are designed to improve conversions by organized widgets and precise content shown at precise place on your website.
Discount on Quiz builder from Thrive Themes: Engage users with interesting quizzes on your website. Use the Thrive themes Quiz builder to create and manage quiz on your WordPress website.
Thrive Optimize for AB testing at a low price: Check what works for your website and what doesn't with the Thrive Optimize plugin.
Also, there are some other interesting plugins like the Thrive comments for managing comments on your WordPress website, Thrive Ultimatum for scarcity marketing, Thrive Ovation for testimonials, etc.
General pricing and plans for WordPress themes and plugins at Thrive Themes
The marketing and conversion focused themes and plugins at Thrive themes come at a very affordable price of $49 per theme. If you wish to use the theme for your personal use, but on more than one site, you can pay $69 and use it on unlimited personal sites.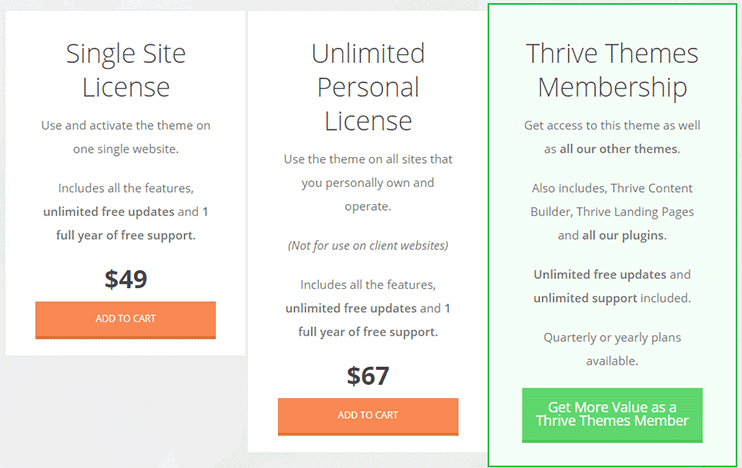 While that was the pricing for Thrive themes, their plugins have a different pricing structure. Mostly all of their plugins follow the structure as shown in the image.
The basic package, starts at $69 per year, with free support and updates upto one year. The only limitation is that you can use it only on one website.
However, you can choose from different options available based on your requirements.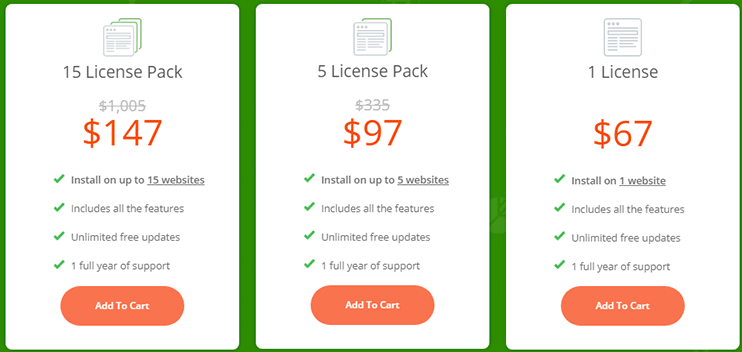 However, if you need access to more than one theme at a time, you should consider the Thrive theme Membership packages where you can save upto 24% on annual subscriptions.
Discount on Thrive Themes Membership packages
Thrive Themes membership package provides you access to all their WordPress themes and plugins. There are two types of membership plans that you can subscribe to.
The thrive membership plan where you can only use the Thrive themes for your personal use( and not on client sites) and the Thrive Agency plan, where you can use the Thrive products for your clients.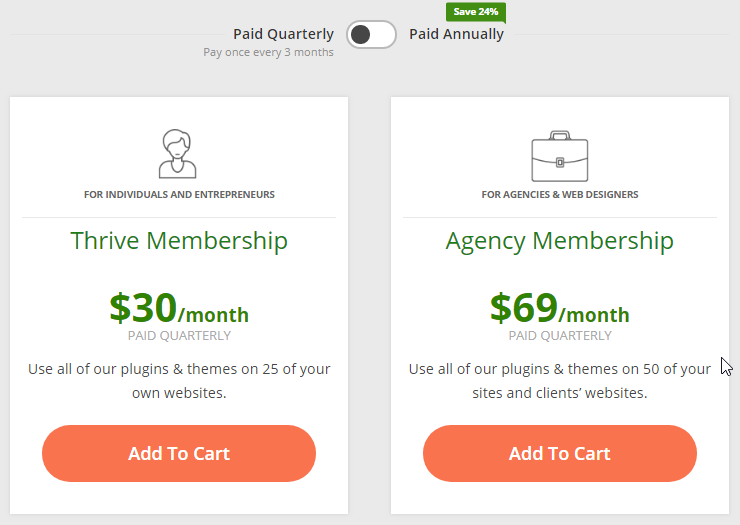 For the membership payment, you have two options. You can choose to pay quarterly or Annually. And the interesting thing is, you get a 24% discount if you choose to pay annually.
Get 24% off on Thrive Membership
If you plan on using the Thrive theme for your personal website only, you can subscribe to the Thrive membership basic plan at $30 per month. This is when you choose to pay quarterly.
But if you are ready to pay annually, you get a massive 24% discount on Thrive themes membership. And the discounted price is $19 per month, when paid annually, i.e. A flat 24% off on your Thrive Membership.
Get 24% off on The Thrive Agency Membership Plan
If you want to use the Thrive products on clients' website, you will have to subscribe to the Thrive Agency membership plan. If you choose to pay quarterly for your Thrive Agency Membership, the monthly fee is $69.
However, get an exclusive 24% off on Thrive themes Membership Annual payments. Pay for 12 months and the fee will be reduced to only  $49 per month. No need to search and apply any Thrive Themes discount codes, to avail this exclusive Thrive theme discount.
Therefore, if you are looking for the membership access at Thrive themes, you can get a 24% off when you pay yearly instead of monthly
Thrive themes discount coupon and promo codes
Currently, there is no active discount deal, special offer or thrive themes discount coupons for a discount on their products.
But compared to most of the premium WordPress theme companies, their WordPress themes are already priced at an affordable rate. While the pricing for most of the premium WordPress themes starts at $59, you get the best themes at Thrive Themes just for $49.
Therefore, you get a 10% off on any theme purchase from Thrive Themes without using the Thrive themes discount coupon.
Ready to Optimize your website and improve sales
The products at Thrive themes are designed to impress your audience and make them take the action. So considering their role in your business development, their pricing is affordable and flexible.
You can get the best of the Thrive themes and plugins at best price. So are you ready to get started now. Pick up your favorite product and start with your optimized, sales focused sites, right away.