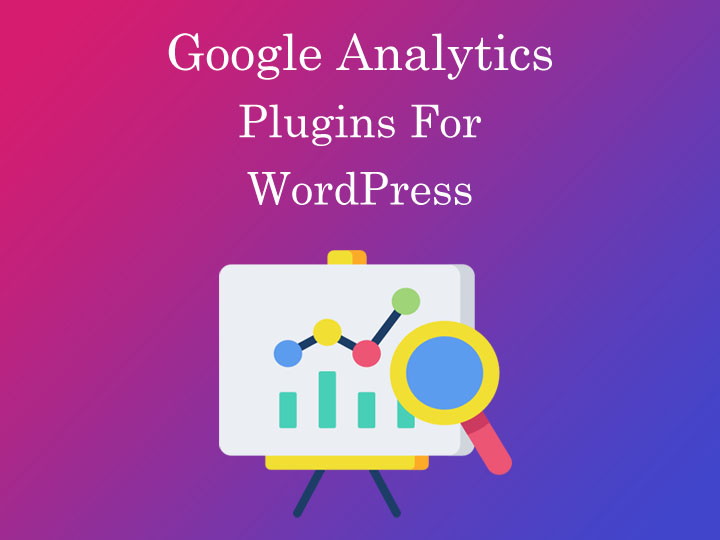 You cannot just keep publishing new content on your website, trying new strategies, including more features, and not worry about the progress.
Even though there are many ways to track the progress of your campaign, like a gradual increase in traffic, more conversions etc., there's nothing as accurate as 'real statistics'.
Thankfully, Google gives you exactly that. With Google Analytics, it is possible to see the traffic, traffic's demographics and much more than that.
The statistics provided by Google Analytics is a gift for marketers as well as website owners. When used smartly, this data can help you plan, strategize and improvise.
But when you are busy with curating your website, you may not always find time to spend studying the Google Analytics data.
And hence you have the Google Analytics Plugins. WordPress is a powerful CMS and it is determined to make everything easier for the website owners.
Google Analytics WordPress dashboard
With these specially developed plugins for WordPress, you can have special, selected reports from Google Analytics, right in your dashboard.
So, you don't have to take your time out and log in to analytics to know what's happening behind the scenes. You get it served on your dashboard instead.
This helps you save time, efforts and helps you stay updated with the latest reports. Such reports help you track any behavioral change, traffic surge, etc and determine the actions to take.
In this article, we will talk about some of the best Google Analytics Plugins for WordPress. Each of these plugins may have different features and fetch different types of results, but ultimately, they are all designed to help you with accurate data to plan better, perform better.
This plugin occupies the first position in the list because it is one of the best tools. It's comprehensive and very helpful to get insights about your traffic and website performance.
MonsterInsights is designed to make everything about using analytics easier. It automates certain processes and helps you easily understand the statistics provided by Google Analytics. With MonsterInsights, you can enable features with just a single click, view Reports inside WordPress, easily. You need no coding skills, or programming knowledge to use this plugin.
MonsterInsights is used by over two million websites to help them with Analytics of their WordPress websites. It helps you by directly providing reports into your WordPress dashboard. This can be the audience report that shows their country, devices they use and other demographic data, the behavior report to see where the traffic is coming from, content reports and eCommerce reports.
This plugin for Google Analytics has many other useful features. It helps you the performance of your outbound links, affiliate links, shows you what source is bringing you the maximum traffic, etc. It even lets you track the popular content on your website.
MonsterInsights also shows you the real time statistics, has a special sales tracking feature for WooCommerce and Easy Digital Downloads based stores, and even helps you track the AMP based pages with Google AMP add-on for MonsterInsights.
It helps you make conscious, data driven decisions regarding your WordPress website, so that you don't have to depend on guess-work to plan the further course of action for your website.
Google Analytics Dashboard for WordPress has some similar features and allows you to view the stats right in your WordPress dashboard. If you are looking for a simpler alternative, to view the Google Analytics data into your WordPress website, this Google Analytics plugin is for you.
The plugin is simple and has straightforward features. It is really easy to use, and helps you with useful insights from your analytics data. It helps you with real time statistics as well as Analytics reports.
With the Google Analytics Dashboard for WP by ExactMetrics, you get the details about traffic, search sources, bounce rates & session duration. Besides, you get insights about the performance of the individual pages on your website. Ultimately, it shows you all the important Google Analytics reports on your WordPress website's dashboard.
Google Analytics Dashboard for WP by ExactMetrics also enables you to track the events like downloads, emails, link tracking, Fragment identifiers, Page Scrolling Depth, etc. The plugin also works perfectly with multisite networks too.
Analytify can be included into your WordPress website in just minutes. It is a complete analytics solution for WordPress. It is easy to use and provides you with useful statistics about the performance of your WordPress website.
This Google Analytics Plugin WordPress, shows you reports regarding the effectiveness of your social media campaigns, realtime tracking of your data, and eCommerce tracking statistics. It helps you with universal tracking and management of PPC and SEO campaigns.
It even helps you track the performance of custom post types, gallery, portfolio, etc. The Analytify features simplify the Google Analytics reports and brings them to your dashboard. Therefore, understanding them and using them to plan your future course of action, becomes really easy.
With enhanced eCommerce reporting, this plugin is a great addition for your eCommerce websites powered by WooCommerce and WordPress. It helps you track the sales, and other user activities like click on the "add to cart" button, etc.
This plugin allows you to see the statistics at page level. The analytical data for each page and post can be managed at the page itself. It also lets you view the statistics at the front end of your page, without requiring you to log in to your WordPress dashboard.
The Analytify plugin can be downloaded and used for free for the basic features. But if you want advanced features you can get the paid subscription to their services.
If you are new to Google Analytics and not sure how to get started with Google Analytics, this plugin can make it easy for you.
Note that, this plugin is different than MonsterInsights, Analytify, and similar plugins that provide you with advanced reports and tracking, and brings them to your WordPress dashboard.
GA Google Analytics just helps you add the Google Analytics tracking code to your website, and configure it to provide the type of results you want. It includes the GA tracking code in the header or the footer, on all WordPress web pages. It even lets you add your own custom markup if you want to.
The advanced version, which is the paid one, supports frontend UI, multiple tracking codes and their live preview, etc. It also supports Custom Code in header or the footer. Besides, you can disable the tracking of the logged in users on your website for exact traffic information. You can even disable tracking for any Post Ids, post types or user roles for the accurate information.
This is a light weight plugin and has a simple interface. It is very easy to use and a great way to get started with Google Analytics with your WordPress website.
This Google Analytics plugin for WordPress is for everyone struggling to understand Google Analytics, and having a hard time deriving the required outputs from it.
First of all, it helps you bring the Google Analytics results into your WordPress dashboard. It helps you view custom analytical reports, by determining the dimensions and metrics. You can setup users, post types, post categories, tags, etc. as custom dimensions for deriving reports.
You can configure this plugin to send you custom notifications and alerts on specific activities/triggers.
It shows the statistics and reports of a page/post at the frontend. With the eCommerce tracking features, Google Analytics plugin by 10Web also helps you track the performance, sales and user activities on your WooCommerce based eCommerce website.
It even helps you set and manage goals on Google Analytics before starting a marketing campaign or implementing a new SEO strategy. Moreover, there are CSV export and email to self options that you can use to save the results for future reference.
Moreover, it can even bring the data from associated Google Ads account to your dashboard.
If you are using WooCommerce for eCommerce on WordPress, this plugin is for tracking the sales and consumer behavior on your eCommerce website. The plugin helps you get the reports through Enhanced eCommerce by Google Analytics.
You can get the shopping behavior Report, Checkout Report, sales reports etc. Besides, you can also track the performance of your WooCommerce products with the product performance reports. It even brings the accurate results even if you allow guest checkout on your website.
This plugin tracks different events and provides you reports based on product impressions, Add to Cart, product clicks events on product page as well as homepage.
Enhanced Ecommerce Google Analytics Plugin for WooCommerce is a simple analytics solution that will help you track the performance of your WooCommerce based store easily.
For making strategic decisions about your website, the reports by Google Analytics can be your baseline. But sometime understanding the large amount of statistics provided by Google Analytics can be very difficult. This is where, the above listed plugins help.
There are simple plugins, that helps you connect your website with Google Analytics to show the results, and there are advanced ones, that fetch the reports from Google Analytics, to your WordPress dashboard.
You can choose a plugin as per your requirements. None of these plugins need you to be a WordPress expert, or a mastery in understanding the Google Analytics data. They can be used by even beginners, to find out how is thier website performing.
Other Analytics solutions for WordPress
Managing and maintaining website is not child's play! But there are tools, that make everything so much easier.
The plugins we saw earlier in this post, were the plugins that help you with Google Analytics with WordPress. But there are some advanced solutions that provides you with other statistical data about your website.
Kissmetrics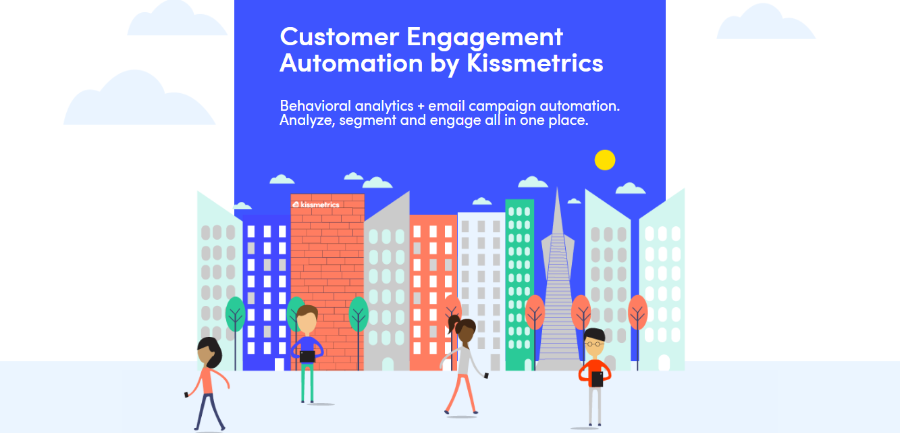 Kissmetrics helps you with behavioral analysis. It provides you with some statistical data that will help you analyse the behavior of your visitors. So with that data, you can understand what the visitors are looking for, what attracts their attention most, what is working and what isn't.
Based on the same, you can make modifications and work towards better engagement and conversions. They call it a customer engagement automation platform. It also includes email automation. It helps you know your most engaged users, identify the marketing campaigns that works best, performance of different landing pages, dropoffs, performance and usage of new features, etc.
CrazyEgg
CrazyEgg provides you results in form of heat maps. It tells you which part of your page is getting more attention!
It provides you with visual reports and even screen recordings to identify where you get most visitors from, where they are navigating to, and where they are getting stuck, etc.
CrazyEgg is infact a bundle of different tools that can help you make decisions for the growth of your website/business. It also includes an AB testing tool and an editor.
StatCounter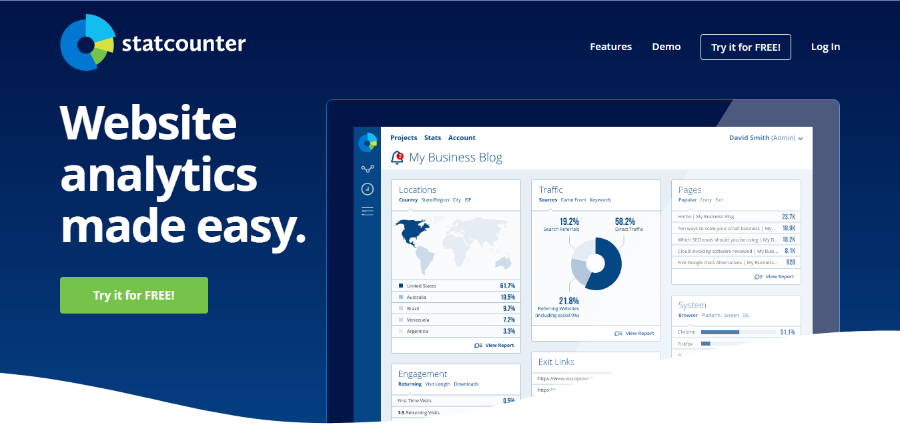 StatCounter helps you with statistical data regarding your website. It works with most of the best website building solutions.
With the available statistics and the insightful data provided by this plugin, you can design strategies to improve the traffic of your websites & capture leads. Besides, it helps you with fraud click detection, traffic sources, visitor location & engagement, popular pages, exit link, etc.
WP Statistics

As the name suggests, this tool is designed specially for the statistical analysis of your WordPress websites. WP Statistics is simple and easy to use and install. It supports dashboard widgets through which you can see the statistical data in your WordPress dashboard.
This plugin for Google Analytics records the visitors data just like Google Analytics and shows them in form of numbers and graphs.
Conclusion
You cannot walk on a road without making sure that it will lead you to the destination you want to reach. Similarly, you cannot keep working on your website without checking that your hardwork is fetching required results.
If you are not yet using a tool to observe the data about the performance of your website, you should choose one of the tools listed here and get started now!