A few days ago we released an important update for the Directory theme. The update makes it possible to use Directory alongside the Booking plugin. With the Booking plugin you'll be able manage bookings for rooms and houses added to the site. In this blog post I'll try to explain how to get started with the Booking plugin and how it can be useful for your directory.
How Can The Booking Plugin Be Useful?
This plugin will be useful if your directory contains vacation homes or other establishments available for rent. Instead of just forwarding visitors to Booking.com or similar website you'll be able to process the booking yourself and earn a commission.
One thing worth noting is that listing owners won't be able to setup booking themselves, it will have to be done by you. I'll explain the easiest way to do this later in the post.
Installing The Plugin
Assuming you don't already own the plugin, purchase it from here. Skip this step if you're a Club member, Booking plugin is included inside the Club membership.
Open the member area and download the plugin.
Connect to your WordPress dashboard and navigate to Plugins ⇨ Add New ⇨ Upload Plugin. Click on "Browse…", select the zip file downloaded a moment ago and hit "Upload Now".
Activate the plugin once it's finished uploading.
Navigate to the wp-admin ⇨ Booking System area (if it doesn't open immediately after activation). Click on the sample data button at the top of the page to add a few sample houses and rooms to your site.
Open the Booking guide for details on how to use the plugins various features.
Add A House
After installing the plugin proceed to House ⇨ Add a House and add your first rental. Here's a list of fields/options you must fill while adding a house…
Total Guests – set the total number of guests that can book a room (for a single booking)
Charge Tax – should tax be automatically applied for this rental? Go to Booking System ⇨ General Settings (tab) to set the tax amount and type.
Minimum Stay – enter the number of days necessary to complete the booking
Price Settings – enter the price for each number of person and time-frame (day, week, month).
Category, title, images and description – every post in WordPress needs a category, name and some content. Your house is no different.
The Booking Page
The booking page is what your visitors will see when they try to make a booking. This page is generated automatically while installing the Booking plugin, but in case it wasn't created you can create it manually by inserting the following shortcode inside any WordPress page
[booking_submit_form]
Here's what your visitors will see


1 – Check Availability button
Opens the Booking Calendar and allows visitors to see on which dates is the rental available.
2 – Booking dropdown / information
When visitors initiate a booking procedure for a specific house (as I'll explain later) this area will display the name of that rental. In cases where the Booking Page is opened directly this area will display a simple dropdown from which visitors can select the house they want to book.
3 – Select check-in / check-out date
This area requires visitors to select their check-in and check-out date. The calendar is simple; click once to select the start date and click again to select the end date.
4 – Total guests
This field is important because it determines the final price of the booking. To control the max number of guests available for your rentals go to Tevolution ⇨ Custom Fields and edit the "Total Guests" custom field. Tweak the "Option Title" and "Option values" settings.
5 – Services
Services are extras that go along your booking. These can be parking, WiFi, laundry, etc. To add new services (and their prices) go to Booking ⇨ Service.
To change the way services are calculated (by day or once) go to Booking System ⇨ General Settings (tab) ⇨ Service Settings.
6 – Price calculator
This area is automatic and there are no settings associated with it. It displays the final price of the booking.
7 – Visitor information fields
Information entered here will be available inside the wp-admin ⇨ Booking section once the booking is completed.
8 – Payment gateways
Lists the payment methods currently available on your site. By default Directory only comes with PayPal and Pre Bank Transfer. You can add more by purchasing gateway plugins.
Connect Listings and Houses
Your visitors will be able to book any house through the booking form. By default the URL of the booking form looks something like this: your-domain.com/booking-form. Along with providing a general URL to the booking form you can also pass a specific house argument. That one should look something like this…
your-domain.com/booking-form/?id=555
555 – the post ID of your house. You can get it by hovering over the house in wp-admin ⇨ House.

Once you have this directory booking URL you can add it to your listing as a custom field or just inside the regular description area. I recommend adding it to the description area because you can use shortcodes to easily style the URL (transform it into a button). Follow these steps to create a "Book Now" button inside your listing…
Download and install the Shortcodes plugin (it's free).
Get the booking URL for your house (as mentioned earlier).
Open your listing and insert this inside the description/content box

 Book Now 

Don't forget to swap the fake-site URL with your own.
If you did everything correctly your listing should look like this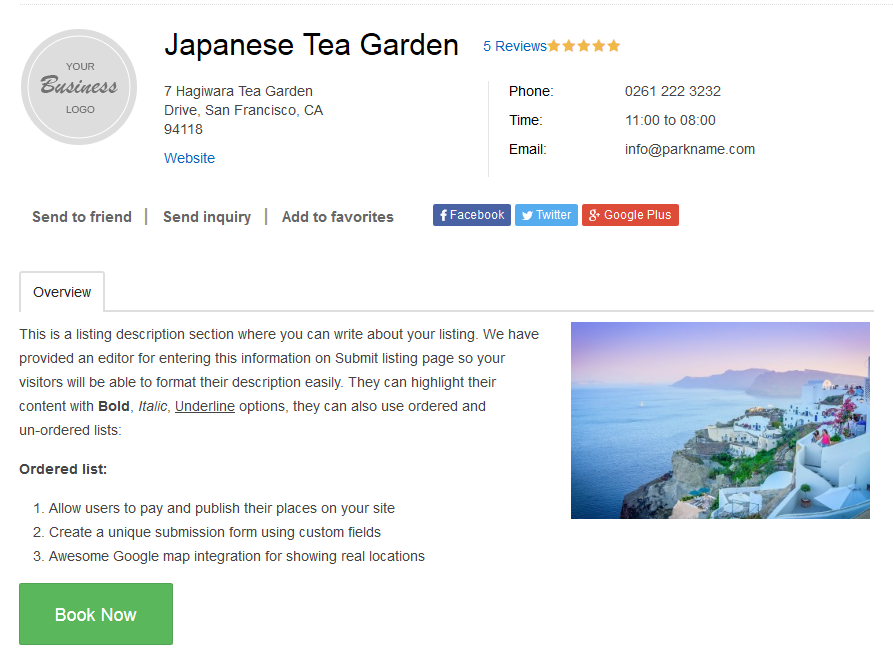 Managing Bookings
You created a few houses, connected them with listings and several bookings have been made. Now what?
Bookings can be managed by going to wp-admin ⇨ Booking. To approve a booking click on the checkbox next to each booking, hit the "Bulk Actions" dropdown and select your action.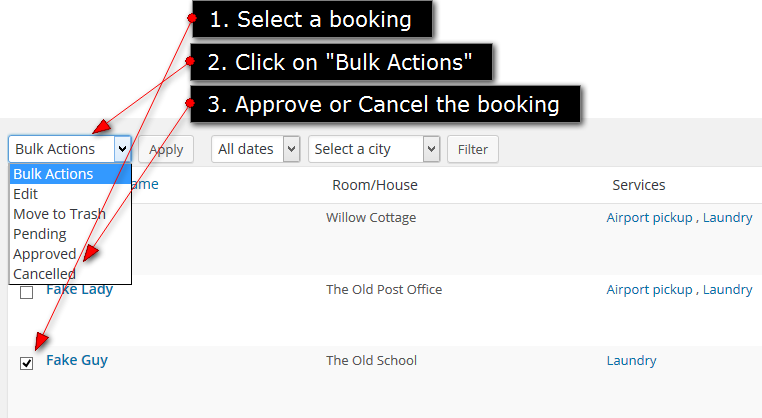 To manage actual booking payments, i.e. verify that a payment has actually been made go to Tevolution ⇨ Transactions. In this area you'll be able to see exactly which payment gateway the customer used to pay for the booking and also the status of that payment.
What Is The Best Child Theme For Bookings?
Because of its built-in call to action button inside archive pages I believe Travel is a good Directory child theme for this purpose. Once you add the specific house booking URL to call to action button visitors will be able to initiate booking without even opening the listing detail page. Listings is another good child theme for booking due to its design and the way the content is structured.
---
If you run into any problems with using the Booking plugin with Directory just submit a new ticket inside our Helpdesk and we'll do our best to help you out right away.